Is mind mapping simple? You have probably thought about this while looking for ways to arrange your thoughts. So, excellent news! Mind mapping has just become a lot easier thanks to the mind map AI generator.
This program transforms the way you generate mind maps by utilizing the power of artificial intelligence (AI). In this post, you'll learn about the AI mind map generator's capabilities as well as some recommended practices for optimizing your assignment. But first, let's define a mind map generating AI.
What is an AI Mind Map Generator and What Are Its Advantages?
Here is how it works: An AI mind map generator harnesses the power of artificial intelligence to create mind maps in a second. All you have to do is supply a few prompts, and there you have it! The AI mind map generator builds a mind map customized to your needs.
But wait a minute! In contrast to ChatGPT, which can only provide text-based mind map codes, a mind map AI generator goes above and beyond. It does more than just give you ideas. The AI mind map generator also creates the mind map for you, complete with branches.
How AI Mind Map Generators Can Help You
Let us now look at how students, professionals, and corporations might benefit from employing an AI Mind Map Generator.
1. Improved Organization and Creativity
Your prompt is transformed into a work of art by the AI mind map creator. It boosts your creativity and allows you to arrange your thoughts with ease.
2. Better Learning and Retention
Students, pay attention! Everyone is aware that studying may be a chore. Learning, on the other hand, becomes more manageable with the help of the mind map AI generator. Learning gets easier when complicated subjects are seen and organized on a mind map.
3. Effective Decision Making and Problem Solving
AI mind maps can help you whether you're a professional or a business owner. It makes the process of breaking down difficult problems into digestible chunks easier.
4. Effective Goal Setting and Planning
The AI mind map assists you in bringing your ideas together and connecting the dots. This allows you to view the large picture and identify the steps required to achieve your goals.
5. Collaboration and communication have improved.
Isn't it true that teamwork makes the dream come true? The mind map generator AI, on the other hand, is the ultimate collaborative tool. It encourages collaboration by offering a visual platform for the exchange of ideas and opinions.
EdrawMind AI Mind Map Generator for Brainstorming Sessions by Wondershare
Have you ever yearned for a gadget that thinks for you and organizes your thoughts into a mind map? Wondershare EdrawMind can instantly generate a mind map. It includes a mind map AI generator that converts your instructions into a visual design. There will be no more striving to connect the dots or running out of creative energy.
1. Which users can use EdrawMind AI Mind Map Generator ?
Designers can utilize the AI capability in EdrawMind to visualize design concepts and ideas. Furthermore, marketers might leverage it in their marketing campaigns. However, the opportunities go far beyond these businesses. Whether you're a student seeking to ace your exams or a teacher looking to engage your pupils, the EdrawMind AI mind map generator from text can help.
2. Wondershare EdrawMind Advantages
EdrawMind is more than just an AI mind map generator. Check out what else EdrawMind has to offer:
#Smart Design and Layout
Even if you're new to AI mind maps, EdrawMind has you covered. It offers an easy-to-use UI and useful in-app tutorials.
#Creating Dynamic Content
EdrawMind supports traditional, sector, circular, and fishbone mind map layouts. After the AI mind map generator has completed its work, you can enhance your mind map with themes and eye-catching visuals that reflect your individuality.
#Real-Time Collaboration
Share your mind map canvas via social media and links, or send an email invitation to your team. You have complete control over their viewing and editing access. The comment tool makes it easy to bounce ideas and assign responsibilities.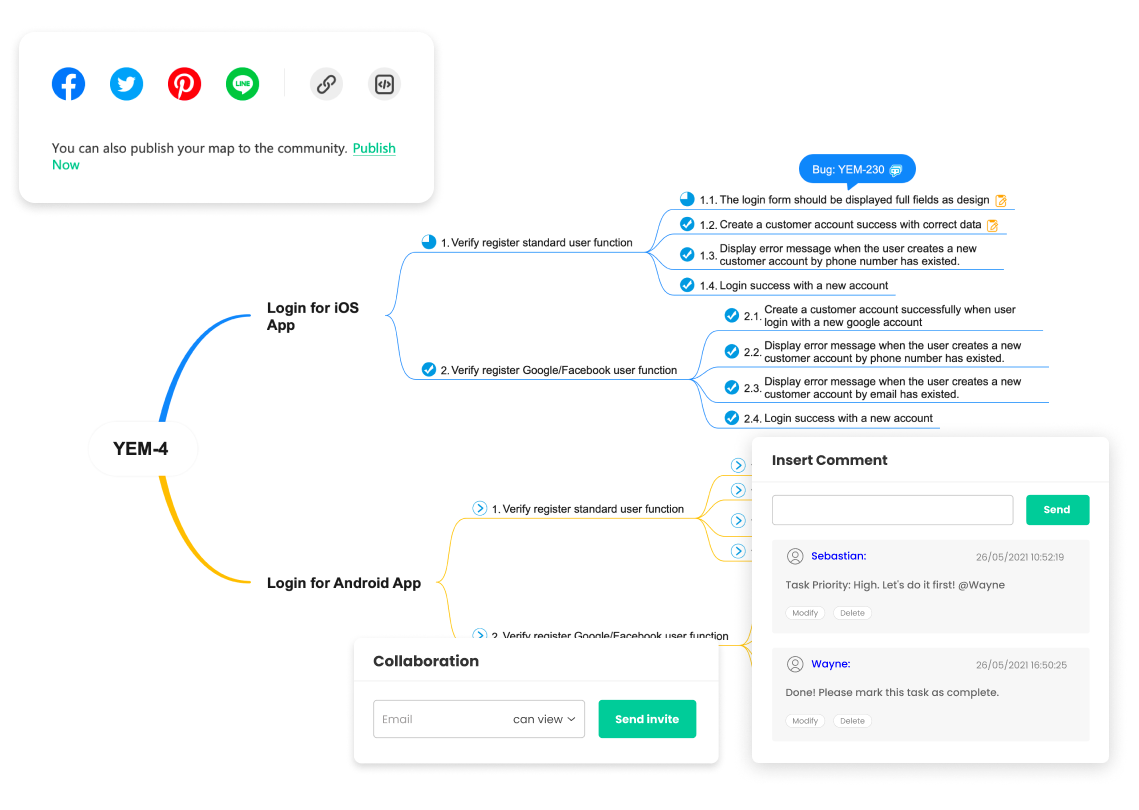 3. Are You Ready To Use EdrawMind's AI Feature?
Here's What You Should Know Continue reading to learn how to use the EdrawMind AI mind map creator.
#Integration of Multiple Devices
EdrawMind recognizes that you work on multiple devices. You may use its AI mind map generator on Mac, Windows, Linux, Web, Android, and iOS. EdrawMind is ideal for remote access and keeping your AI mind maps accessible at all times.
#Pricing Made Simple
You can test out the AI mind map generator for free! Yes, you read that correctly. EdrawMind wants you to try out their AI mind map generator. In addition, both free trial and paying customers earn 200 AI tokens if you opt to go all-in.
You can purchase the AI feature separately, even if you do not have an EdrawMind subscription. Oh, and don't be concerned about your data. EdrawMind AI is sensitive to your privacy and only operates on your instructions.
4. EdrawMind AI Mind Map Generator: How to Use
To create mind maps with a mind map ai generator, follow these instructions.
Step 1: Download and install Wondershare EdrawMind on your device.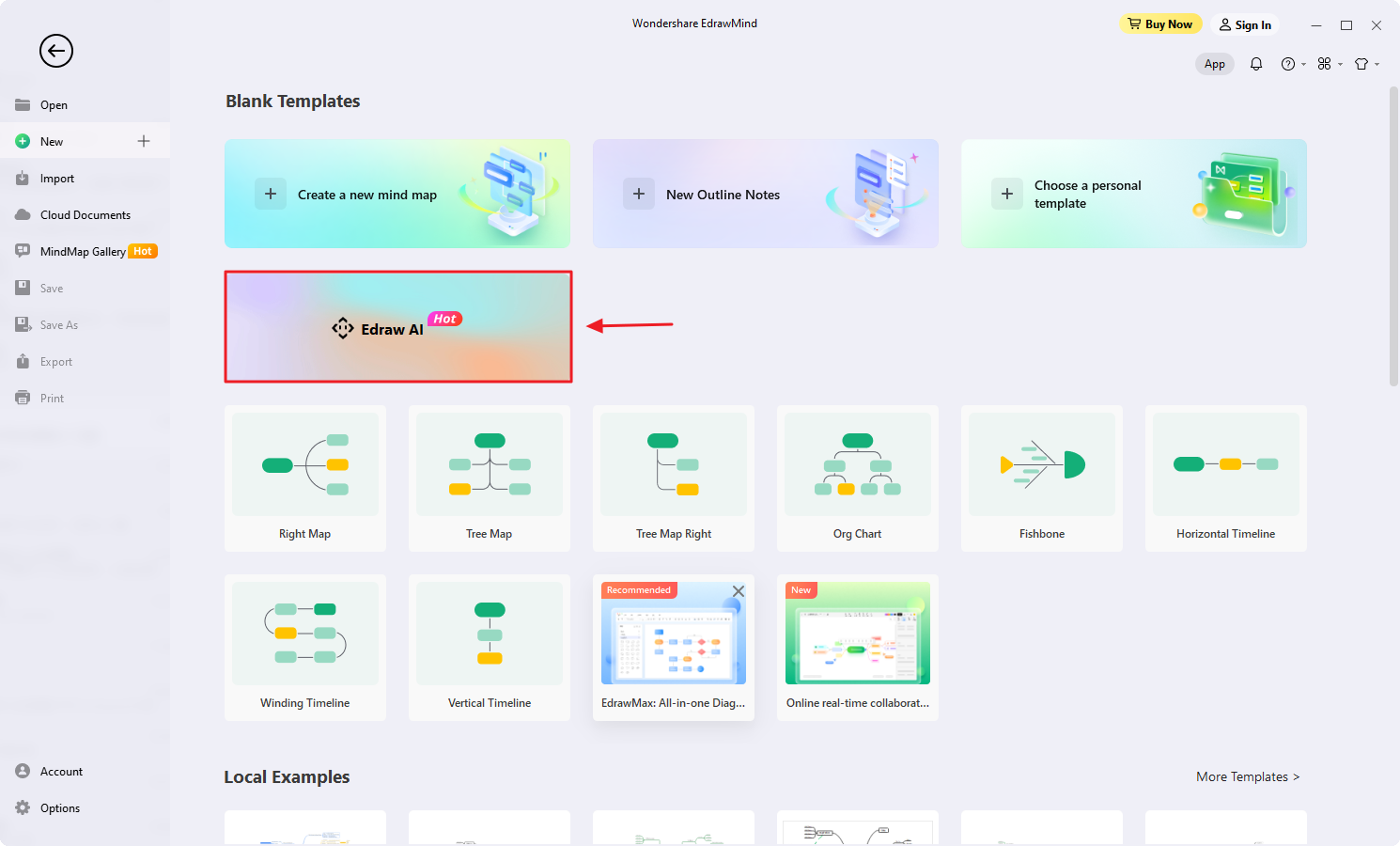 Step 2: On the site, click Edraw AI. Then, in the Edraw AI dialogue box, type a prompt and click One-click generating.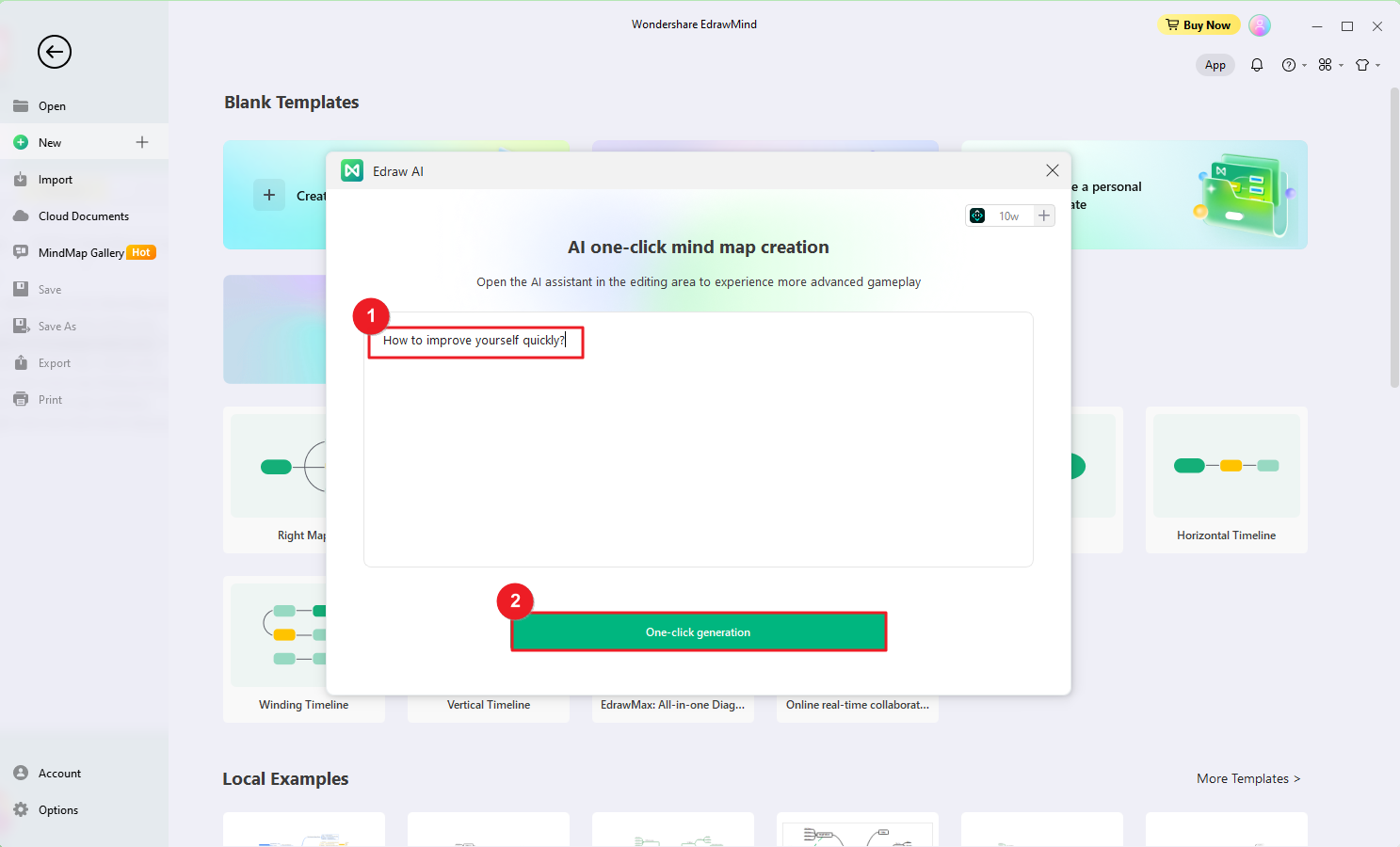 Step 3: Wait for Edraw AI to create the mind map.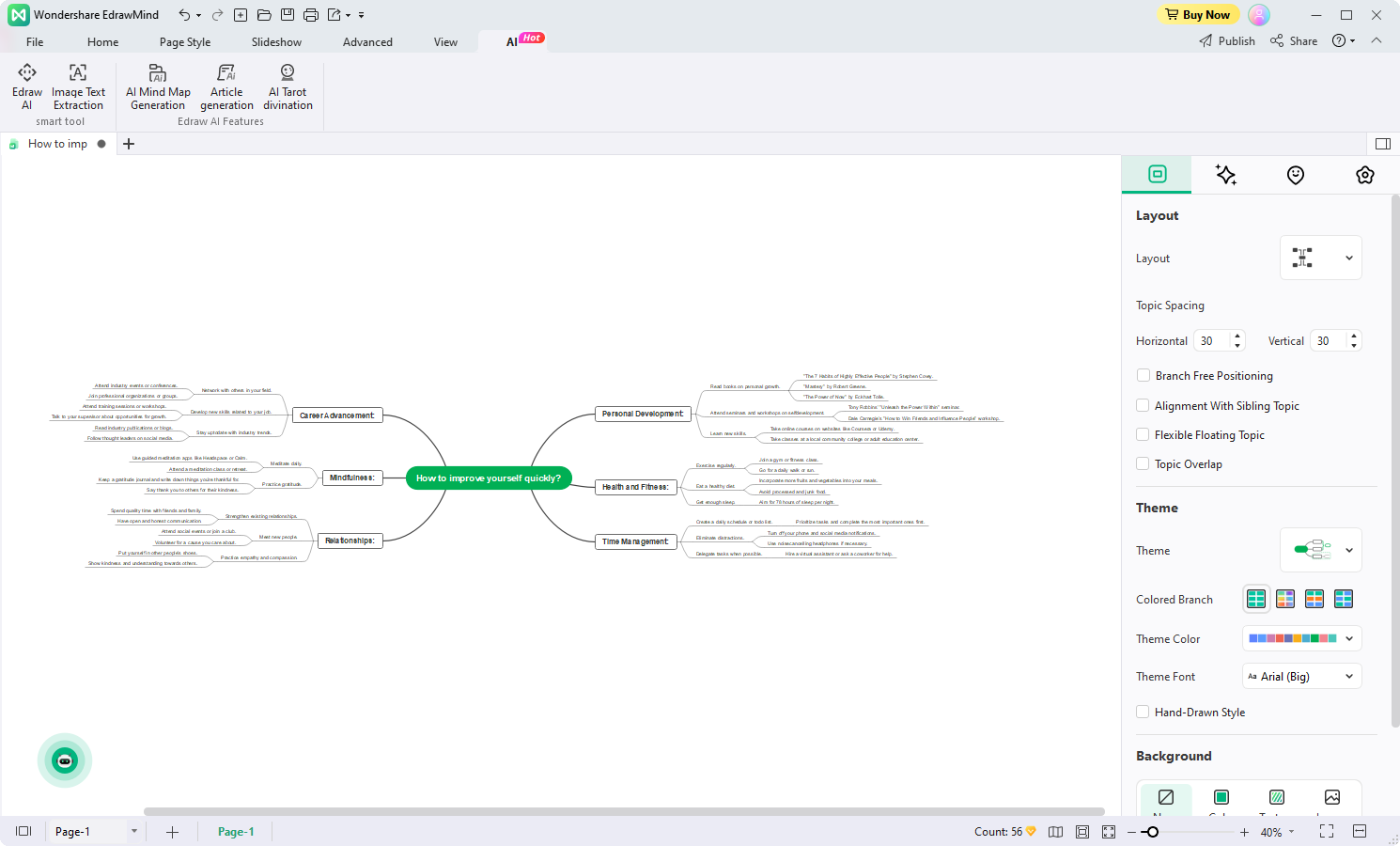 Tips: Here are some additional approaches to make a mind map using Edraw AI.
Select a Topic shape from the canvas, then on the floating bar, click AI intelligent creation. Then, choose One-click mind map.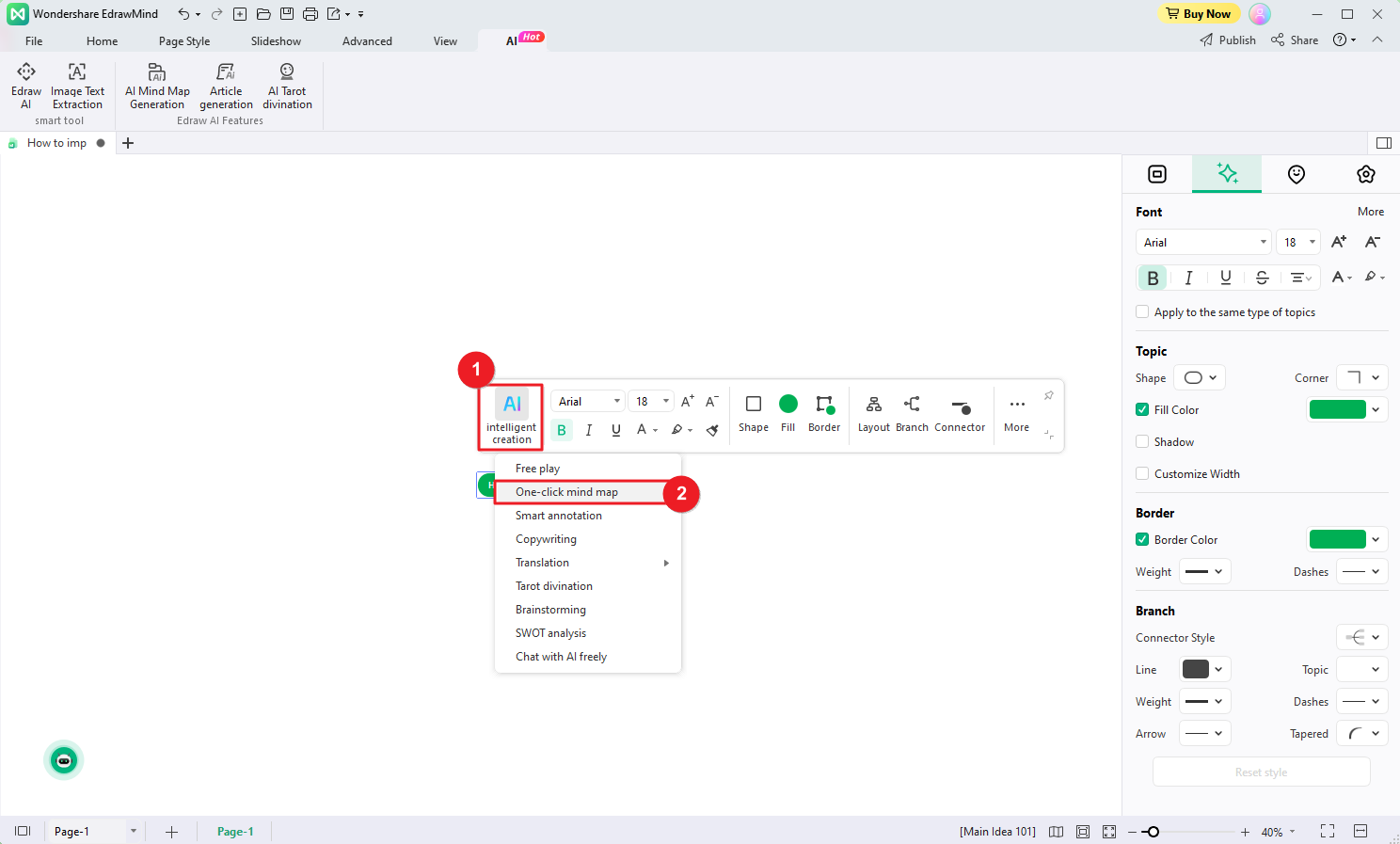 Select AI-generated content by right-clicking on the Topic form. Then, select One-click mind map and wait for the results.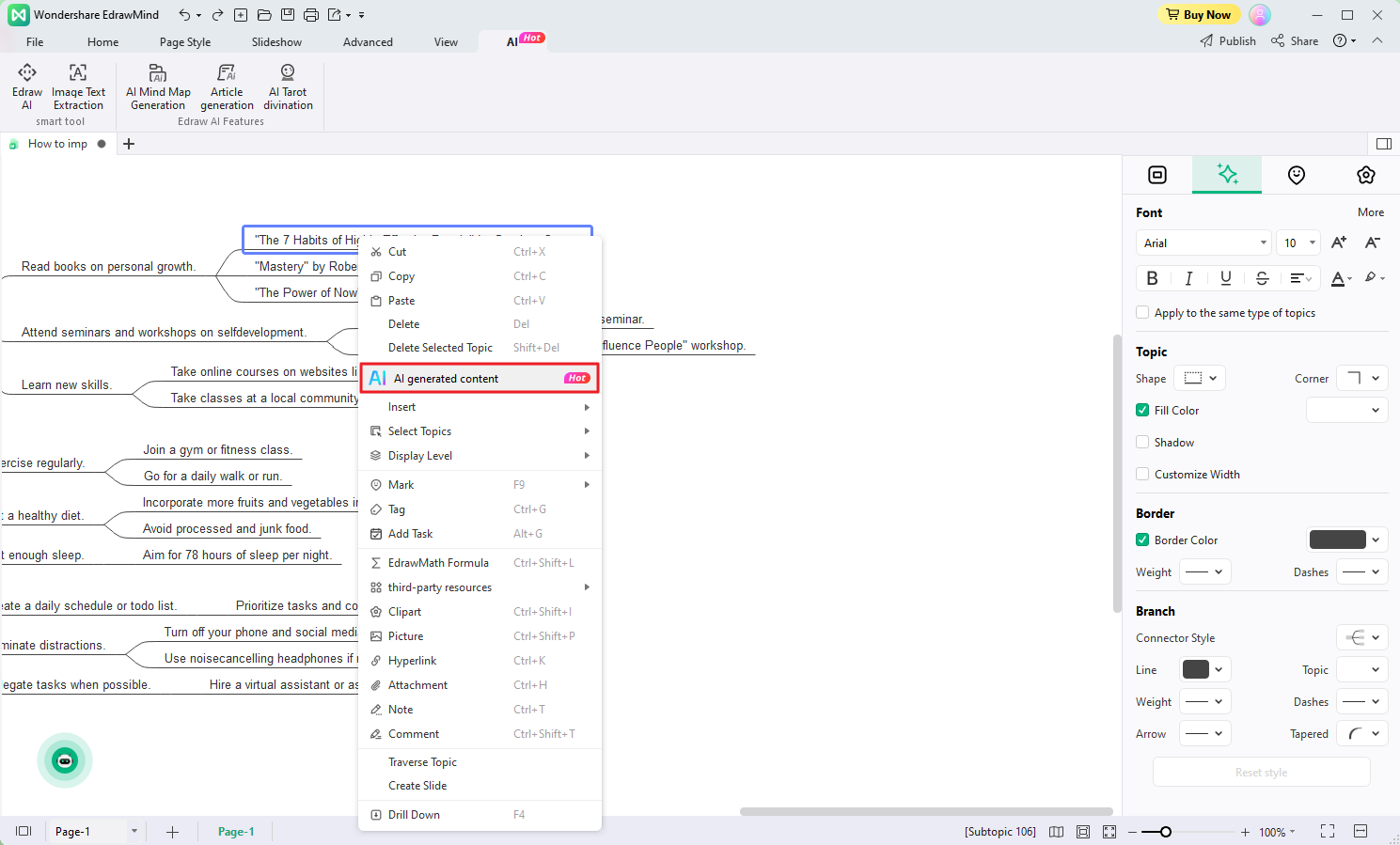 EdrawMind AI Mind Map Generator Mind Map Text Formatting
Are you still having trouble expressing your thoughts in your AI mind map? So, guess what? With its AI-powered copywriting tool, EdrawMind has you covered! It takes your ideas and magnifies them, making them more appealing, imaginative, and simple to understand. Say goodbye to boring and disconnected text and hello to engaging and coherent copies.
Let's look at how you can benefit from the EdrawMind AI copywriting tool. Follow these steps to discover how to polish and improve your AI mind map's text content.
Step 1: There are several ways to access the EdrawMind AI Copywriting function. You can go one of the following routes.
Choose the Topic shape that contains the text you want to change. Then, from the floating toolbar, select AI intelligent creation> Copywriting.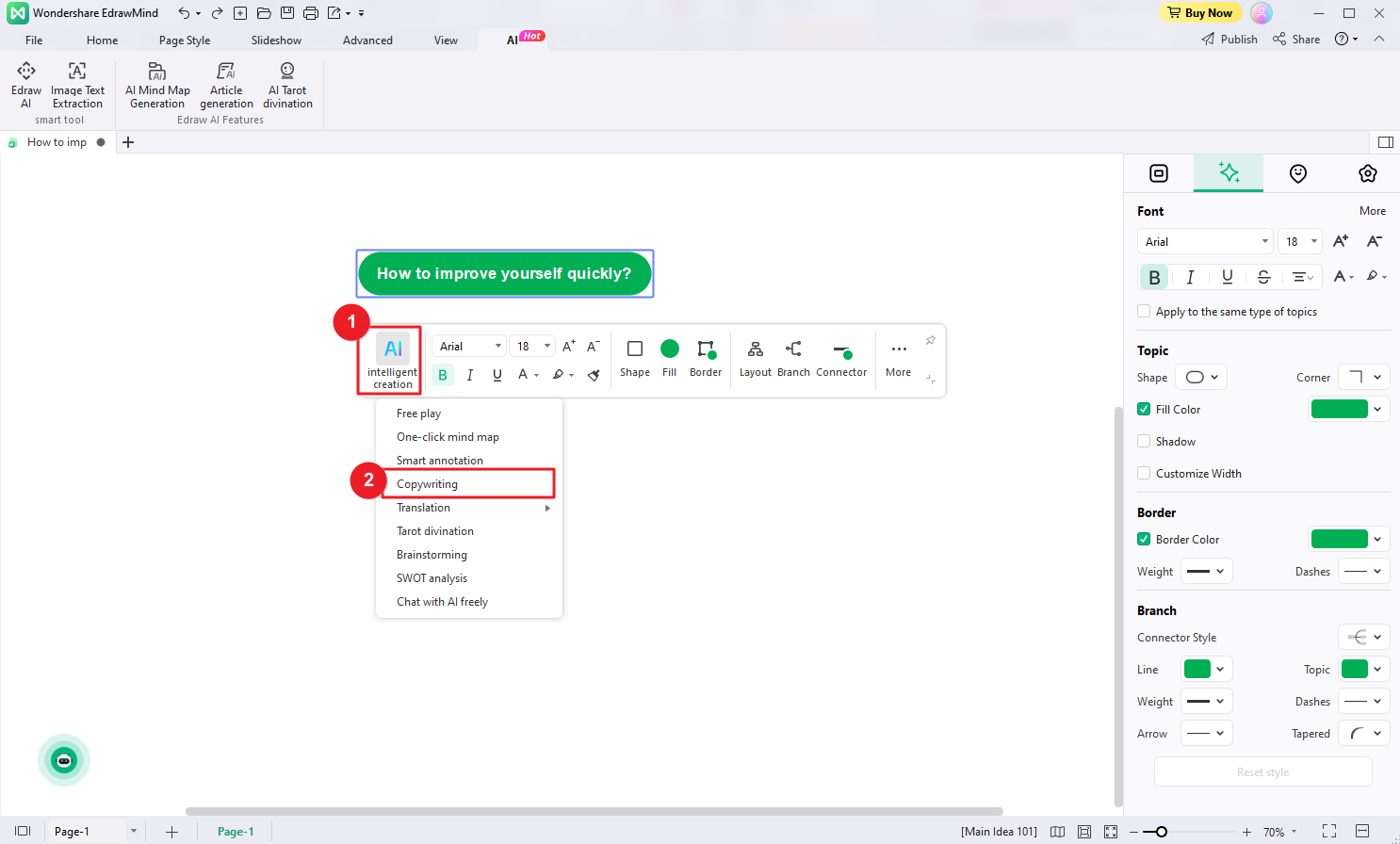 Right-click the Topic shape containing the text you want to change. Then, select Copywriting from the AI generated content menu.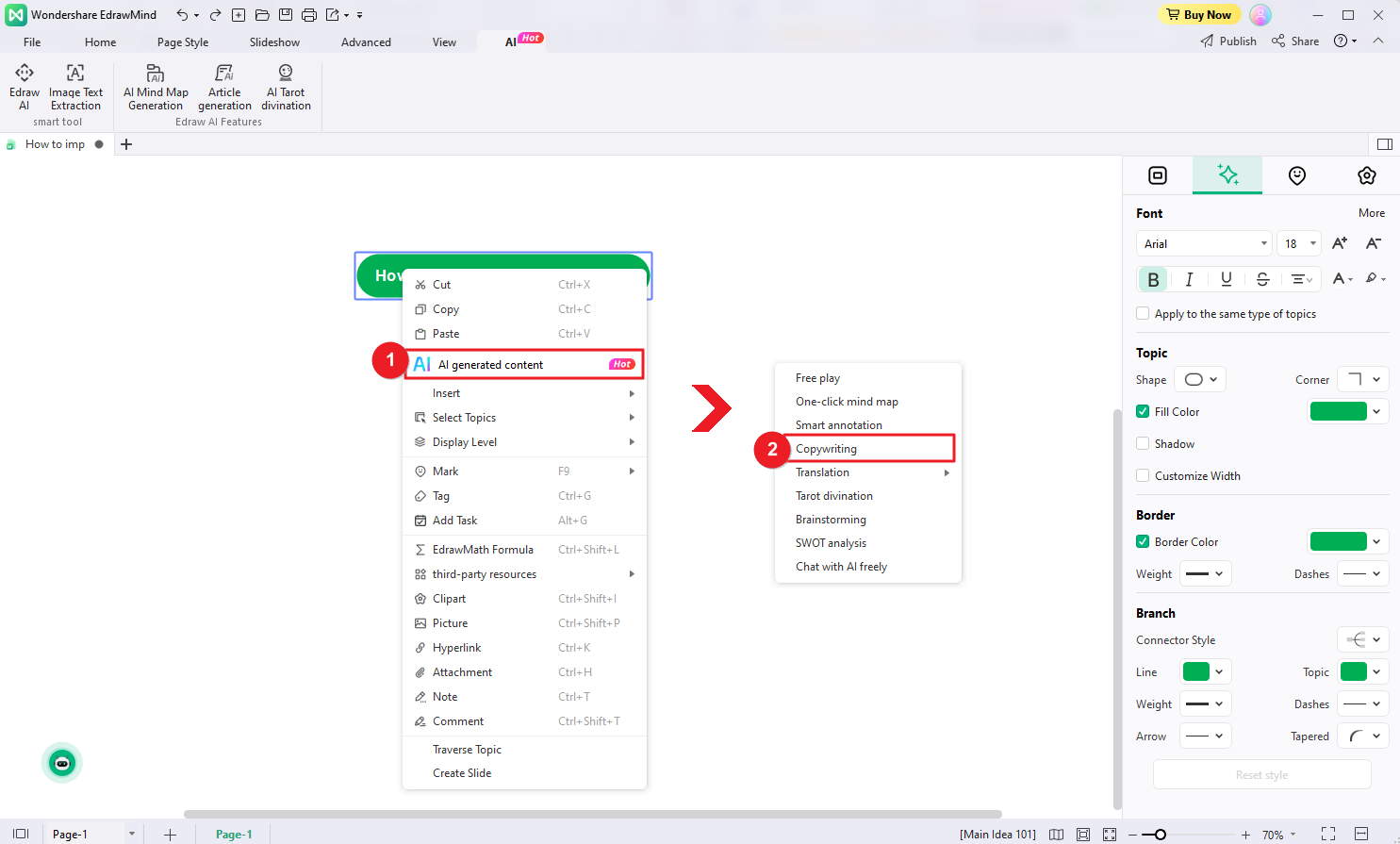 Select Copywriting from the Edraw AI popup window by clicking Pre-scene setup. Then, in the text field, input your content and click the send icon.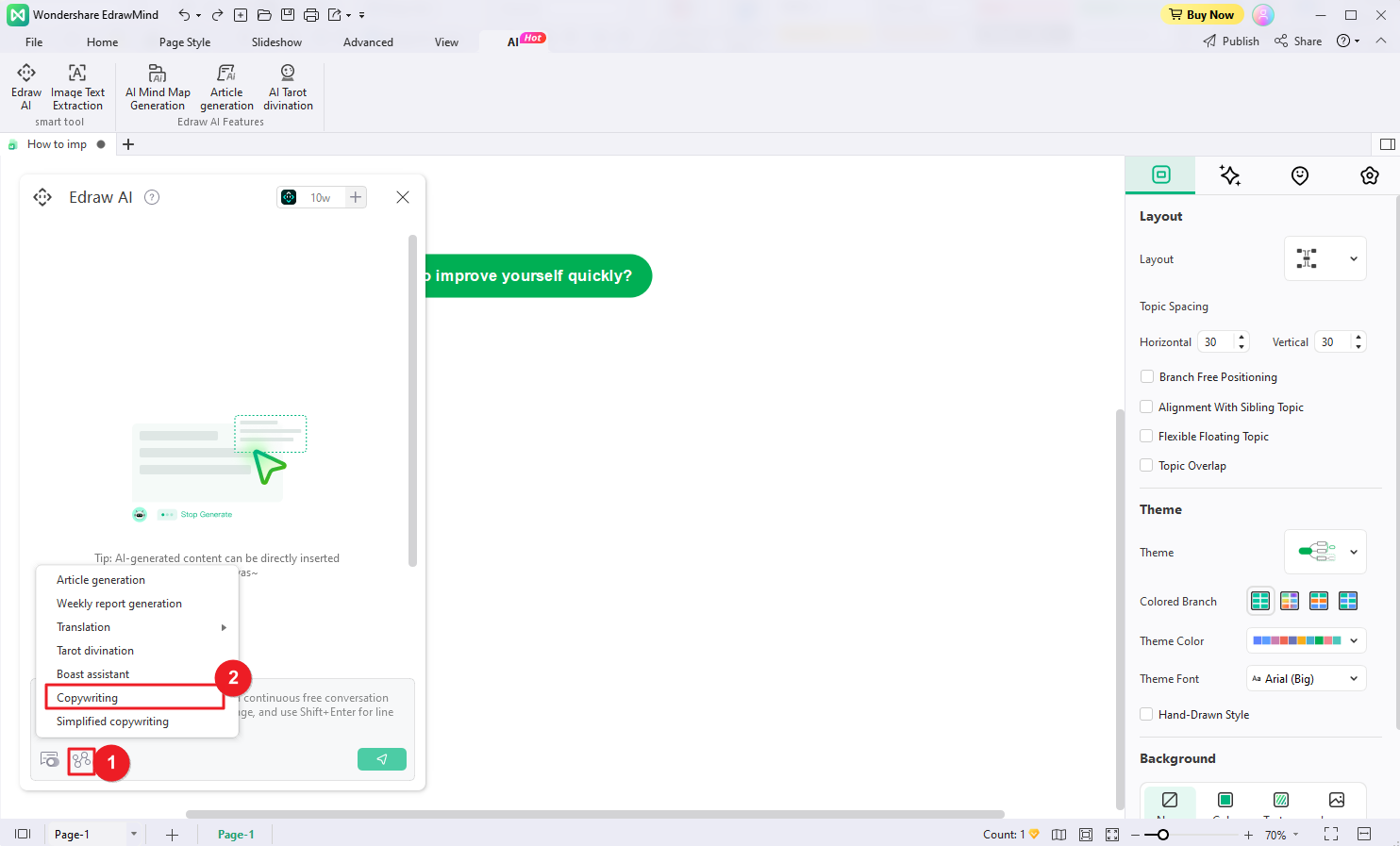 Step 2: Sit back and wait for the AI Copywriting tool to generate new text.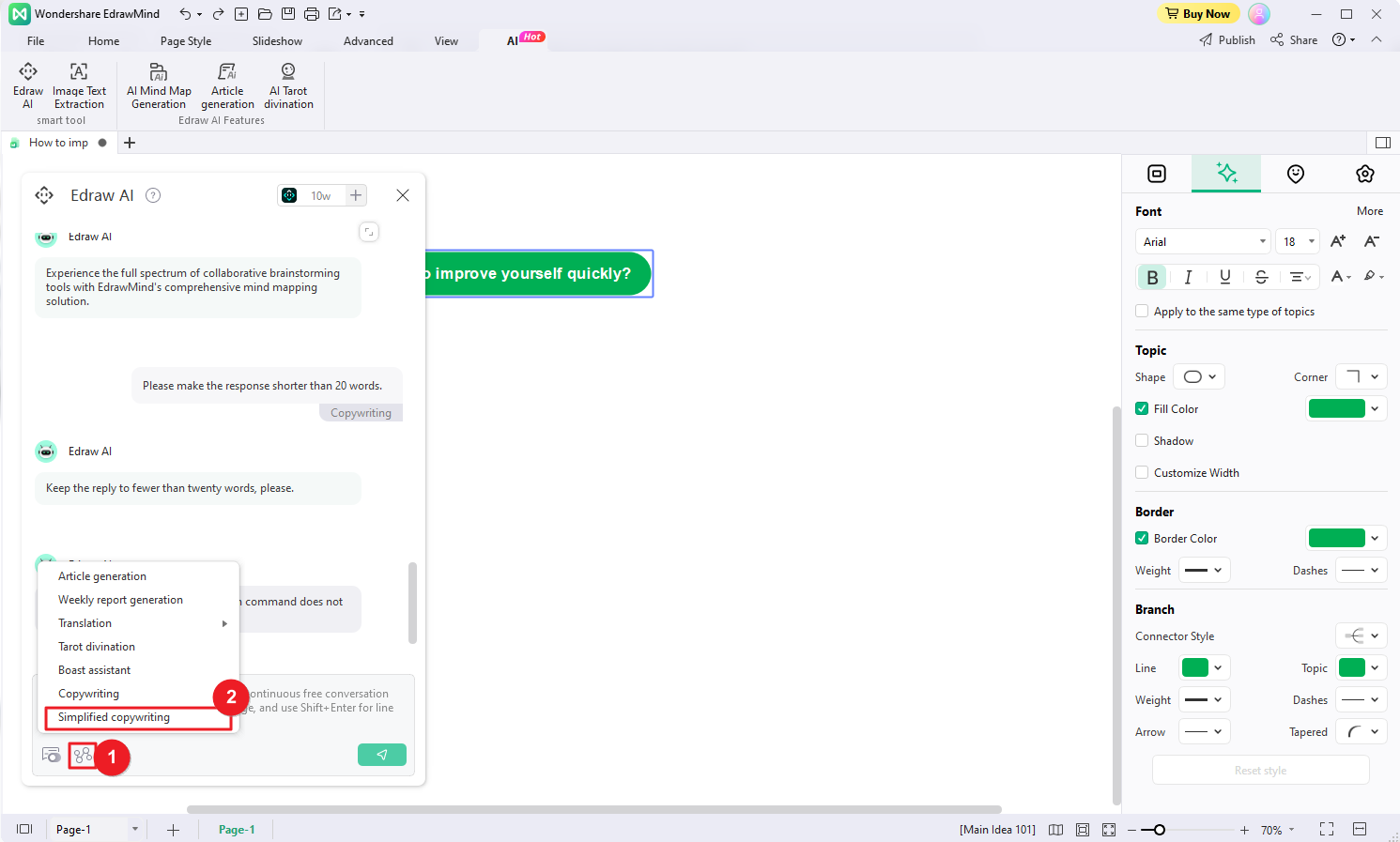 How EdrawMind AI Mind Map Generator Aids Productivity
Let's face it: productivity issues can be frustrating. But don't be concerned! EdrawMind AI mind map generator simplifies mind mapping. Continue reading to find out how EdrawMind's AI mind map generator can help you increase your productivity.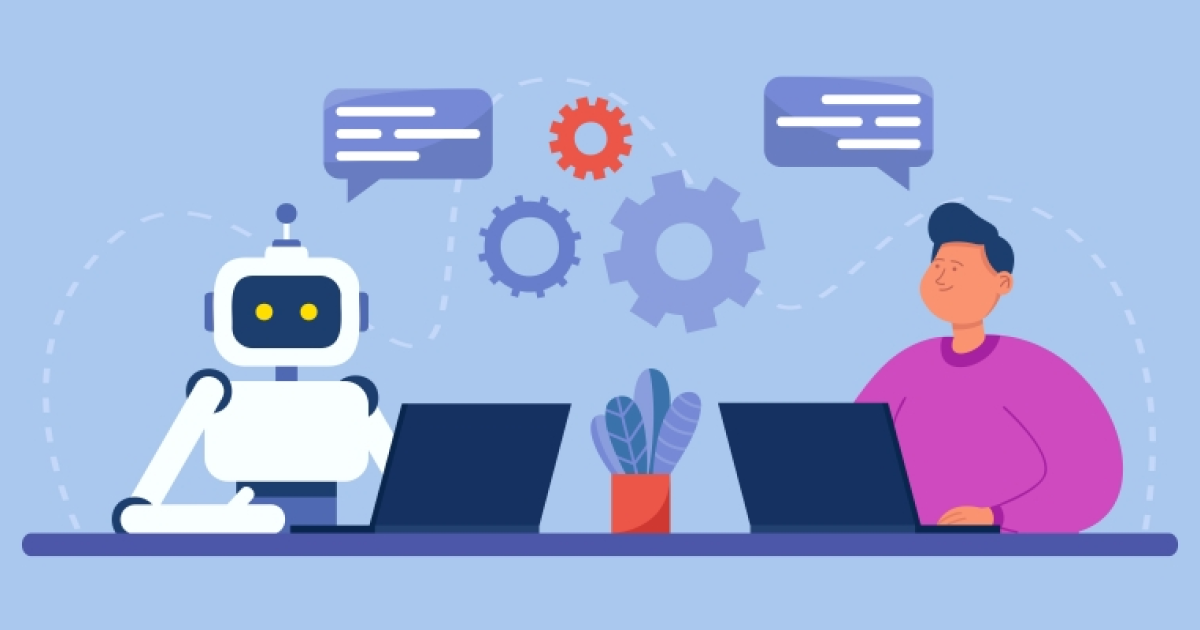 1. Save time by utilizing automated efficiency.
Instead of trying for hours to come up with ideas, let EdrawMind's mind map generator AI do it for you. Then, work with your team to improve the produced AI mind map and share your inputs.
2. Explore New Perspectives
Consider how easily you can visualize concepts and thoughts you may not have considered before. Isn't that convenient? The AI mind map creator EdrawMind analyzes your input and recommends new ideas and connections.
3. Overcome Mental Barriers
Do you feel stuck in your creative process? EdrawMind's AI mind map creator assists you in breaking through mental barriers. If you're stuck for ideas, this powerful tool will jumpstart your imagination and get you back on track.
EdrawMind AI Mind Map Generator Best Practices
Discover a few best practices for improving your mind mapping experience with EdrawMind AI mind map generator in the sections below.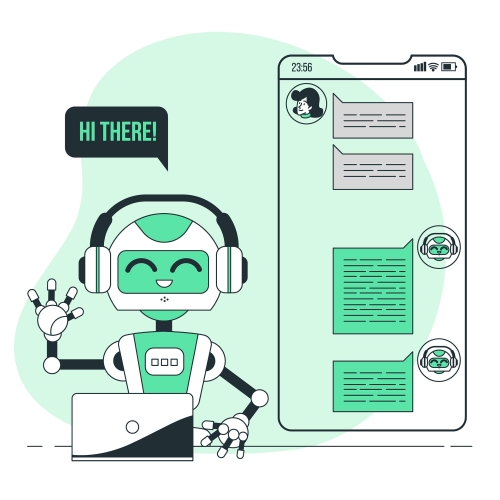 1. Begin with a Specific Goal
You are unlikely to obtain the intended results unless you have a precise aim in mind. So, before you begin, identify your goal and arrange your cues accordingly. Keep in mind that clarity leads to effectiveness.
2. Enhance Visual Hierarchy
An aesthetically pleasing mind map is insufficient; you must expand your mind map. Examine the information and ensure its relevance. Add more branches to your AI mind map, use the AI copywriting tool, or experiment with EdrawMind's customization options.
3. Maintain Simplicity
Avoid overcomplicating your writing for your viewers. Keep your mind map simple but effective. Subtle approaches such as color modifications, icons, or graphics can be used to highlight the most important ideas. Maintain a clean and clutter-free design to optimize the efficacy of your mind map. Simplify without losing clarity.
4. Share and collaborate
Don't put your faith in your own expertise and opinions. Make use of your coworkers' insights. The real-time collaboration function of EdrawMind, as well as other in-app capabilities, provide a platform for improved teamwork.
Final Words
You're probably familiar with the AI mind map generator and how it might help you with your assignment. It saves time, aids in the removal of mental obstacles, and provides new views. That is why employing a mind map AI generator such as EdrawMind can assist increase efficiency.
However, EdrawMind does not only excel in these areas. It enables you to organize your thoughts, communicate efficiently, and present successfully. As AI revolutionizes information visualization and organizing, the future is boundless. So, take advantage of the competitive advantage that EdrawMind mind map AI generator provides today.
EdrawMind Apps
12 structures & 33 themes & 700+ cliparts
Support Win, Mac, Linux, Android, iOS
Advanced import & export options
On-premises software for business
Enterprise-level data security
EdrawMind Online
12 structures & 33 themes & 700+ cliparts
Access diagrams anywhere, anytime
Team management & Project management