When it comes to essay writing, many have faced staring at a blank page, unsure how to get the words flowing. Even seasoned writers and diligent students face challenges, from outlining an argument to polishing grammar and punctuation. That's where Artificial Intelligence (AI) steps in, offering invaluable tools that can streamline the process.
AI essay makers are gaining popularity for their ability to assist in brainstorming ideas to final proofreading. This article introduces you to 7 free AI essay makers that can be a boon to your writing tasks.
1. Top Free AI Essay Makers
Free AI essay makers are designed to simplify your writing process. They boast various features to help you construct essays more efficiently, enhance creativity, and polish your grammar and vocabulary. This section introduces seven popular AI Essay Makers, including their primary features and the operating systems they support.
EdrawMind is a powerful mind-mapping tool with lots of features. Recently, it's been upgraded with the power of artificial intelligence. It can now help you not only with your maps but also with your writing. Check out the new features below:
One-Click Mind Map: Create an efficient mind map with a single click based on a prompt.
Brainstorming: Generates fresh ideas from a topic to stimulate creativity.
Smart Annotation: Enrich your charts with AI-generated annotation.
Translation: AI translates text into several languages.
Tarot Divination: Provides horoscopes and divine wisdom.
Boast Assistant: Creates compliments for you.
OCR: Translates handwritten or printed text into digital text.
Copywriting: Elevates the writing in mind maps.
AI SWOT Analysis: Generates SWOT analysis based on user input.
Article Generation & Weekly Report Generation: Facilitates content creation tasks with the capacity to generate detailed articles and exhaustive weekly reports.
You can access EdrawAI through consumable AI tokens. Every 10 words consume 1 token. Check out the table below for more information regarding EdrawMind.
G2 Ratings
4.5/5
OS Availability
Windows, macOS, Linux, iOS, Android, and Supported browsers
Pros

Responsive chatbot assisted in generating content
Free users can try out Edraw AI with 200 AI tokens
Intelligent AI that can analyze topics

Cons

Occasionally generates inaccurate content, so human checkers are needed
How To Make EdrawMind Write Essays For You
Follow the steps below to create your essays with Edraw AI:
Step 1: From the EdrawMind website, download and install the application.
Step 2: Click +Create a new mindmap on the homepage.
Step 3: Click AI on the top toolbar. Then, click Article Generation.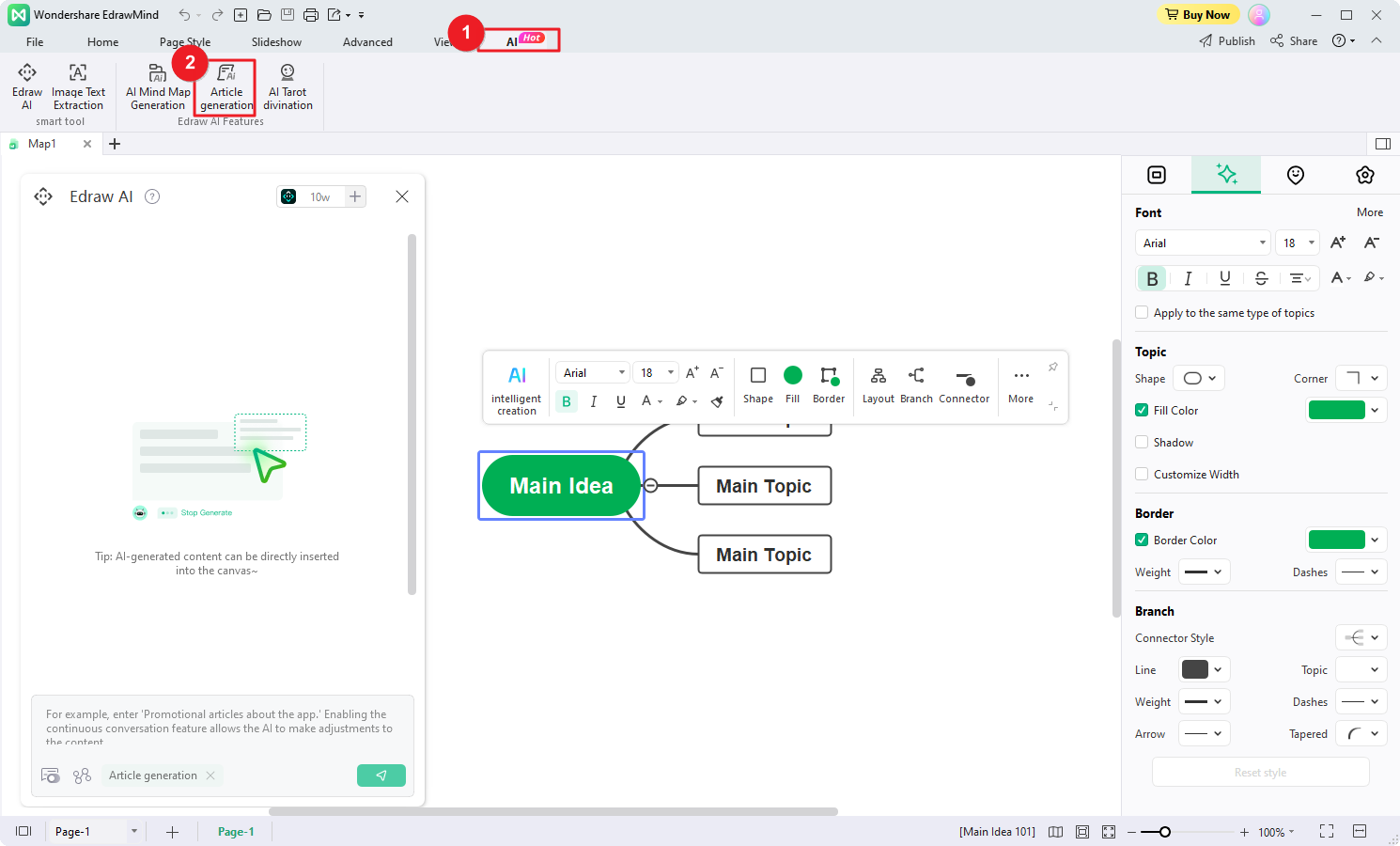 Step 4: Type in what you need in the chat box. Be sure to provide clear prompts and instructions.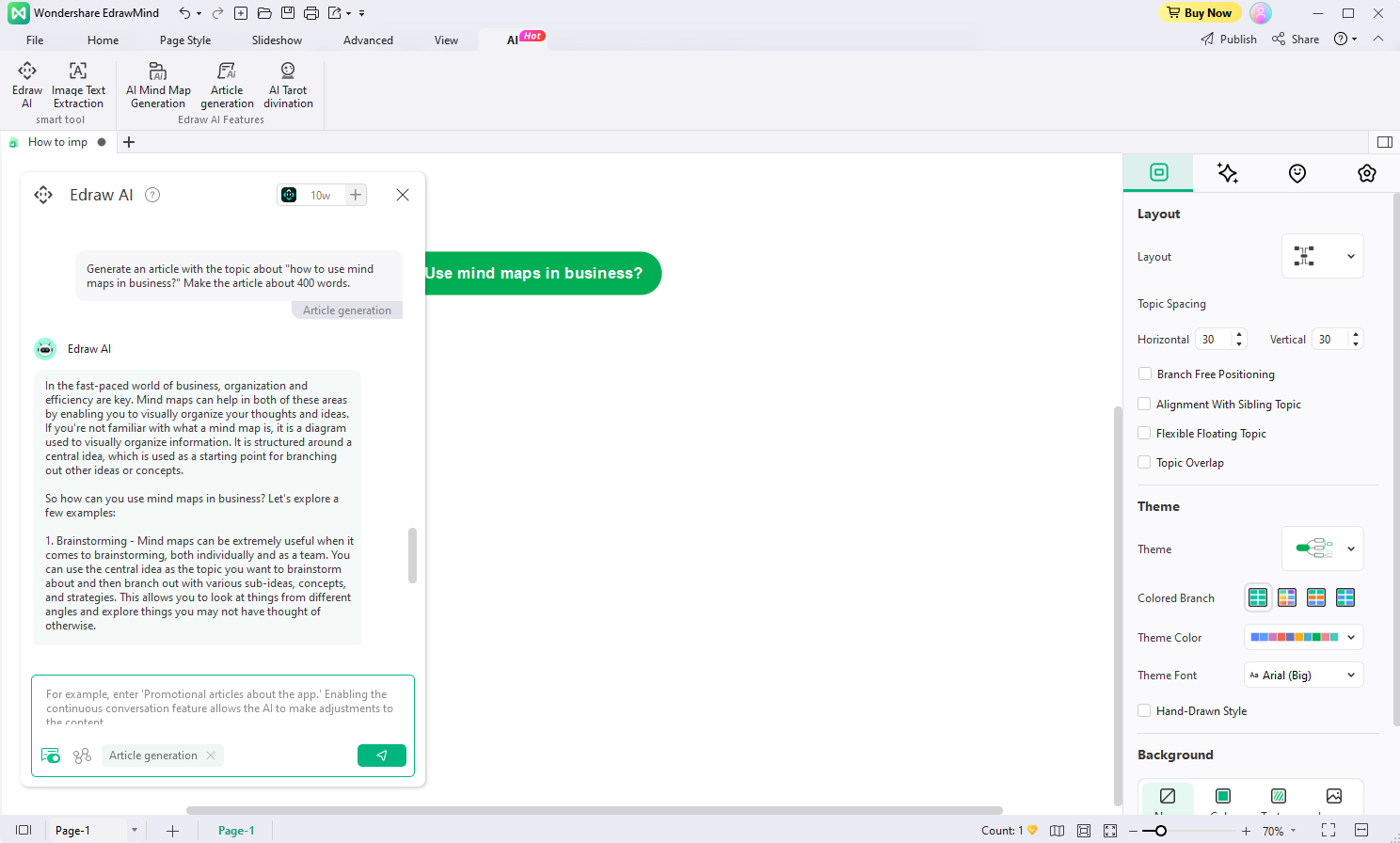 Using the Copywriting Feature of EdrawMind To Create Essays
To generate long-form or short-form content from a topic in your mind map, follow the steps below:
Step 1: Click the topic text within your mind map that you want to improve. Click AI Intelligent Creation and then Copywriting on the pop-up menu.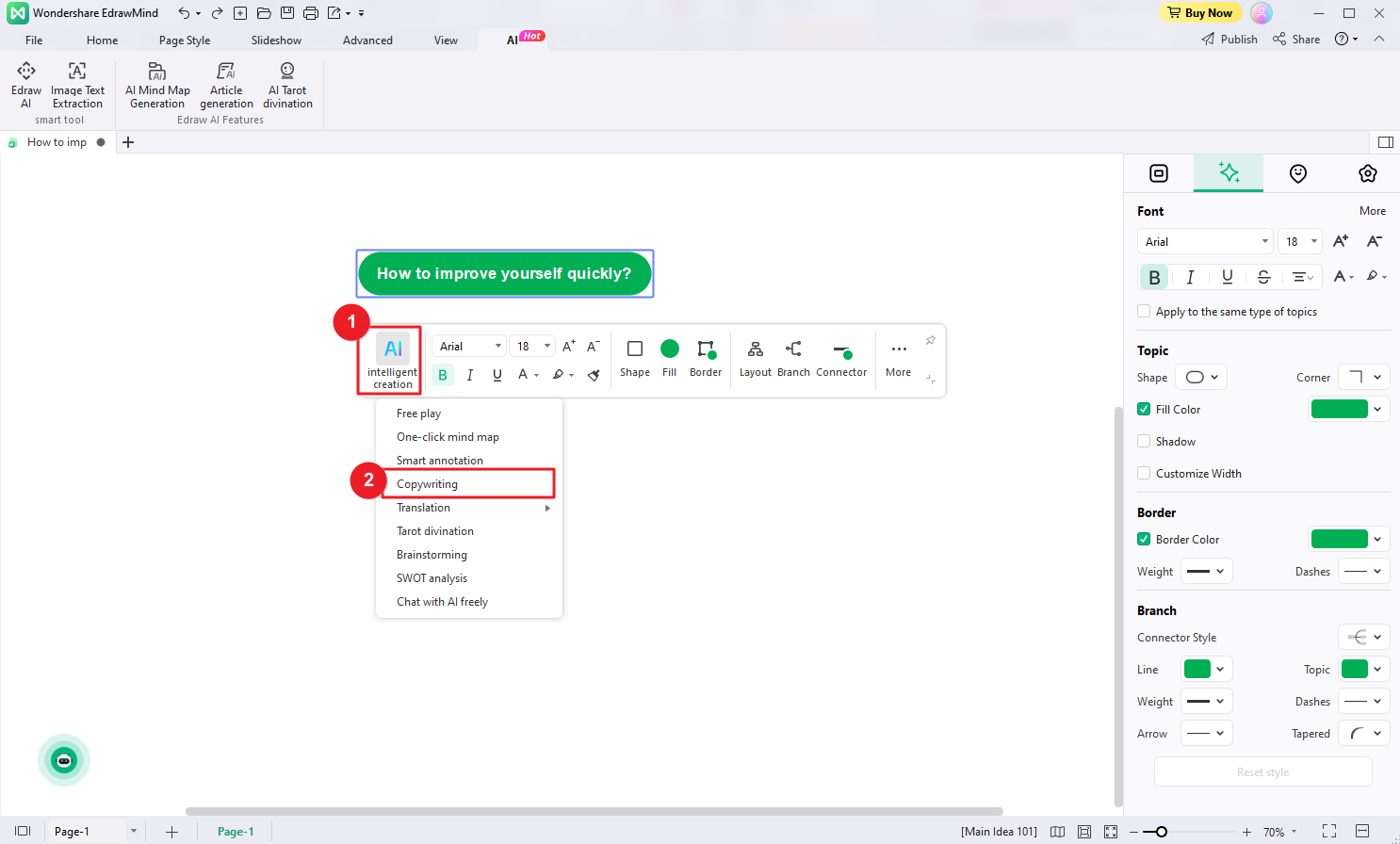 Step 2: EdrawMind will generate content from the selected topic and provide relevant information.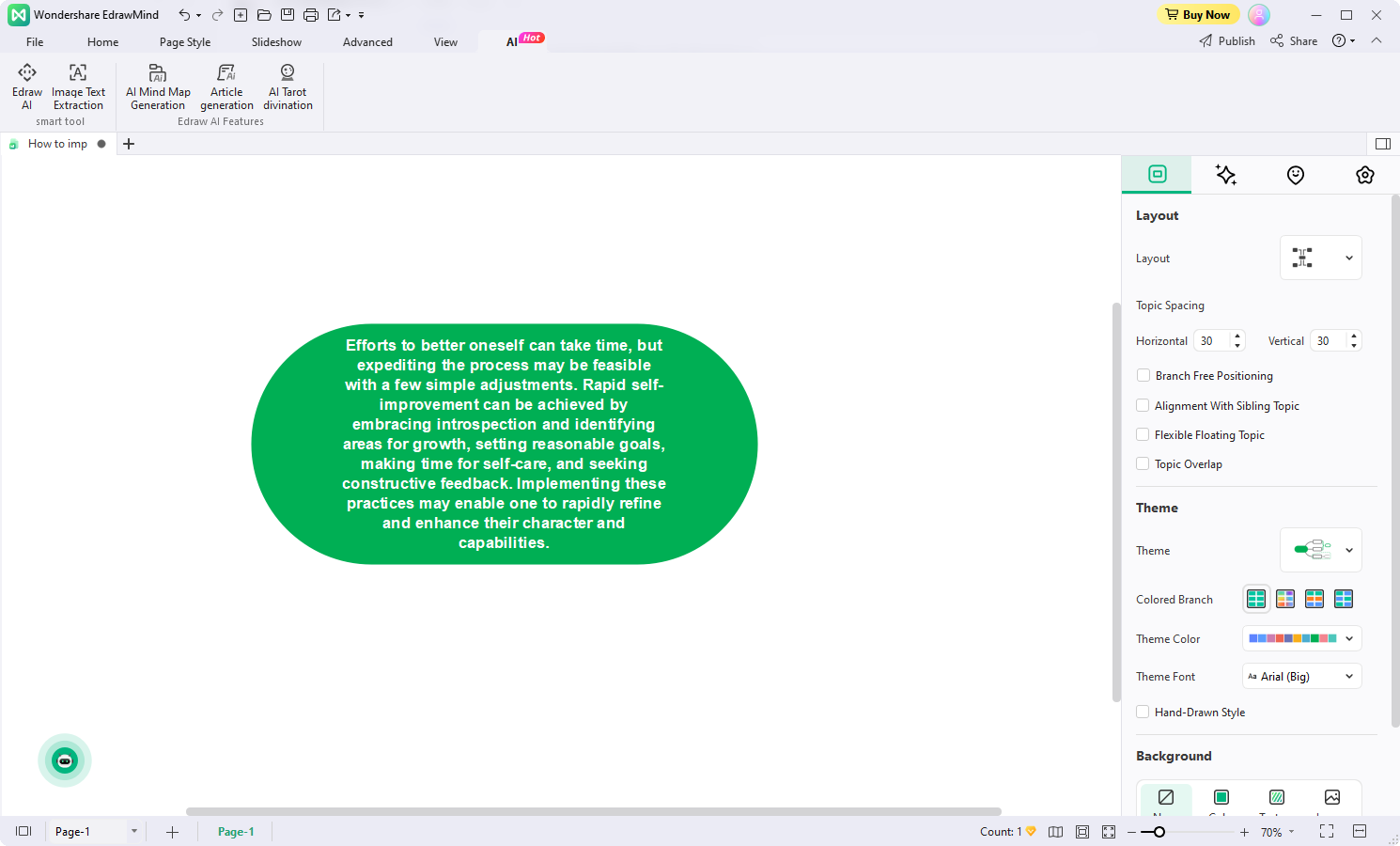 EdrawMind Apps
12 structures & 33 themes & 700+ cliparts
Support Win, Mac, Linux, Android, iOS
Advanced import & export options
On-premises software for business
Enterprise-level data security
EdrawMind Online
12 structures & 33 themes & 700+ cliparts
Access diagrams anywhere, anytime
Team management & Project management
2. ChatGPT by OpenAI
ChatGPT by OpenAI is a super-smart tool that uses machine learning—kind of like teaching a computer—to create text that sounds like a human wrote it. It's been taught using lots of different stuff from the internet, so it can chat and write like a person.
G2 Ratings
4.6/5
Pros

Integrated with ChatGPT-4 (latest GPT model)
Trained on a large amount of data (until September 2021)
Provides outputs quickly and can adapt to user preferences

Cons

All free users can only use ChatGPT 3.5
Free version of ChatGPT does not have internet access
At times inaccessible when demand is high
3. Textero AI
Meet Textero AI, your new best friend for writing! It's a smart tool learned from heaps of stuff online and uses that knowledge to write the text that feels super human-like.
G2 Ratings
Not available
Pros

Several prompting options
Has plagiarism detection
Can provide references
Several essay types

Cons

When adjusting text for plagiarism, some text can become awkwardly phrased
4. Perfect Essay Writer AI
Say hello to Perfect Essay Writer AI, a truly cutting-edge tool that's here to revolutionize how you write essays and academic papers.
G2 Ratings
4.8/5
Pros

Has several tools to help students such as essay grader, citations assistance, and content rewriter
Primarily geared for students

Cons

The generated text is only best when related to academic writing
Limited design customization options
5. Article Forge
Article Forge is a game-changer in content creation, armed with sophisticated artificial intelligence and deep learning capabilities. With just a click, it crafts entirely unique, high-quality articles that are right on topic. It's backed by five years of rigorous AI training, too.
G2 Ratings
4.1/5
Pros

Multi-lingual support
Many customization options
Can add relevant media like images to essays

Cons

Users report that manual check is needed to prevent content unrelated to topics
Limited to long-form content creation
6. ShortlyAI
ShortlyAI presents itself as a writing partner. It's powered by writing commands and prompts that help you create your next essay with ease. It doesn't write an essay entirely for you – it encourages you to start writing and provides suggestions and assistance as you go. You can ask it to write a bit, or a lot, depending on what you want.
G2 Ratings
Not available
Pros

Powerful commands/features to assist the writer
AI easily understands you with the Article Brief feature and other commands
Beautiful interface

Cons

Limited content types (essays, blogs, and stories)
User have to pay if they want to continue to use after the free trial
7. EssayBot
EssayBot is a fantastic tool geared to help writers with pre-generated content or real-time AI suggestions based on user input. It's a great writing assistant that can help writers check content for plagiarism, errors, and more.
G2 Ratings
5/5
Pros

Powerful plagiarism checker
Has a reference writer/creator

Cons

Content generation by AI is limited to pre-writing
May sometimes produce inaccurate references
Part 2. Benefits of Using Free AI Essay Makers
Who wouldn't want a handy assistant to help with essay writing? Free AI essay makers bring many benefits that can significantly enhance the writing experience.
Time-saving Capabilities
Firstly, AI essay makers save much precious time. With an AI tool, you can generate ideas, outline your essay, and even come up with complete sentences within minutes.
Enhancing Writing Skills and Creativity
Secondly, these tools can help enhance your writing skills and creativity. AI essay makers provide suggestions and alternatives you might not have considered, thus opening new horizons of creative thinking. They assist in expanding your vocabulary and refining your writing style without stifling your unique voice.
Generating Well-structured Essays
These AI tools' ability to generate well-structured essays is a vital feature. They follow a logical sequence, ensuring that your introduction, body, and conclusion align with your thesis statement.
Improving Grammar and Vocabulary
Grammatical errors and awkward phrasing can be detrimental to any essay. AI essay makers shine in this area, providing grammar checks and vocabulary enhancements to ensure your piece is polished and professional.
Overcoming Writer's Block
Finally, overcoming writer's block is a lot easier with AI at your disposal. AI essay makers can break this barrier by generating ideas or complete sentences, giving you a starting point to get the words flowing again.
Part 3. Tips To Effectively Use Free AI Essay Makers
Navigating the world of AI essay makers can feel overwhelming. However, with a few practical strategies, you can quickly maximize their potential and craft compelling essays.
Selecting the right AI bot for your needs
Each AI essay maker has unique features, strengths, and weaknesses. So, take the time to research different tools, test out their free versions, and select the one that best fits your writing style and requirements.
Understanding the Limitations of AI Essay Makers
They might make mistakes or generate content that needs to hit the mark. Hence, it's essential to understand these limitations and use AI to assist your writing process.
Maximizing AI suggestions
Use AI suggestions to enhance your writing, but ensure the final content aligns with your voice and perspective.
Prompting
The power of AI lies in its ability to understand prompts. Give clear, specific prompts to guide the AI in the right direction to improve its output.
Proofreading
Proofreading is essential in writing, and it's no different when using AI. Always proofread and edit the AI-generated content to ensure it's coherent, grammatically correct, and conveys your message effectively.
Ethical Considerations
Finally, it's crucial to consider ethical considerations. While AI essay makers can be a great help, it's essential to refrain from using them to plagiarize or generate content that misrepresents your understanding of a topic.
Part 4. Conclusion
It's worth restating how free AI essay makers change the game for writers. These tools can help solve common issues like wasting time, facing writer's block, or struggling to organize your thoughts.
Remember, these AI tools aren't just for fixing grammar. They can help make your writing more creative and even structure your essays. But to get the most out of these tools, you must pick the right one. Give EdrawMind a shot for your essay writing needs. Try it and see how it changes the way you write.
EdrawMind Apps
12 structures & 33 themes & 700+ cliparts
Support Win, Mac, Linux, Android, iOS
Advanced import & export options
On-premises software for business
Enterprise-level data security
EdrawMind Online
12 structures & 33 themes & 700+ cliparts
Access diagrams anywhere, anytime
Team management & Project management