The demand for AI content generators is rising because businesses and individuals seek efficient ways to produce high-quality content. Fortunately, a solution for those on a budget is free AI content generators. These innovative tools use AI to assist in content creation, generate articles, blog posts, and more.
This page will review the best free AI content generators available that provide a range of functionalities to suit various writing needs. Discover the power of AI-driven content creation without spending a penny by reading below.
Part 1: The Top 10 Free AI Content Generators in 2023
Here are several free AI content generators in 2023 that offer impressive functionalities without breaking the bank. These 10 free AI content generators can revolutionize your writing process and help you effortlessly meet your content creation goals.
EdrawMind is a versatile tool that combines the power of mind mapping with AI-driven content generation features. You can effortlessly create engaging and well-structured content using AI-generated suggestions. EdrawMind AI can help you generate articles, weekly reports, complements, mind maps, copywriting, and more.
G2 Ratings
4.5 out of 5
Pros

AI-powered suggestions for efficient content creation
Seamless integration of mind mapping and AI features
EdrawMind Desktop and Online both have AI content generation features

Cons

Free users are limited to 200 Edraw AI tokens
Users may need to do additional editing to revise the content
EdrawMind Apps
12 structures & 33 themes & 700+ cliparts
Support Win, Mac, Linux, Android, iOS
Advanced import & export options
On-premises software for business
Enterprise-level data security
EdrawMind Online
12 structures & 33 themes & 700+ cliparts
Access diagrams anywhere, anytime
Team management & Project management
2. OpenAI ChatGPT
OpenAI's ChatGPT is an advanced AI language model that offers powerful ai-content generation capabilities. It's designed to assist users in generating high-quality and contextually relevant content.
G2 Ratings
4.6 out of 5
Pros

Generates high-quality and contextually relevant content in seconds
A vast knowledge base enables accurate and informative responses
Provides helpful suggestions to enhance the writing process

Cons

Possibility of generating incorrect or unreliable information
Limited control over the generated content, requiring careful review and editing
3. ContentBot.ai
Contentbot is an innovative AI-powered tool that revolutionizes content creation. From blog posts to social media captions, Contentbot streamlines your writing process.
G2 Ratings
4.8 out of 5
Pros

Efficient and time-saving tool for content creation
You can create a 1000-to-8000-word blog post with the click of a button
Access any feature on the platform for free

Cons

Content generation is limited to a set of words per month per plan
Possibility of generating content that lacks a human touch
4. Copy.ai
Copy.ai offers a game-changing solution for content creation. It empowers you to generate engaging and persuasive content for various purposes effortlessly.
G2 Ratings
4.8 out of 5
Pros

The tool includes a decent text editor so you can edit in-app
The free version allows you 100 free content creations in the first month
The AI writer is straightforward for beginners to get started right away

Cons

Building long-form copy can be difficult as random content can sometimes appear
You will have limited content credits starting in the second month
5. Scalenut
Scalenut, a cutting-edge platform, offers AI content generation features that revolutionize how content is created. Scalenut AI streamlines the writing process, allowing you to easily produce compelling content.
G2 Ratings
4.7 out of 5
Pros

The interface is beginner-friendly and easy to use, even for first-timers
It's an excellent AI tool for long-form content
The range of price plans is suitable for beginners and advanced users

Cons

Scalenut's AI can sometimes be repetitive in writing
Scalenut lacks comprehensive templates compared to other content generators on the list
6. Simplified
Simplified is an AI-powered content creation platform that simplifies generating high-quality content. The platform provides creative suggestions and alternative wording options, which helps save time in content creation.
G2 Ratings
4.7 out of 5
Pros

The free plan has no time limit
The tool has a clean interface making navigation easy
Templates and categories break down tabs so you can better manage your workflows

Cons

The plans can be expensive for beginners as the pricing is based on the number of features used
Free users are limited to 2,000 AI words per month
7. Jasper AI
Jasper AI is an advanced AI-powered platform designed to streamline content creation. Jasper AI assists users in generating high-quality and engaging content effortlessly. The tool provides intelligent suggestions and automates the content generation, saving time and boosting productivity.
G2 Ratings
4.7 out of 5
Pros

Jasper AI provides intelligent suggestions and automates parts of the content creation process
Its advanced algorithms generate content for blog articles, social media posts, marketing copy, and more

Cons

The built-in plagiarism detection tool costs extra
Content generated may require careful review and editing for precision
8. PepperContent
PepperContent is a dynamic platform that combines human expertise with AI-powered capabilities to deliver high-quality content. With a focus on quality and efficiency, PepperContent ensures you can obtain engaging and compelling content to meet your diverse needs.
G2 Ratings
4.6 out of 5
Pros

The tool can generate quality content in seconds, saving time and effort
The user interface is clean and beginner friendly, so you can start right away

Cons

The pricing structure is better suited for businesses
9. Neuroflash
Neuroflash helps you create short and long-form copy much faster, in a more intelligent, intuitive, and efficient way. The tool supports creatives with AI-backed performance prediction. This results in proven better performance when generating content.
G2 Ratings
4.7 out of 5
Pros

The tool has a user-friendly interface ideal for novice and advanced users
Its AI generation is quick when producing outcomes

Cons

The word limit on the free version is capped at 2000 words and 5 images per month
The AI-generated content may sometimes lack the creativity and personal touch
10. Hypotenuse AI
Hypotenuse AI is a platform that uses AI to simplify and enhance content creation. It streamlines the writing process, helping you create compelling content that captures the attention of your target audience.
G2 Ratings
4.4 out of 5
Pros

You can create blog entries in minutes
You can regenerate outlines to get your optimal output
Equipped with a plagiarism checker and detection tool

Cons

Generated content still requires proofreading
The tool can only support one user at a time, making it difficult to share with team members
Part 2. How To Use EdrawMind for Content Creation
EdrawMind is a versatile tool that goes beyond traditional mind mapping. Its AI capabilities can be a valuable asset for content creation, allowing you to generate articles and even create weekly reports seamlessly.
Here's a step-by-step guide on how to use EdrawMind's Edraw AI tool for content creation:
Step 1: Launch EdrawMind on your computer. Log in or sign up for a free account. Start a new project and click the Edraw AI button under the AI menu. Select the Article Generation option under the AI tab.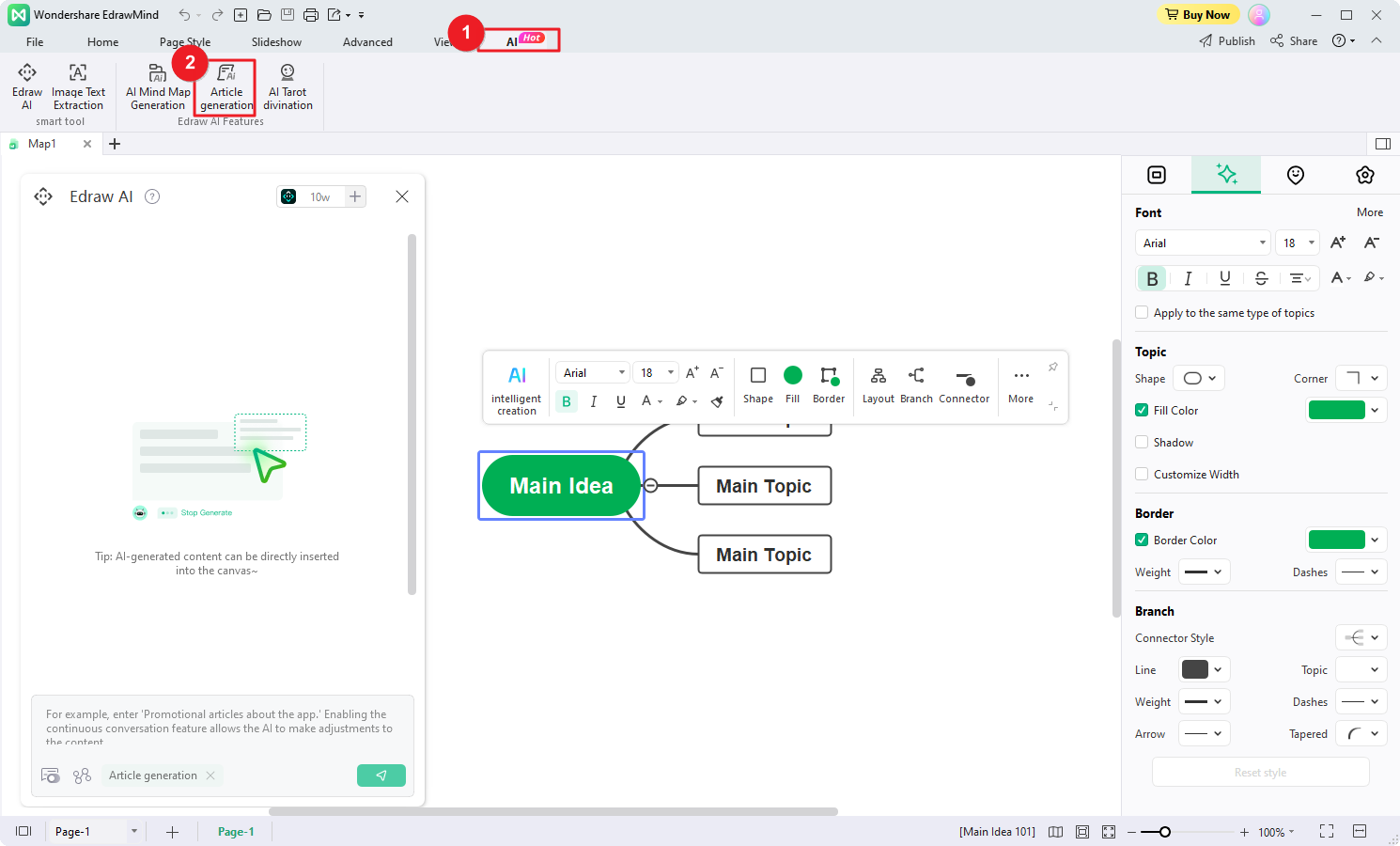 Note: You can also navigate to the Pre-scene Setup menu and choose the Article Generation option.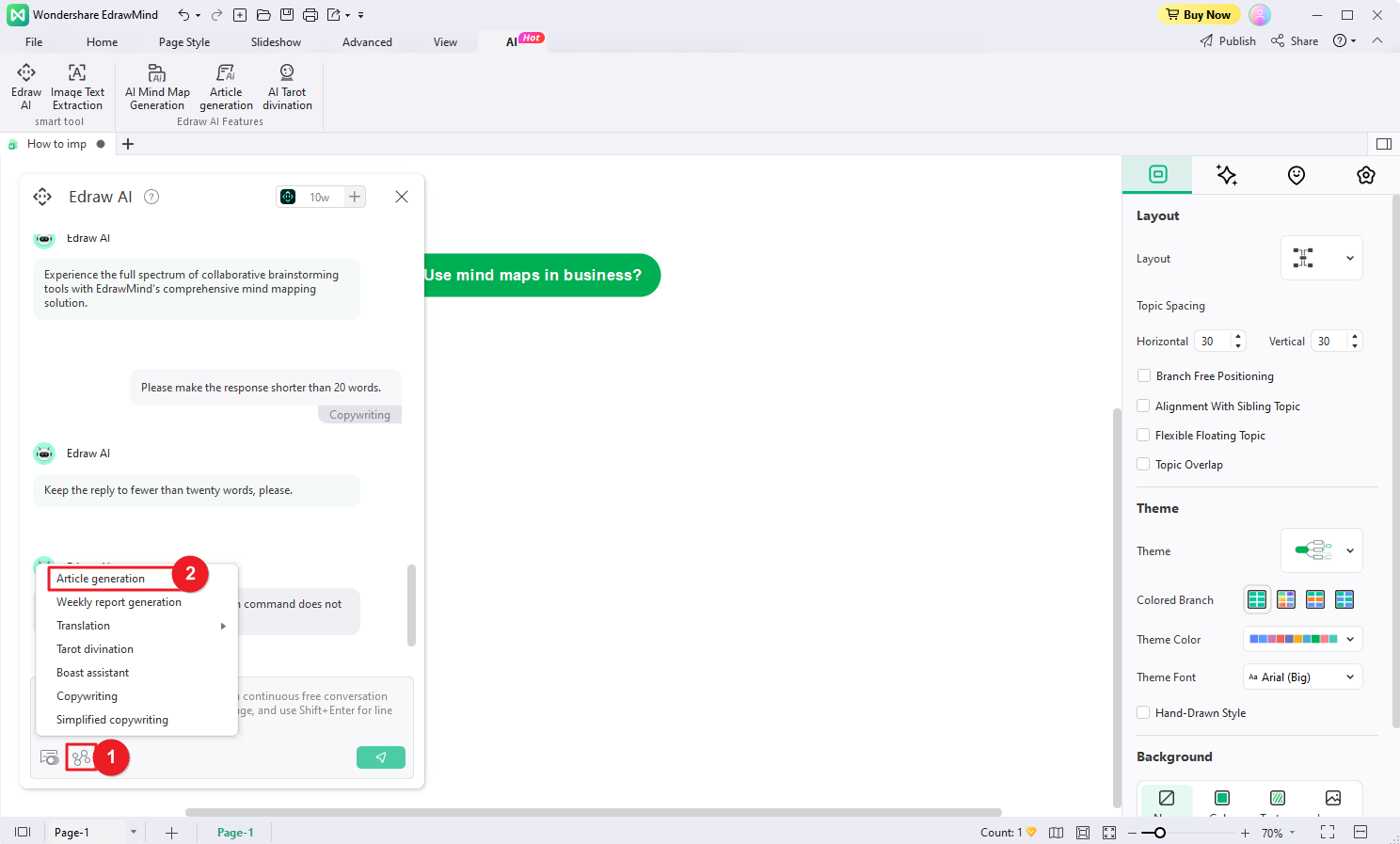 Step 2: Type in your prompt in the dialog box. Provide requirements or instructions to guide Edraw AI during its article generation process. If you are not fully satisfied with the generated result, you can continue adjusting your article. Converse with Edraw AI on the provided chat box.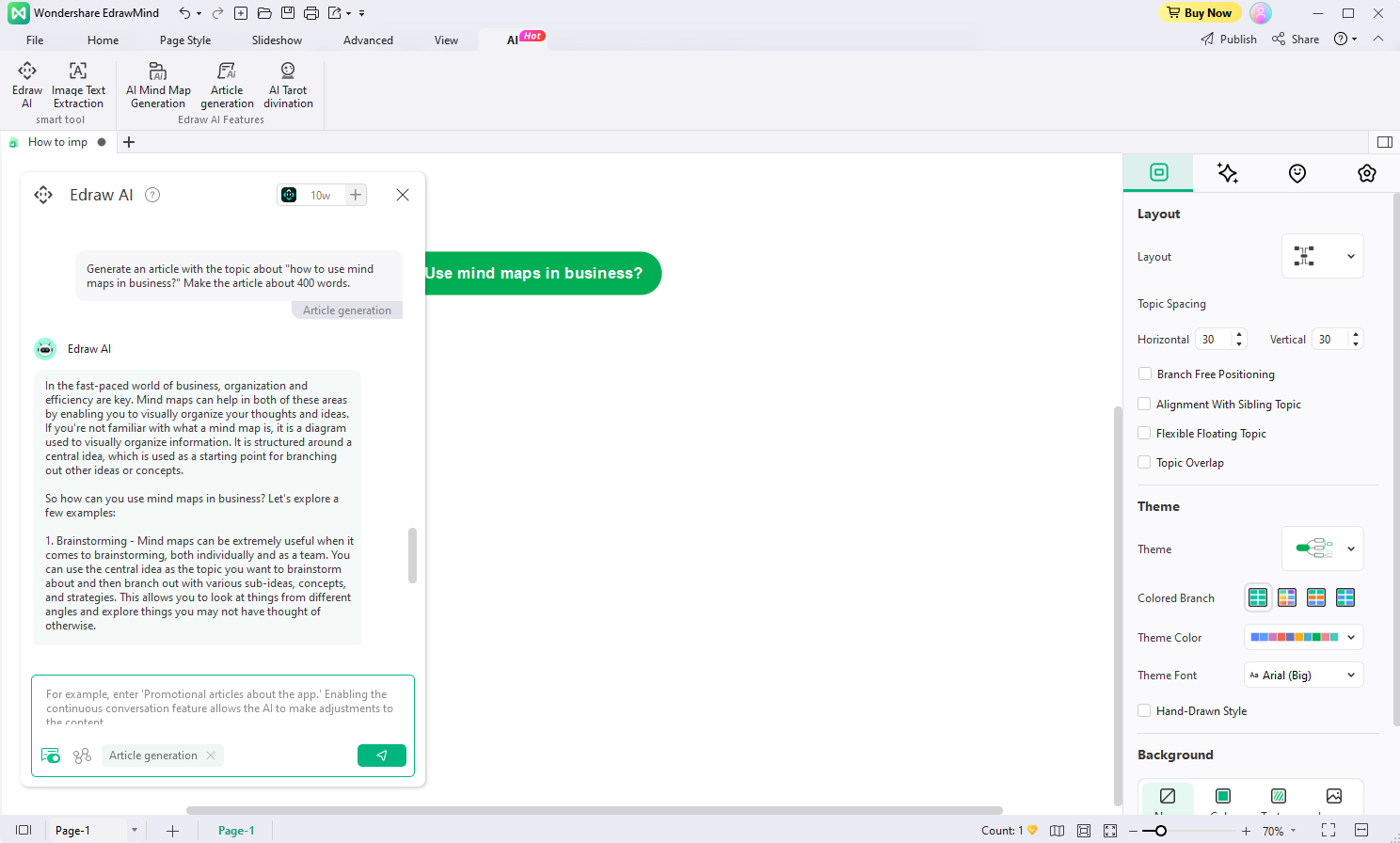 Bonus: Create a Weekly Report Using Edraw AI
EdrawMind can also create weekly reports in seconds. Edraw AI effortlessly generates comprehensive weekly reports based on your input command. Here's how.
Step 1: Launch EdrawMind on your computer. Create a new project and click on the AI button. Navigate to the Pre-scene Setup menu and click the Weekly Report Generation option.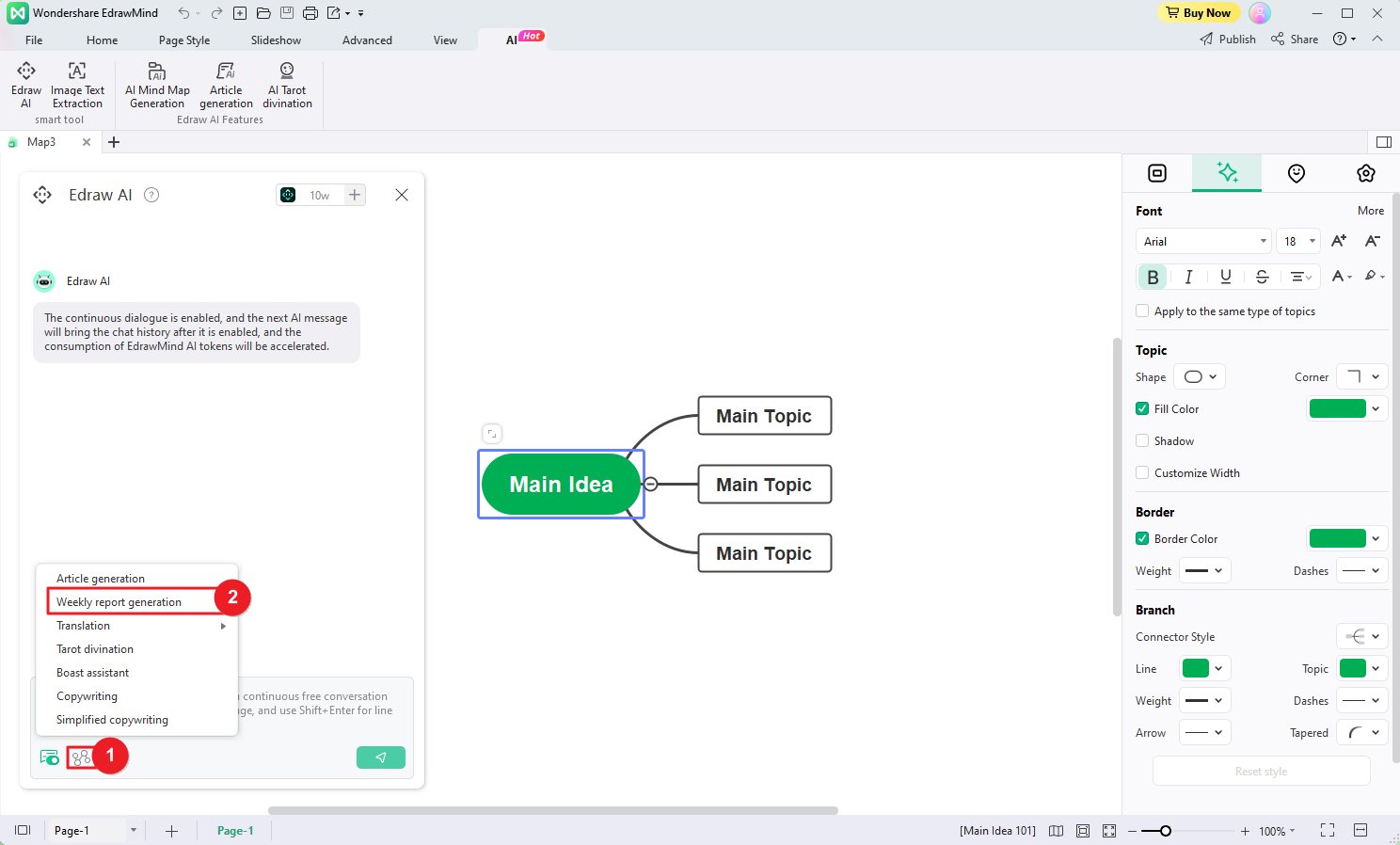 Step 2: Type in your prompt, including relevant data in the provided input field. Wait for Edraw AI to analyze your input and generate a weekly report. Continue making adjustments to the report to fine-tune the generated result. Engage in dialogue with Edraw AI on the provided chat box.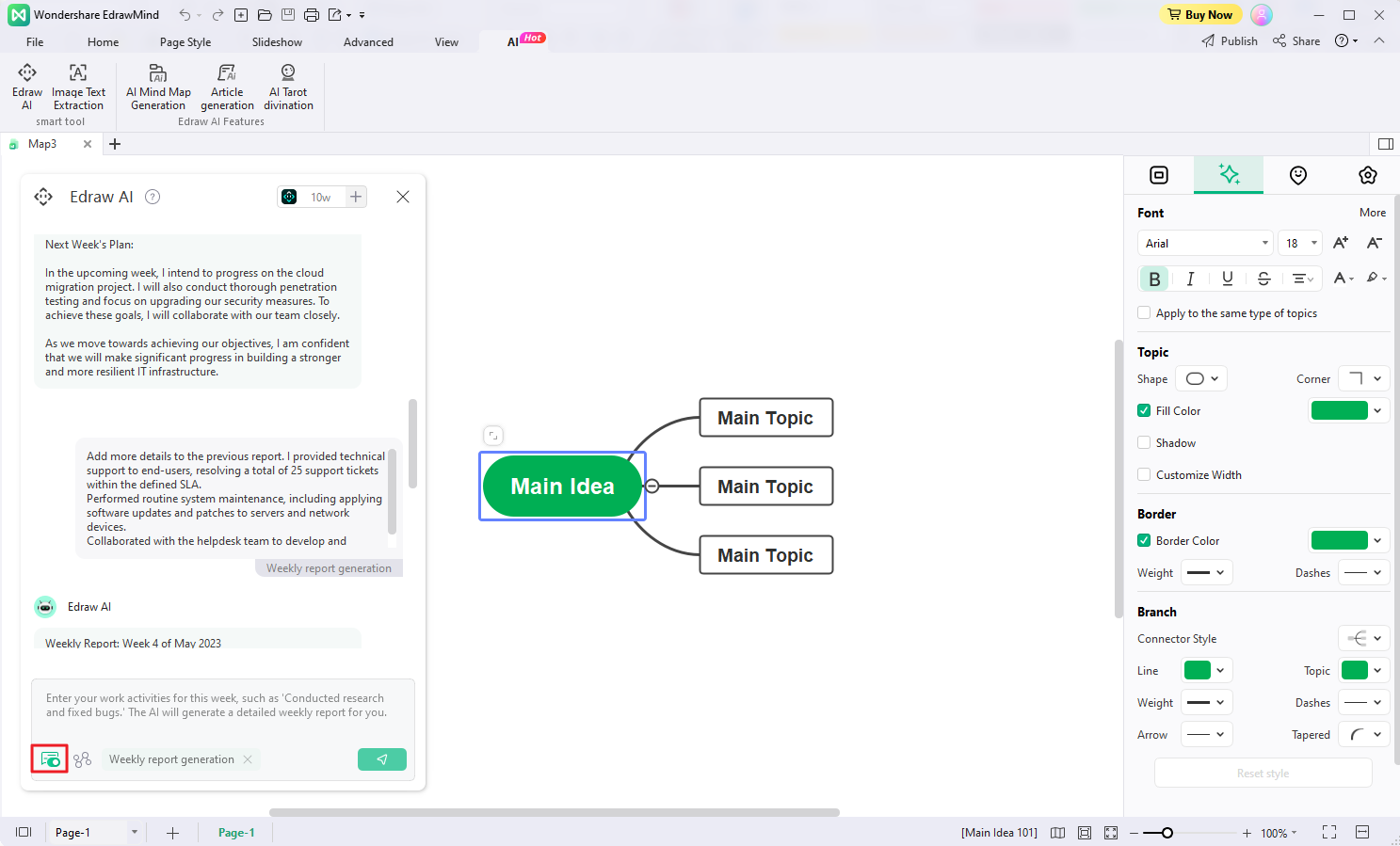 Part 3. Conclusion
Free AI content generators offer a cost-effective solution for efficient content creation. They harness the capabilities of AI to generate engaging and high-quality content. Whether you need an AI content writer or a content generator, these tools cater to various writing needs.
Using free AI content generators saves time and effort while producing compelling content. Among these tools, EdrawMind stands out as a versatile option. The device is an all-around AI content generation for all your needs. It's highly recommended to try and unlock the potential of AI-driven content creation.
EdrawMind Apps
12 structures & 33 themes & 700+ cliparts
Support Win, Mac, Linux, Android, iOS
Advanced import & export options
On-premises software for business
Enterprise-level data security
EdrawMind Online
12 structures & 33 themes & 700+ cliparts
Access diagrams anywhere, anytime
Team management & Project management