The demand for refined text spans education, marketing, and collaborative environments. Now, productivity tools have emerged to simplify text with AI. They help improve comprehension, deliver concise messages, and ease effective communication.
In this article, you'll learn five AI that simplifies text, designed to cater to diverse users. No matter your role—student, marketer, or team player—these tools are about to transform your content creation.
Wondershare EdrawMind: Simplify Text AI-Powered Tool for Mind Maps
You can be more productive while brainstorming, planning with your team, or studying using mind maps. Although EdrawMind may not be specifically designed for copywriting, its AI text simplifier feature can help you. Simplifying content makes your mind map easier to understand. EdrawMind AI allows your ideas to flow better, making collaboration and learning more efficient.
1. AI-Powered Features in EdrawMind
Besides the AI text simplifier, EdrawMind offers a range of other AI features. Let's explore some of these valuable tools.
AI One-Click Mind Map Creation: Instantly generate mind maps with a simple prompt. Let EdrawMind create the mind map for you, complete with relevant content. It's a time-saving and hassle-free way to kick-start brainstorming or study sessions.
AI SWOT Analysis for Insights: Understanding a company's competitive position is essential for strategic planning. EdrawMind's AI SWOT Analysis generator helps you create this fast.
AI Language Translation: Language barriers are no longer an issue with EdrawMind's AI Language Translation. This feature allows you to translate the content of your mind maps into various languages, such as English, Chinese, Korean, and more.
2. Price of AI Tokens
Access EdrawMind's AI features using AI tokens where one AI token equals ten words. The tokens do not have an expiry date, and you can buy them separately without an EdrawMind membership. To get started, you receive 200 AI tokens. Even free trial users can access AI features with enough AI tokens.
You can buy EdrawMind AI Tokens starting at $5.90 for 50,000 AI tokens. Then, you can get 100,000 tokens for $9.9 and 999,999 tokens for $79.90.
3. Experience EdrawMind Anywhere and Hear What Users Have To Say
EdrawMind is accessible across various platforms, including browsers, Mac, Linux, Windows, Android, and iOS. With its AI text simplifier and other powerful AI tools, EdrawMind has earned an impressive G2 rating of 4.5 out of 5 based on positive user feedback.
One of the G2 users said that he loved EdrawMind, because "it has many features which you can choose from when taking out some ideas for your mind mapping. "
4. How To Simplify Text With AI Sentence Shortener in EdrawMind?
Learn the ropes of using EdrawMind AI to simplify text in your mind maps below.
Step 1 Go to the official website of Wondershare EdrawMind, click Download and install it on your desktop.
Step 2 Launch the EdrawMind app, then create a mind map.
Step 3Click Edraw AI in the upper navigation pane from the AI tab bar. You can also click the Edraw AI icon in the lower-left corner of the working space.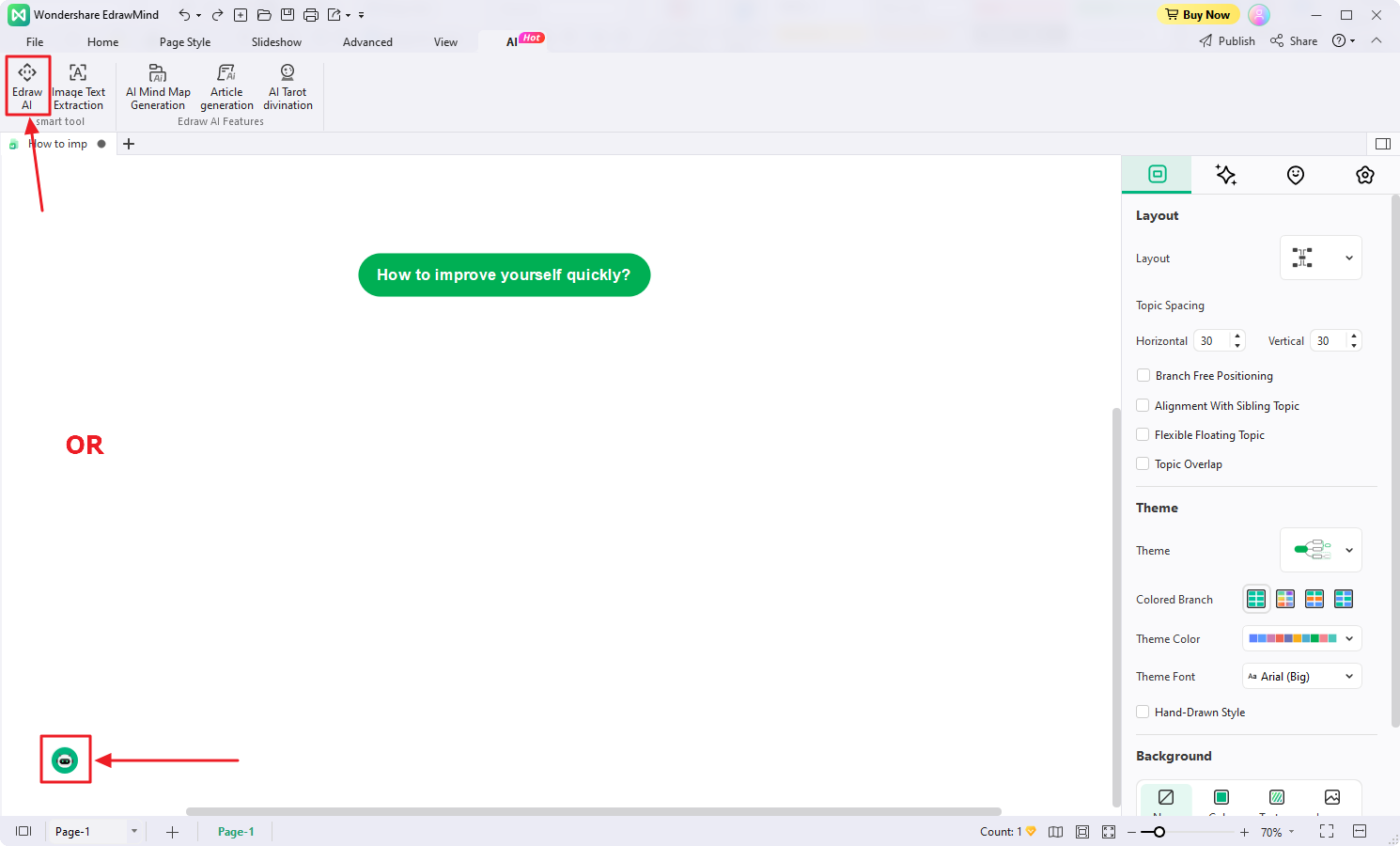 Step 4Click the Pre-scene Setup icon and select Simplified Copywriting. Next, enter the content in the text field and wait for the result.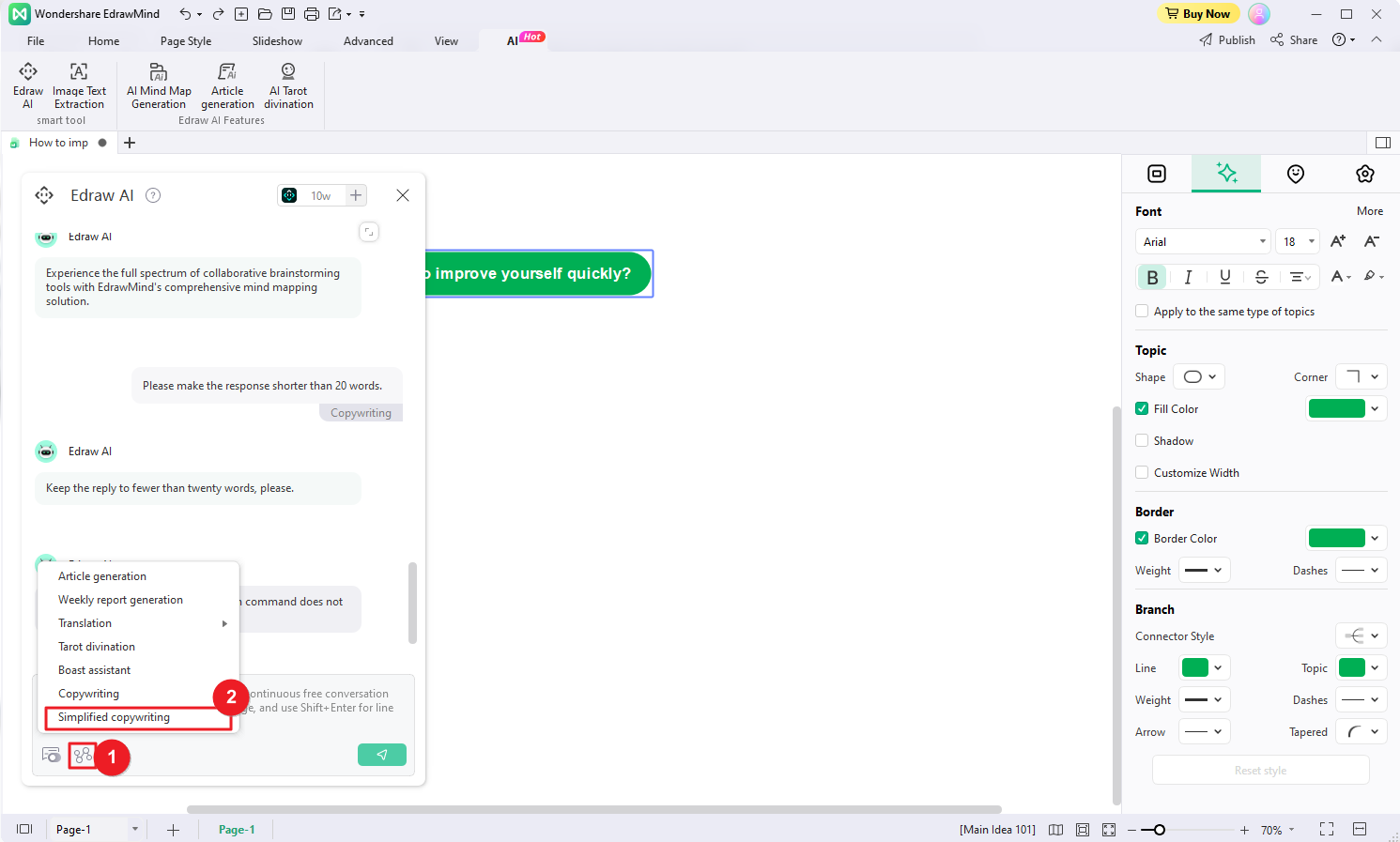 Note: There is a character limit of 800. Break down long text into smaller chunks before using the Edraw AI input box.
Copy.ai: AI Text Simplifier for Marketing
As a marketer, you're no stranger to crafting extensive articles, social media captions, and similar content. But remember, it's vital to ensure your audience can readily grasp your message.
1. The Power of AI Sentence Shortener
Copy.ai's AI sentence shortener feature can rewrite your marketing content, making it concise and to the point. With this tool, you can easily shorten your sentences without losing the essence of your message. Moreover, you can choose the tone you want, whether it's friendly, professional, or any style that suits your content.
2. Pricing
Simplify text effortlessly with AI for free using Copy.ai. However, the free plan has a monthly word usage limit of 2,000 words. If you need unlimited word usage, consider upgrading to the Pro plan for $36 per month, billed annually at $432. It's an investment that grants you the freedom to create without limitations.
3. Accessibility and User Review
Copy.ai is an online platform accessible through your browser. It has gained a stellar reputation, with a 4.8 out of 5 rating on G2. Users appreciate the advantages it brings to content creation. One of Copy.ai users on G2 said he choose this tool because it is time-saving and saved a lot of his time and effort.
ClickUp AI: Simplify Text AI Tool for Team Communication
Remote work is on the rise, and effective project management is crucial. ClickUp, a trusted tool for companies and teams, now offers AI-powered features to enhance collaboration.
1. ClickUp AI Text Simplifier
ClickUp AI text simplifier feature ensures your content is easier to read and comprehend. It analyzes your selected text and returns a simplified version without losing the core message. Whether it's project descriptions, blogs, or any other content, ClickUp AI makes it more accessible and concise.
2. AI Sentence Shortener for Concise Communication
ClickUp AI sentence shortener feature enables you to craft more concise and impactful messages. You can transform lengthy sentences allowing your team to grasp important information quickly.
3. Pricing
Access to ClickUp AI is available through a free trial, with usage limits based on your plan. Pricing starts at $5 per Workspace member and internal guest per month.
4. Accessibility and User Review
With ClickUp, you can access your projects seamlessly from mobile, desktop, and browser. Soon, ClickUp AI will also be available on the mobile app, expanding its accessibility. Positive reviews highlight its different capabilities, rating 4.7 out of 5 on G2.
5. Advantages
Enjoy the advantages of editing options and flexibility with ClickUp. You have the tools to tailor your content from sentence shortener to text simplifier ai. Additionally, ClickUp AI can handle text of any length, making it suitable for projects of all sizes.
6. Disadvantage
The extensive range of AI features may initially feel overwhelming. Take your time understanding them, as they can enhance remote collaboration.
Wordtune Read: AI Simplify Text Report for Students
Wordtune is not just any AI-based reading tool. It goes beyond standard features that enhance your reading experience. With Wordtune AI sentence shortener and text simplifier, you can streamline and edit content to suit your needs.
1. AI Text Simplifier for Focused Summaries
The AI text simplifier in Wordtune Read creates concise and focused summaries. Wordtune Read understands your text's context and meaning, highlighting crucial points. Upload a PDF or insert a URL, then Wordtune Read generates section summaries.
2. AI Sentence Shortener for Precise Communication
Wordtune AI sentence shortener takes the complexity out of lengthy sentences. You can now transform verbose sentences into clear and concise ones.
3. Pricing
Wordtune Read's free plan allows you to read five summaries every month. Wordtune AI sentence shortener and other basic features are accessible for free, with 10 total rewrites per day. For more extensive usage, premium plans are available starting from $9.99 monthly.
4. Accessibility and User Review
Wordtune Read is a web application that ensures convenient access wherever you are. Rated 4.4 out of 5 on G2, it has gained recognition for its features and user experience.
TLDR This: AI Text Simplifier for Researchers
TLDR This is your ultimate companion for simplified and actionable reading. This AI text simplifier frees you from information overload. Look no further if you're seeking a straightforward way to summarize and simplify text with AI. Enter the article URL, paste the text, and wait for the summary.
1. All-in-One Content Extraction
The AI simplifies text by extracting essential information from news articles and blog posts. It gathers details like the author, related images, titles, and more, presenting everything in a neat and accessible format.
2. Tailored Summaries To Fit Your Needs
TLDR This gives you control over your summaries. Choose between short or detailed and section-wise summaries. Additionally, you can display important keywords and access previous summaries.
3. Pricing
Sign up with TLDR This to unlock advanced human-like summaries, priority support, and more. As a special bonus, you'll receive ten advanced human-like summaries for free upon signing up. The Starter plan is available for $4.99 each month for low usage needs. The Professional and Business plans are $9.99 and $19.99 each month separately.
4. Accessibility and User Review
TLDR This is easily accessible through your browser or as browser extensions in the Chrome Web Store and Firefox Web Store. Its user-friendly interface and powerful features have earned it a 4.3 out of 5 rating in Product Hunt.
5. Advantages
Get no ads and a distraction-free reading experience with TLDR This. It simplifies text with AI while filtering out weak arguments and flashy phrases, leaving you with the most relevant points. TLDR This delivers essential information without noise.
6. Disadvantage
TLDR This may take a minute to generate the summary.
Conclusion
Boost your productivity and understanding with AI that simplifies text like the one available in Wondershare EdrawMind. From research to brainstorming and content creation, these tools have you covered. So, why not give it a go? Let these AI-powered tools take the load off your shoulders. Refine complex text and optimize your workflow. With AI text simplifiers, you'll craft clear and concise content, ace team meetings, and boost mind map efficiency.
EdrawMind Apps
12 structures & 33 themes & 700+ cliparts
Support Win, Mac, Linux, Android, iOS
Advanced import & export options
On-premises software for business
Enterprise-level data security
EdrawMind Online
12 structures & 33 themes & 700+ cliparts
Access diagrams anywhere, anytime
Team management & Project management