An organizational chart, shortly known as an org chart, is a unique diagram that shows the complete hierarchy or the internal structure of a business or organization. The boxes are used in this diagram to represent different employees or team members with their pictures, names, designations, responsibilities, and other similar parameters.
When it comes to creating org charts, hundreds of tools are currently available in the market, including but not limited to Visio, Google Docs, EdrawMax, Sift, Google Sheets, and OrgChart. This article specifically focuses on creating an org chart in Google Sheets. Read more to learn you can create appealing org charts in Google Sheets.
How To Create an Org Chart in Google Sheets?
Google Sheets is a wonderful web-based application designed to create a wide range of spreadsheets carrying bulk data. It also allows you to modify and share the spreadsheets online with your teammates or colleagues. Simply put, Google Sheets make real-time collaboration easy and convenient at the same time.
In addition to a variety of useful features, you can now create amazing organizational charts with Google Sheets. Thousands of people worldwide use this tool to create org charts and other diagrams. Let's look at how you can use Google Sheets to create organizational charts within a few minutes.
Step 1: Open the browser (like Google Chrome, Firefox, Internet Explorer, or any other) on your computer, click on the dotted, square box in the top-right corner, and tap on "Sheets", as shown below.
Step 2: Now, hit the "+" button to open a blank Google Sheet.
A blank sheet will look like the image displayed below.
Note: You will not find any pre-made template in Google Sheets, so you will have to create your org chart from scratch.
Step 3: It is time to enter the data in the spreadsheet. Make sure you enter the employees' names or designations and the managers or staff they have to report to, as shown below.
Step 4: Now, select the entire data, go to the "Insert" tab from the top menu, and tap on the "Chart" option, as shown below.
Step 5: A "Chart editor" will be opened on the right side of your computer's screen. Click on the "Column chart" dropdown menu under the "Chart type". Then, scroll down to the bottom, find the organizational chart, and click on it to open.
As soon as you click on "Organizational chart" in the above step, Google Sheets will create your org chart automatically, as shown below.
Step 6: Once the org chart is created, you can customize it according to your needs. For this, you will have to go to the "Customize" tab.
Note: If you add more rows or columns to the data table, the org chart will be updated automatically.
Step 7: Now, click on the chart you have just created, tap on the "three-dot" icon, and click on the "Download" option. There, you can choose different formats to download your org charts, like .png, .pdf, and .svg.
This is how you can create an org chart in Google Sheets easily.
Wondershare EdrawMind: An Incredible Tool to Create an Organizational Chart
Are you looking for an efficient, third-party utility to create easily understandable and creative organizational charts? If yes, look no further than Wondershare EdrawMind. It is an unmatchable diagramming tool designed not only to create org charts but also a wide range of other diagrams, including mind maps, project plans, course notes, timelines, and much more.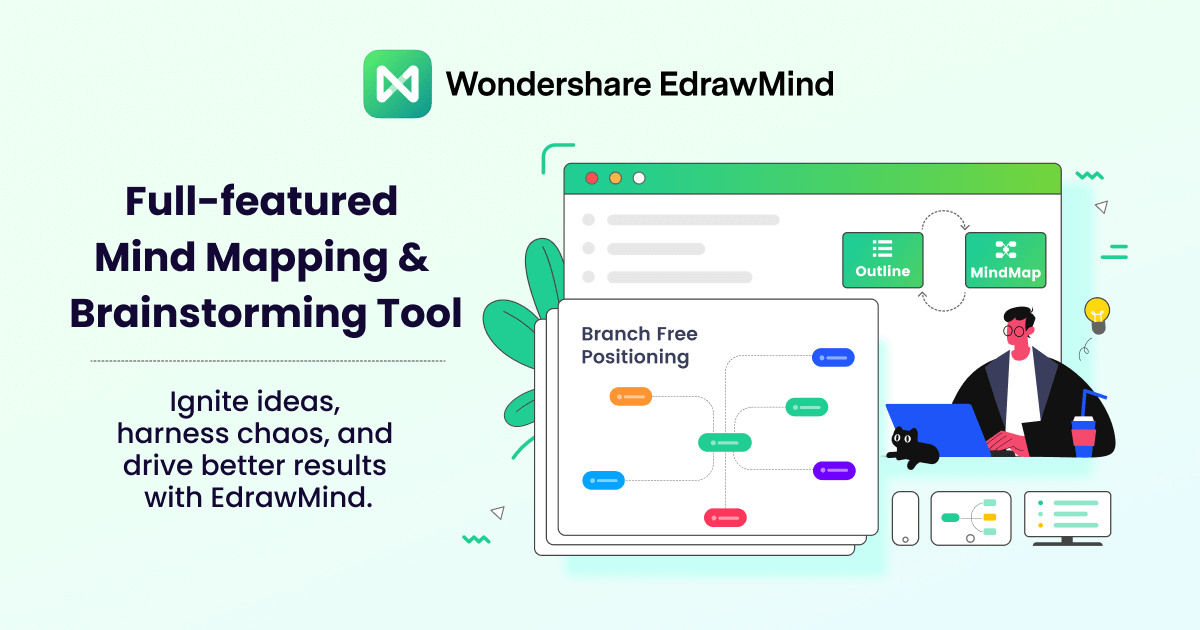 The best thing about EdrawMind is that both the desktop app and the online version of this tool (EdrawMind Online) are readily accessible from its official website. One thing that makes EdrawMind a top choice for millions of users worldwide is its compatibility with Linux, Windows, and Mac operating systems. In addition, the mobile application of this software is also available on both App Store and Google Play Store.
1. What Makes EdrawMind Stand Out in the Market?
EdrawMind is not only famous for creating appealing organizational charts and hundreds of other diagrams but is also known for its efficiency and for offering advanced diagramming solutions at a fair cost. It also offers unmatchable 24/7 technical support.
This is the reason that this tool has successfully captured the attention of the world's leading organizations and has convinced them to try EdrawMind to create their org charts and other diagrams as and when needed. These giants include; Sony, Puma, Fujifilm, Mitsubishi Electric, Toyota, Harvard University, Aramco, Shell, Total, Deloitte, Amazon, Facebook, and the list continues.
In addition, the availability of Wondershare EdrawMind in different global languages adds more value to its credibility. The languages this tool supports include; Korean, Portuguese, Spanish, German, English, Traditional Chinese, Italian, Japanese, and French. Let's look at the pricing policy and more features incorporated into this tool.
2. How To Create an Org Chart with Wondershare EdrawMind?
Now that you are familiar with the real potential of Wondershare EdrawMind when it comes to creating an org chart. Let's look at how you can create your organizational chart using this software. Download EdrawMind before you follow the steps given below.
Step 1: Once you have EdrawMind installed on your system, choose the "Org Chart" template under the "Blank Templates" section on the main interface, as shown below.
Step 2: Once you tap on "Org Chart", a basic org chart layout will appear on your screen.
Step 3: Write the content in the main idea and the branches associated with it. For this, you just need to double-click on the box and write whatever you want.
Step 4: If you need to add subtopics or more branches, you can do it with just a single click. Add as many branches or subtopics as you want to meet your needs.
Step 5: Now, when your chart is fully created, you can customize it using various font styles, colors, layouts, clip arts, and other similar things available in Wondershare EdrawMind.
Step 6: It is time to save the final diagram you have customized in the previous step. For this, go to "File" from the top bar, and hit the "Export" option. There, you will see different file formats to export your organizational charts, like PDF, SVG, Graphics, HTML, and Office.
Google Sheets or EdrawMind: What To Choose?
Well, both Google Sheets and EdrawMind have unique features when it comes to making an organizational chart. But there are certain things that convince people to use either of these tools.
When creating an org chart in Google Sheets, you have to enter the data in the spreadsheet. Then, select the entered data to create an org chart from it. Plus, you will not find any readymade org chart template in Google Sheets. Simply put, you will have to make the organizational chart from scratch. Moreover, the org chart customization choices are limited in Google Sheets.
On the other hand, if we talk about drawing an organizational chart in Wondershare EdrawMind, it does not ask you to create any table by putting the company's information. All you need to do is to open the basic layout and enter the information into the boxes directly.
Furthermore, EdrawMind provides you with pre-built org chart templates that save you a lot of time. Plus, this diagramming software comes with advanced customization features that enable you to personalize your organizational chart fully.
So, this is purely the personal choice of the users if they want to choose EdrawMind or Google Sheets to create their organizational charts. If you are looking forward to benefiting from an online utility, select Google Sheets for creating your org charts. But if you are looking for some advanced protocols and unique customization features to make an org chart, download Wondershare EdrawMind today and give this amazing tool a try.
Ending Note
Every organization needs a unique hierarchy to maintain smooth business operations. These hierarchy flows are commonly called org charts. When searching online, you will find many tools to create these charts, but all of them are not worthy and trusted enough to rely on. But creating an org chart in Google Sheets is simply superb. It just requires some data from you in tabular form and creates the organizational chart automatically.
Similarly, Wondershare EdrawMind is another credible third-party diagramming utility designed to create appealing org charts with unmatchable customization features. This tool comes with a free trial to make you familiar with the amount of potential it has. Interestingly, it enables you to make an org chart either using a built-in template or from scratch. Plus, you can export your chart in multiple file formats, including but not limited to SVG, PDF, and Office.
EdrawMind Apps
12 structures & 33 themes & 700+ cliparts
Support Win, Mac, Linux, Android, iOS
Advanced import & export options
On-premises software for business
Enterprise-level data security
EdrawMind Online
12 structures & 33 themes & 700+ cliparts
Access diagrams anywhere, anytime
Team management & Project management