Introduction
Inserting a timeline into your Google Slides presentation can be a powerful way to communicate a well-structured roadmap. However, creating a timeline from scratch can be time-consuming and challenging, especially if you don't have design experience. That's where templates come in.
This article will show you how to use a template to create your timeline in Google Slides. This method will simplify your content and provide a clear, easy-to-understand visual representation of your roadmap. This guide will also offer several Google Slides Timeline Templates you can quickly grab and use for your next presentation.
Excellent Google Slides Timeline Templates Resources for You
Creating a timeline showcases a sequence of events or milestones. Google Slides is an ideal tool for visual representations of timelines. One of the quickest and easiest ways to make a timeline in Google Slides is by using templates. Templates are pre-designed slides that can be edited and customized to suit your needs.
1. 4 Amazing Google Slides Timeline Templates Resource Websites
This section will list internet resources to find useful Google Slides timeline templates. Now let's go over to where you can get incredible templates for free.
SlidesGo
PowerPoint and Google Slides presentation themes and templates are free on Slidesgo. You can adjust the settings to make them work better, making the options practically limitless.
SlidesCarnival
SlidesCarnival offers a range of free and easy-to-use Google Slides templates. They include several timeline templates. Their fully customizable timeline templates have designs and styles, such as vertical and process timelines.
Venngage
Venngage is an online design tool that offers several templates for creating timelines in Google Slides. Their templates include a range of styles, such as Gantt charts and roadmap timelines. Templates are fully customizable; users can add graphs, icons, and other visual elements to their timelines.
2. Steps of Creating a Timeline With Google Slides
Now, look at the step-by-step guide below on creating a timeline in Google Slides using templates.
Step 1: Open Google Slides and start a new presentation. Click on the Insert tab from the top menu and choose the Diagram category. From the right sidebar, click on the Timeline option.
Step 2: To alter your diagram's Date and Color scheme, use the respective options. When you modify the timeline's color and number of dates, Google Slides updates the previews accordingly..
Step 3: To add a timeline to your presentation, click the one you want. Field texts for things like the project's name, manager's name, task details, and so on vary from template to template. Double-click the text fields to add new entries to the timeline.
Step 4: Show how far you've come over time using various colors. Select the element you want to change the color of, then select Fill color from the menu bar. Under the heading Custom, you'll find a list of the preset colors for your timeline.
Note: People can copy the diagram to another slide. Copy the entire graph by selecting it and then pasting it onto the other slide.
Step 5: Once you've finished customizing your timeline, it's ready to present. Click on Present from the top menu to enter presentation mode.
An Easier Way To Create Your Timeline
Making your timeline from scratch gives you complete freedom to format it however you desire. As previously discussed in this article, you may think the process is significantly more time-consuming and difficult. And yes, that's true for Google Slides. But with the better software, you can make your timeline with complete ease and complete control, considering all of your preferences.
Luckily, there's Wondershare EdrawMind - a portable, feature-rich mind-mapping application. It's everything you need to get from zero to hero in mind map design in record time. It offers a wide variety of intelligent layouts, view modes, design components, and theme styles to maximize productivity. It's a collaborative mind-mapping, brainstorming, and outlining tool fit for everyone.
1. Key Features
Rich Template. EdrawMind's extensive library of pre-made templates. EdrawMind's unique designs and wide variety of styles are the company's main points of differentiation.
Slide-Based Presentation: Mind mapping and presentations can be combined into one seamless experience with the slideshow presentation mode. A single click can generate slideshow pages automatically.
Styles and Themes: EdrawMind offers its users a wide selection of stylish themes and layouts. Different styles require unique fonts, shapes, colors, line lengths, etc.
Rainbow Color: It lets users quickly change the mind map's color-matching mode.
Drill-Up / Drill-Down: The drill-up and drill-down tools allow mapmakers to narrow in on a specific topic by collapsing or expanding related ones.
Sharing: Users can distribute their mind maps via a shareable link on various social networking platforms.
Import: EdrawMind's import feature makes it possible to bring in mind maps created in other programs like MindManager, FreeMind, and Edraw, among others. In addition to PDF, it can easily make maps from Word, HTML, and Markdown documents.
Export: Besides image formats, EdrawMind allows you to export to PDF, Word, Excel, PowerPoint, HTML, SVG, and MindManager.
Brainstorming: It serves as a hub for group brainstorming sessions and an individual inspiration generator.
Mapping Community: This brings together thousands of unique mind map creations collected for easy user reference.
2. How To Create a Timeline With EdrawMind
Now let's go over how to easily create your timeline using EdrawMind. Check out the 3 easy steps given below:
Step1: Launch EdrawMind on your computer. The main interface will have numerous timeline templates, including horizontal, vertical, and winding timelines. Pick your preferred template by clicking it to begin the editing process.
Step2: Now, you can quickly make a timeline simply using the "Enter" and "Tab" keys on your keyboard. Pressing "Enter" will insert the Main Topic at the end of the timeline, allowing you to add a new topic over the entire timeline. On the other hand, if you need to insert the Main Topic at a particular location, you should go to the topic above it.
To insert the Main Topic anywhere in the timeline, press "Enter"; to insert a subtopic behind the currently selected Main Topic, press "Ctrl + Enter." To insert a subtopic across the timeline, go to a specific cell and hit "Tab."
Step3: You may add interesting themes and effects to your timeline using the many tools provided by EdrawMind. Their page formatting section allows quick text style adjustments, color, and background adjustments. Timelines can have their structure altered, and graphics and rainbow effects can be added to spice things up.
Timeline Templates You Can Find in EdrawMind
In this part, you will find some fantastic illustrations of the EdrawMind templates available for use in your own web and PC-based projects.
Note: If you are satisfied with the template style below, welcome to become a member of the EdrawMind family.
1.AI History Timeline
Timelines in history keep track of significant milestones and accomplishments for a given endeavor, usually in a vertical format. An AI history timeline, for instance, can graphically display the evolution of AI over the years and the significant events that have occurred in the AI industry. So, a vertical chronology can structure the affairs easier to follow than reading a book.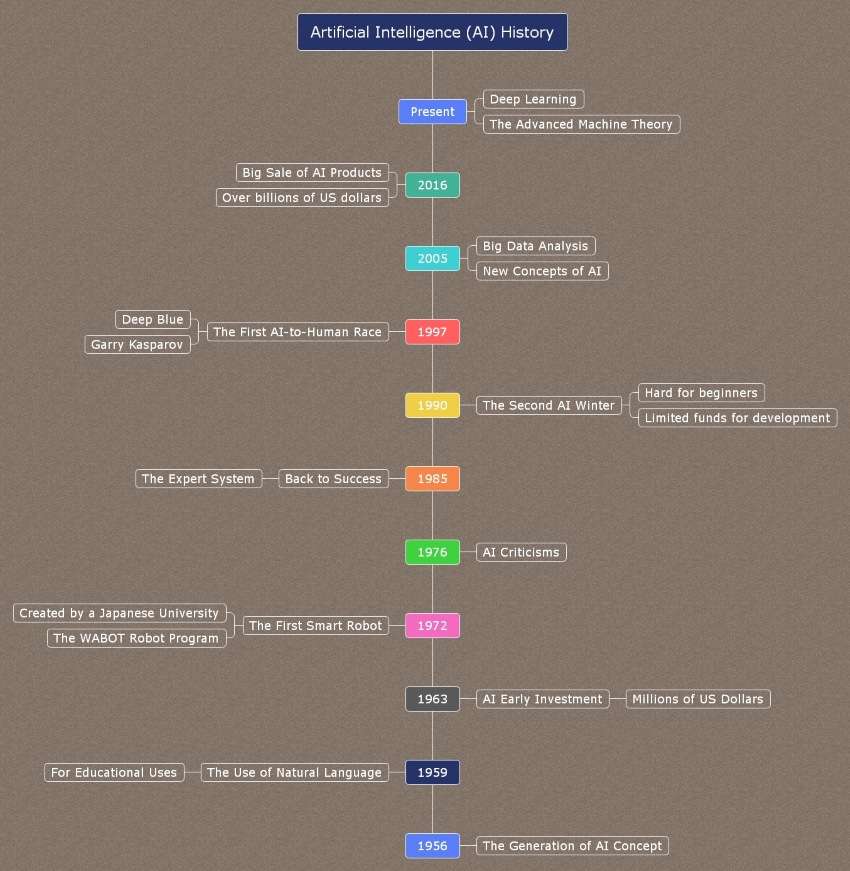 2.IT Project Timeline
People can use IT project timelines to schedule and arrange tasks like a traditional project timetable ensures that everything gets done when needed. A complex timeline allows you to identify the most important and urgent activities to complete to keep your project on track and on time. The project's finer points can also be managed effectively.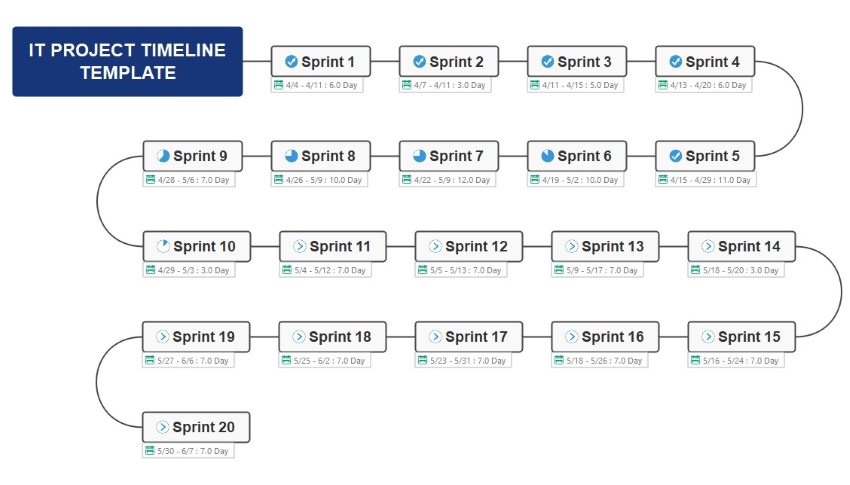 3.Construction Project Timeline
A construction project timeline can be of great use in the management and organization of building projects. Construction projects can be tracked through the addition of milestones and through the inspection of resource management and budgeting. Using this form, you can more easily meet your construction project deadlines.

---
Learn more blank timeline templates to boost your creativity and efficiency.
---
Key Takeaway
Using a template is a simple and effective way to create a timeline in Google Slides. Following the steps outlined in this article, you can easily create a professional-looking timeline that visually represents a sequence of events or milestones. With the help of templates, you can save time and effort in designing a timeline from scratch and focus on adding your content.
However, suppose you're looking for an even more accessible and versatile timeline tool with complete control over how your timeline will look. In that case, Wondershare EdrawMind is the one to go.
EdrawMind offers a user-friendly interface with various templates and customization options for creating timelines, mind maps, and more. EdrawMind allows you to easily collaborate with others and share your timeline with just a few clicks. Give EdrawMind a try and see how it can simplify your timeline creation process.
EdrawMind Apps
12 structures & 33 themes & 700+ cliparts
Support Win, Mac, Linux, Android, iOS
Advanced import & export options
On-premises software for business
Enterprise-level data security
EdrawMind Online
12 structures & 33 themes & 700+ cliparts
Access diagrams anywhere, anytime
Team management & Project management