Having trouble keeping your project organized and on schedule? If so, Excel timeline templates may be what you need! These pre-designed spreadsheets allow you to see the big picture of your project.
This article will walk you through how to create a timeline in Excel. It will also provide a list of Excel timeline templates. With these, you can avoid missed deadlines and stay in the loop of your project tasks. Plus, it'll touch on an alternative tool for project managers needing a collaborative diagramming tool. Let's dive in and see how a project management timeline template can make your work easy!
How To Create a Timeline in Excel
While you could use a pre-designed one, sometimes it's best to build a project timeline Excel sheet from scratch. Creating a timeline in Excel from square one gives you control over the design and functionality. Follow along to learn how to make your own Excel timeline template.
1. Create Timeline in Excel Using SmartArt Graphics
SmartArt is a graphics tool built into Excel that allows you to create visual representations of your data. You can use it to make your project timeline template in Excel and keep your team in the loop. Keep reading to learn how to use SmartArt to create a timeline in Excel.
Step1: From the Insert tab, click Illustrations, then select SmartArt.
Step2: In the Choose a SmartArt Graphic dialogue box, click Process, and select Basic Timeline. Alternatively, select the Circle Accent Timeline, then click OK.
Note: The SmartArt feature provides several Process graphics to select from according to your liking.
Step3: Enter your data in the Type your text here dialogue box. You can also click [Text] and add the details.
Note: Click the timeline in the spreadsheet, then click the SmartArt Design tab in the upper navigation pane to customize the timeline.
2. Create Timeline in Excel Using Scatter Plot Charts
One of the benefits of using a scatter plot chart is that it adaptively updates as you enter new data. It lets you easily track changes and identify trends over time. Read on to learn how to create a scatter plot chart in Excel and include it in your Excel timeline template.
Step1: Select the data or table with tasks, dates, and milestones.
Step2: Go to the Insert tab and click on the Scatter drop-down list in the Charts group.
Note: Click More Scatter Charts, then select a layout with a date axis in the Insert Chart dialogue box. Next, click OK to show it as a timeline.
Step3: Select your preferred Scatter chart layout
Note: Click the Scatter chart, then go to the Chart Design tab in the upper navigation pane to customize it.
List of Excel Timeline Template Resources
If you're looking for a shortcut to making a timeline in Excel, then you're in luck. This part has a list of downloadable Excel timeline templates to help you start your project. Keep reading and find the Excel project timeline chart suitable for your tasks.
1.Scatter Chart Project Management Timeline Template - by Vertex
This project management timeline template shows details in two separate scatter chart series. You can also specify the length of the task leader lines to display task dependencies. It makes it easy to identify critical paths and potential bottlenecks.
2.Minimalist Sample Excel Timeline Template - by Smartsheet
This Excel timeline chart template uses two colors to differentiate between tasks and milestones. Each column represents a month, with dates displayed as line shapes. You can edit the text boxes to fill in your activities, and it's ready to go.
3.Vertical Project Timeline Excel Template - by Template Lab
This downloadable Excel timeline template is a good choice if you like a vertical timeline. It is easy to read the tasks from top to bottom and keeps the timeline compact. It uses pastel colors and icons for differentiating activities and milestones.
4.Free Project Timeline Template With Status in Excel- by Microsoft
The timeline spreadsheet template works for managing projects that last for a month. It has a column for team members and a colored text box for the covered schedule. The last column shows the project status, displayed as a drop-down list.
5.Milestone Free Project Timeline Template - by Automate Excel
The Excel project timeline chart is an automated timeline that resembles a bar graph. It updates as you change your data, giving you real-time insights into your progress. So, when you change the number of hours spent on a task, the chart will reflect those changes accordingly.
💡Learn more creative EdrawMind blank timeline templates you can quickly grab and use for your next presentation.
---
Limitations of Using Excel Timeline Templates for Project Management
Imagine you are managing a complex project with a team of 20 people. You have a lot of tasks to keep track of and deadlines to meet. To ensure everything is on schedule, you decide to use Excel timeline templates.
At first, it seemed like a great idea. The templates are easy to use and help you visually organize your project. But, as the project evolves and more people get involved, you realize that making a timeline in Excel can backfire.
Collaborating on a single template with so many people can become overwhelming. Soon you might find that the Excel timeline template is not flexible enough to accommodate changes. It can lead to confusion and delays in the project, making it hard to meet deadlines.
To be clear, the given Excel timeline examples can be helpful for project management. But it's crucial to understand their limitations and when they may not be the best option. Read on to learn more about these limitations and how to overcome them.
Minimal customization options: Most free project timeline templates only use colored text boxes and shapes. It makes it hard to create a timeline that looks interesting and catches the eye.
Narrow reporting capabilities: While Excel can generate basic reports, it may not be the best tool for generating timeline presentations. It can be challenging when communicating the project's status and progress to stakeholders.
Steep learning curve: While Excel is a widely used software, learning to use advanced features for project management purposes can be time-consuming and may require specialized training.
Limited options for layout: Excel timeline templates may not be adaptable to different styles. It requires you to use a new template altogether.
When managing complex projects, it's essential to have a more efficient and collaborative approach. That's where project management software comes in. With software designed for agile environments, you can enjoy more flexibility, real-time collaboration, and customizable features.
Beyond Excel Timeline Templates: Wondershare EdrawMind an Alternative Tool
Excel timeline templates can be limiting, but don't worry EdrawMind is the alternative!
One of the best things about EdrawMind is its selection of timeline templates. You can start from a blank template or use one of their pre-made options. From horizontal to winding, vertical timelines, and more, you can edit the timeline to suit your needs.
And if you decide you want to switch to a new layout with the same contents, you can do so in one click using the map tab bar. But EdrawMind isn't just a timeline tool. It's a collaborative, mind-mapping, brainstorming, and outlining tool all rolled into one. And with its sleek and functional UI, you'll find EdrawMind easy to use and highly customizable.
You can choose from various themes, backgrounds, and icons to make the timeline stand out. And if you want to discuss it with others, you can create a presentation using its built-in slideshow feature. No need to search online for "project timeline Excel." EdrawMind also lets you create a Gantt chart; its boards can be private or shared with your team for real-time collaboration.
With its infinite canvas, you can keep adding to the timeline without worrying about space. When it comes to exporting your work, EdrawMind makes it easy to do so. You can save them as graphics in PNG, JPG, and other formats, as well as PDF, PPT, and Excel files.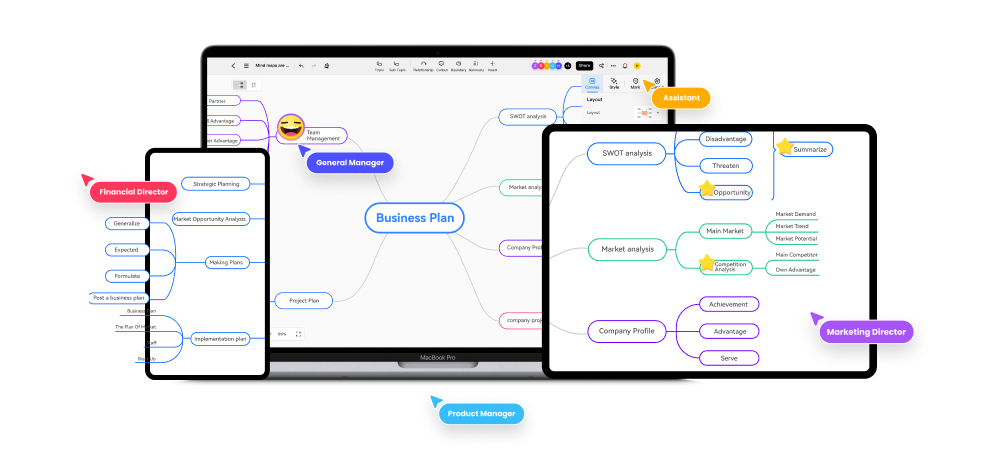 EdrawMind is available for download on Windows, Mac, Linux, Android, and iOS. You can also access its web version and easily create and access your timelines from anywhere and on any device. EdrawMind offers a one-time payment for an individual Perpetual Plan for $118. Check out their pricing page for more subscription plans for teams and businesses.
Now, follow these steps to start and make a difference in your project management.
Step 1: Go to the official website of Wondershare EdrawMind, then download and install the application. Don't forget to create or log in to your account.
Step 2: Launch EdrawMind and select a timeline template using either of the two:
In the Blank Templates section, select Horizontal Timeline, Winding Timeline, or Vertical Timeline.
Click More Templates in the Local Examples section. Next, enter the term Timeline in the search box and click Duplicate to use an example from the results.
Step 3: Customize the timeline style. You can use the right side panel to change Layout, Theme, and Background.
Conclusion
If you're a project manager, you know how important it is to keep your timelines on track. Excel timeline templates have been a reliable tool for years but have limitations. It can be challenging to customize and doesn't offer built-in presentation features.
That's why it's worth exploring alternative solutions such as Wondershare EdrawMind. It has a user-friendly and intuitive interface for creating project management timeline templates. EdrawMind also provides various templates, sharing, and customization options. And if you work in an agile environment, the real-time collaboration feature will help you keep everyone on the same page.
EdrawMind Apps
12 structures & 33 themes & 700+ cliparts
Support Win, Mac, Linux, Android, iOS
Advanced import & export options
On-premises software for business
Enterprise-level data security
EdrawMind Online
12 structures & 33 themes & 700+ cliparts
Access diagrams anywhere, anytime
Team management & Project management