</p>
Mind mapping is a super easy and appealing way to present your complex ideas and thoughts in front of your teammates, colleagues, or stakeholders. A mind map creates a graphical representation of your ideas and helps you structure and organize them with links, icons, text, and photos. But, getting unique ideas to create mind maps often becomes challenging.
Are you looking forward to exploring amazing mind map ideas? Don't know where to go and how to find these ideas? Just relax! Pinterest will be your worthy partner in this regard. Millions of people from around the world share the unmatchable mind map ideas on Pinterest. Read this article to explore mind map design Pinterest ideas.
Get Unique Mind Map Ideas from Pinterest
Pinterest is one of the biggest platforms in the digital world, with more than 400 million active monthly users. This platform allows its users to share countless ideas they have in mind and explore others' thoughts at any time, keeping their convenience in mind.
Do you want to create a mind map to present your business idea in an appealing way? Don't you know which platform to explore first? Look no further than Pinterest. There, you will see thousands of amazing mind map design Pinterest ideas and select the one you find more suitable according to your needs.
Many users share their mind map ideas on Pinterest for others to choose from and make informed decisions accordingly. At the same time, some mind mapping software companies have their Pinterest profiles. You can visit these profiles to get some quality ideas for drawing your mind maps.
The Types of Mind Map Ideas You Can Grab from Pinterest
Whether you are looking for a simple mind map or a complex idea to utilize, Pinterest has got you covered. With this platform, you can go through a long list of mind map templates, design ideas, and resources, as listed below.
1. Mind Map Templates
Pinterest is a source of thousands of mind map templates you can use to take your ideas to the next level. With a mind map template, you can present your thoughts graphically to visualize the connections between different branches or ideas.
The best thing associated with mind map templates is that they lend you a helping hand when it comes to creating mind maps quickly. If you want to use a template to create your mind map, all you need to do is to mold it according to your needs. Since you don't need to create a complete layout, it saves you time.
2. Mind Map Design Ideas
Creating a mind map using a template is a different thing than customizing your map to make it more appealing. If you have already created a mind map for your idea and looking forward to improving it in terms of the design perspective, exploring Pinterest for this purpose will be worth it for sure.
Pinterest will show you a huge collection of design ideas to choose specific layouts, colors, icons, text, or images to customize your mind maps fully. If you are getting confused about selecting the right color scheme and layout for your mind map, exploring Pinterest will make the job easier for you.
3. Mind Map Resources
Now that you are familiar with finding mind map templates and design ideas on Pinterest. You will be happy to see that the same platform - Pinterest - also helps you find potential resources to get unique mind map ideas to set your thoughts apart.
You will find many users sharing great mind mapping websites to help others get new ideas. Visiting these resources will surely assist you in exploring a wide range of mind map ideas. This way, you can collect enough information to draw a stunning mind map for your thoughts or ideas.
Wondershare EdrawMind - An Unmatchable Pinterest Board
Are you searching for a credible Pinterest board to get some quality mind map ideas? Your search ends here. Visit EdrawMind board on Pinterest to explore a list full of new thoughts and mind map templates.
This Pinterest board consists of a huge number of categories having a wide collection of mind map templates. The top categories you will find on this board include; Philosophy, Chemistry, History, Biology, study tips, entertainment, engineering, Medical, Information Technology, Economics, travel and tourism, personal development, and much more.
Make sure you explore EdrawMind Pinterest board if you need something out of the box and want to keep your head up in the competition.
Note:
If you want to draw an appealing mind map for the idea you have in mind, try none other than
Wondershare EdrawMind
. It is a wonderful mind mapping tool that enables you to create maps efficiently and customize them the way you want.
How to Start a Pinterest Board as a Beginner?
Do you want to start a Pinterest board? Searching for some useful ideas to make your board grab the attention of maximum Pinterest users? Don't know which idea to choose and where to step forward? Worry no more! Below is a list of a few great Pinterest board ideas. Let's have a look at them one by one.
1. Knowledge
Creating a Pinterest board purely to spread knowledge-based mind map ideas is one of the greatest options you can proceed with. On this board, you can draw a variety of mind maps on different subjects that fall under the knowledge category, including future tech trends, books, culture, and architecture.
2. Word and Business
Choosing "business and work" to create a Pinterest board is, without a doubt, another wonderful idea. This is a diverse subject that covers a wide selection of subtopics.
For example, you can create a board to talk about how people can start an online business and how to grow it using the latest digital marketing approach. At the same time, business tips, how to become an influencer, office inspiration, and niche online business tips also belong to the same category.
3. Life
At the same time, you can discuss human life on your Pinterest board. The debate may include tips about personal finance, making worthy investments, and how it benefits us in the future.
Similarly, you can talk about how we can maintain a healthy style and what our diet plan should be to maintain our health. Other discussions that fall under the category of life include; personal growth tips and a range of inspirational quotes to motivate others on how to achieve their lifetime goals.
4. Animals and Pets
Presenting different animals and pets' mind maps Pinterest ideas can be another superb option to start your board. You can cover a lot of subjects in this domain on your board to help others benefit from the useful material.
For example, you can use your Pinterest board to share directions on how to take care of pets and animal food. In addition, you can create mind map ideas to present tips on how to play with pets and keep them healthy all the time.
5. Fashion and Beauty
The fashion and beauty industry is one of the biggest industries these days, and it has a direct impact on the lives of billions of people. Therefore, selecting this niche to create mind maps and sharing them on your Pinterest board is a good choice.
As far as the fashion industry is concerned, you can fill your board with tips on maintaining a good dressing sense, which covers both dresses and shoes. When it comes to the beauty industry, drawing mind maps to let others know about the right way to do makeup and have good hair styles is what you can discuss on your board.
6. Leisure
Still searching for an idea to create an unmatchable Pinterest board? If yes, make it around doing different activities in our leisure time. It will definitely be a source of attraction for millions of Pinterest users.
In this category, you can choose to talk about travel things, health and fitness, and home decor. Similarly, creating mind maps to present the benefits of photography when traveling also belongs to the same area. Moreover, you can share gardening tips and ways to prepare healthy recipes with others through your board. Furthermore, spreading awareness of handmade crafts is also a healthy subject to talk about on your Pinterest board.
7. Art and Design
It is a fun area millions of people worldwide love to talk about and explore. If you do not yet have a Pinterest board, select the art and design subject to create mind maps and share them on your board. This topic may include discussions on graphics design, typography, visual art, and other similar activities.
How to Create a Mind Map with Wondershare EdrawMind?
Visit the official website of Wondershare EdrawMind to download this program on your computer. Once done, install the tool and follow the steps given below.
Step1

Create from Scratch or Template

Open EdrawMind and click on the "New" option from the left menu. There, you will see a list of pre-built mind map templates to benefit from. Using a ready-made template will save you time. Otherwise, you are free to draw your mind map from scratch.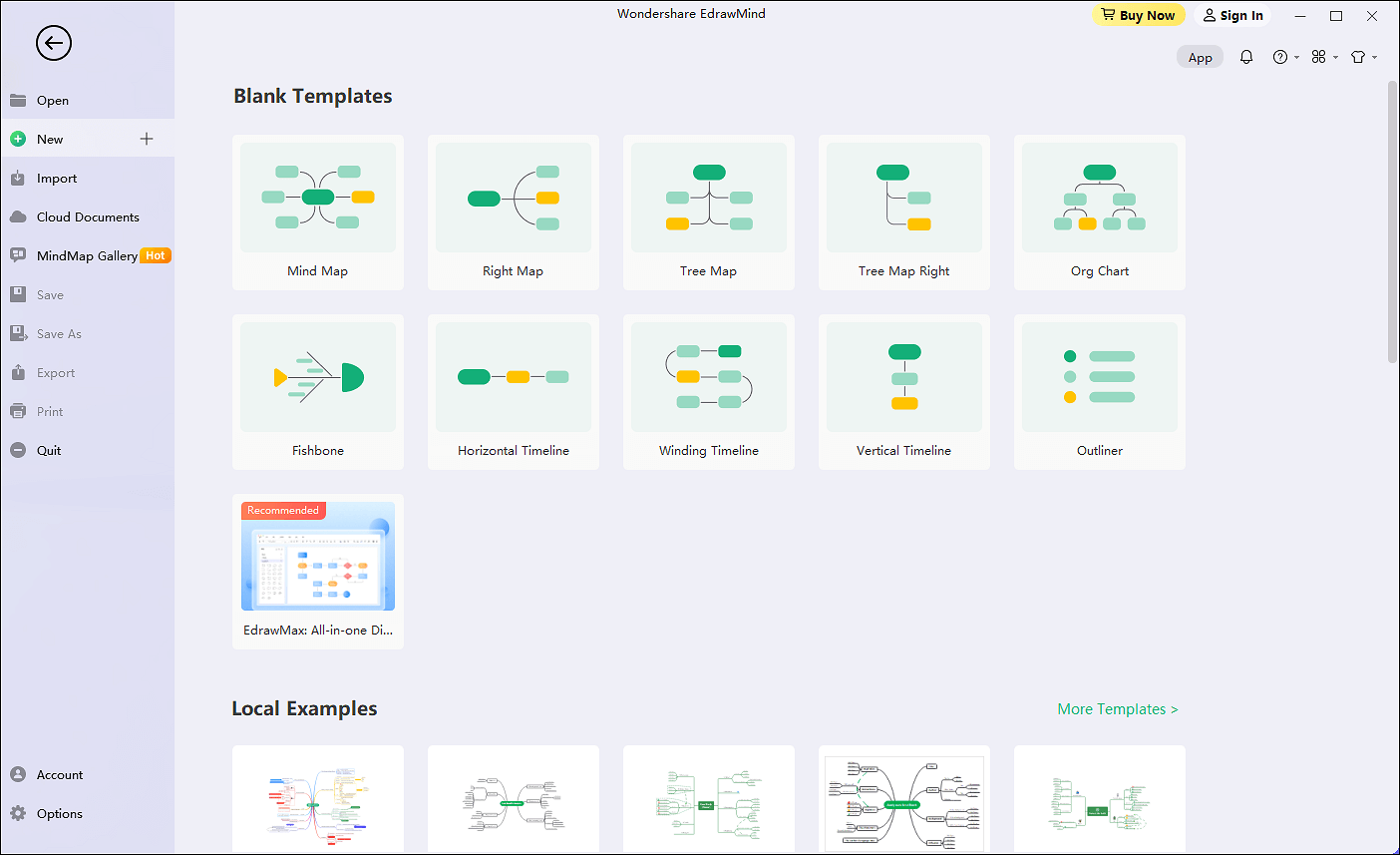 Step2

Add Main Branches to Your Main Idea

It is time to assign the main subject to the first vector and tap on the "+" icon to add sub-topics around the main subject, as shown below.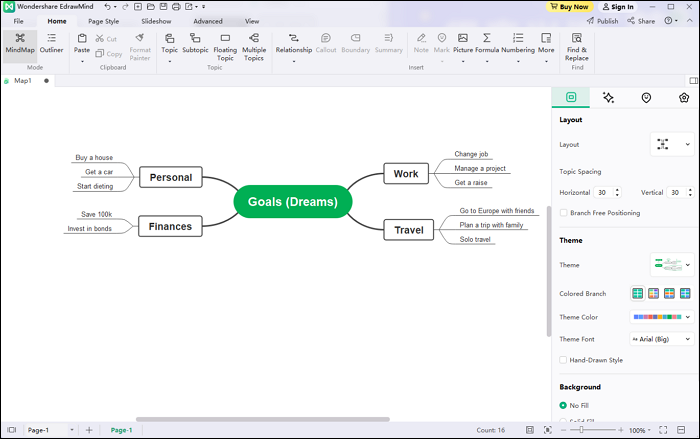 Step3

Customize Your Mind Map

Once you add the main topic and different branches around it, the next step is to customize your map with various font styles, images, and color schemes.
Step4

Save the File

Now, go to the top menu bar and tap on the "File" menu. Then, hit the "Save As" option to save your map on your computer.
Note: You can use Wondershare EdrawMind both online and offline to draw your mind maps. Both are equally good for getting this job done. A free trial is available to test the basic features of this mind mapping utility.
Final Words
Pinterest is an incredible online platform to get superbly amazing mind map templates and design ideas to create your board and educate the community around it. The discussion above has presented different Pinterest board ideas to benefit from. If you want to draw a mind map to present your board ideas, try Wondershare EdrawMind, as discussed above.
EdrawMind is an unbeatable mind-mapping utility that enables you to create your maps using quick templates. At the same time, you can create them from scratch. The big names, like Toyota, Fujifilm, Facebook, Sony, and Puma, have also trusted this tool for creating mind maps. Apart from that, over 25 million people worldwide actively use this software. Try its free trial to test the basic functionalities, and you will surely love what it has to offer you.
EdrawMind Apps
12 structures & 33 themes & 700+ cliparts
Support Win, Mac, Linux, Android, iOS
Advanced import & export options
On-premises software for business
Enterprise-level data security
EdrawMind Online
12 structures & 33 themes & 700+ cliparts
Access diagrams anywhere, anytime
Team management & Project management