Are you tired of reading lengthy articles and documents to find the details you need? That's why you need to use tools with an AI summarizer feature. These change how you consume and process information – for academic, personal use, or work. It saves you time and effort by condensing complex material into concise versions.
In this article, you'll learn more about AI summarizers, starting with QuillBot and how it works. You'll also learn some techniques to be more productive, and at the end are a few questions you might need to know.
QuillBot Summarizer: AI Writing Assistant for Research and Note Taking
Discover QuillBot, the ultimate AI-powered writing tool. No more tedious reading and writing; get to the core information with its advanced algorithms. From summaries to grammar and paraphrasing, it's your all-in-one solution for improvement. Perfect for writers, students, and professionals worldwide.
Let's talk about one of its stellar features: QuillBot AI summarizer.
1.Summarize key Sentences
The QuillBot summarizer excels at identifying and extracting crucial sentences from any text. By capturing the essence of the original content, it allows you to grasp the main ideas without going through the entire text. This option gives you a summary in bullet-point format.
2.Generate paragraphs
QuillBot generates cohesive paragraphs, too, from the original texts. Talk about convenience. You can even adjust the summary length.
3.Accessibility
As an online tool, QuillBot Summarizer is accessible from anywhere, anytime. Additionally, you can use it as a browser extension, integrating it into your writing workflow.
4.Pros of Using QuillBot Summarizer
See how QuillBot summarizing tool can change your approach to writing.
QuillBot summarizer helps students improve comprehension and summarization skills. It works on different documents such as essays, papers, and more.
It allows for comparing manual and AI-generated summaries for better learning.
It boosts the retention of key points. Quillbot summarizes and lets you select the keywords to enhance the results.
5.Considerations
Complex or technical content might pose challenges. Reviewing the generated summary is significant since it may not include everything you consider relevant.
6.User Feedback
Users love summarizer QuillBot, and the ratings prove it. 4.6 out of 5 on Capterra - that's impressive. Time-saving, efficiency-boosting - they can't get enough of it. Here's what users are saying about QuillBot and its powerful features, including the Summarizer tool:
"Can assist a variety of writing assignments," says one user.
One QuillBot user expressed enthusiasm for the tool, describing it as an "invaluable asset for content creation, editing, and proofreading."
"A ton of time and effort saved," says another user from a Civic and Social organization.
QuillBot Summarizer Pricing
You can test the QuillBot summarizer and other features for free; the limit is 1200 words for the AI summarizer. For a more comprehensive experience, check out the premium plan, starting at $19.95, billed monthly.
How Does QuillBot Summarize Your Text?
Start with these steps if you're eager to learn how QuillBot summarizes written content.
Step 1 Visit QuillBot AI on your web browser, then click Summarizer in the left-side navigation pane.
Step 2 Enter content in the text field and click Summarize. Alternatively, you can also upload a document from your local storage.
Step 3 Select the mode that suits your needs: Key Sentences or Paragraph. Choose a single or multiple keyword(s) from the options below the text field for the Paragraph mode.
Step 4 Use the Summary Length slider to adjust the length. Then, click Summarize to generate the summary.
Techniques To Maximize Productivity With Quillbot Summarizer AI
When using the summarizing tool, QuillBot, don't hesitate to engage with peers or colleagues. Their feedback can be invaluable for refining your generated summaries. Now, here are more ways to maximize the potential of the QuillBot summarizing tool.
1.Check for Relevancy
Once you receive the AI-generated summary, take a moment to review and edit it if necessary. QuillBot offers both paraphrasing and summarizing tools, allowing you to adjust. Check the summary to confirm that it accurately captures all the points and details you intend to include.
2.Tailor the Summary to Your Style
Feel free to infuse your writing style and tone when editing the summary. Add insights, emphasize key points, or rearrange the structure to align with your objectives. It enhances the summary's readability and helps you express the content in a way that resonates with your audience.
3.Double-Check for Plagiarism
While QuillBot summarizer simplifies content creation, maintaining uniqueness is key. If you plan to use the generated summary elsewhere, ensure its originality. Run it through plagiarism-checking tools to confirm authenticity. It should be an authentic reflection of your thoughts and ideas.
Combining Quillbot Summarizer With Other Productivity Tools
Amplify the capability of the QuillBot summarizing tool by combining it with complementary apps. Craft visual mind maps or concept diagrams to encapsulate the main points from the summary. These visuals work wonders for presentations or organizing your thoughts. Streamline your workflow and present information with impact.
Wondershare EdrawMind: AI-Enhanced Mind Mapping Tool
Mind maps are great for memory aids, making information recall easier. Also, collaborative team efforts benefit from sharing summarized content in mind maps, leading to a better understanding of concepts. Discover how Edrawmind AI enhances mind mapping, supporting you in various writing tasks.
Shorten Text With AI Simplified Copywriting
EdrawMind AI simplified copywriting features rewrite complex sentences, remove jargon, and improve readability. Although the Edraw AI input box has a character limit of 800, it's best suited for shorter pieces of text. Just like how QuillBot summarizes longer content, EdrawMind is ideal for mind maps, creating concise yet impactful visual summaries. Boost your studying, brainstorming, and delivering reports with EdrawMind's AI-simplified copywriting feature.
Harnessing AI for Enhanced Content Creation
EdrawMind goes beyond just simplifying copywriting. It offers a range of AI features to enhance your tasks.
The tool suggests more context to explain your existing topic. It provides valuable insights to expand your content.
With EdrawMind, you can create short articles based on prompts. It's a good feature for gaining insights during group collaboration.
AI Weekly Report Generation
EdrawMind also uses AI to create clear and concise weekly reports. No need to stress over the details – let the AI do the work for you. Summarize your work accomplishments, outline future initiatives, and keep stakeholders informed.
Flexible Pricing and AI Token Options
EdrawMind allows you to access its AI simplified copywriting and other AI features for free, providing you with 200 AI tokens. These tokens have no expiration date; you can use them at your convenience.
Additionally, you can buy AI tokens individually, even without an EdrawMind subscription. Prices start at $5.90 for 50,000 AI tokens, with the popular plan offering 100,000 AI tokens at $9.90. For more extensive usage, you can avail yourself of 999,999 AI tokens for $79.90.
Step-by-Step: How To Summarize Text on Mind Maps Using EdrawMind AI
Ready to simplify your mind maps and diagrams? Discover the ins and outs of using EdrawMind's text summarizer AI for mind maps and charts.
Step 1 Visit the official website of Wondershare EdrawMind , click Download, and install the app on your computer.
Step 2 Launch the app and create a new mind map. You can either start from a blank canvas or click Edraw AI to generate a mind map automatically.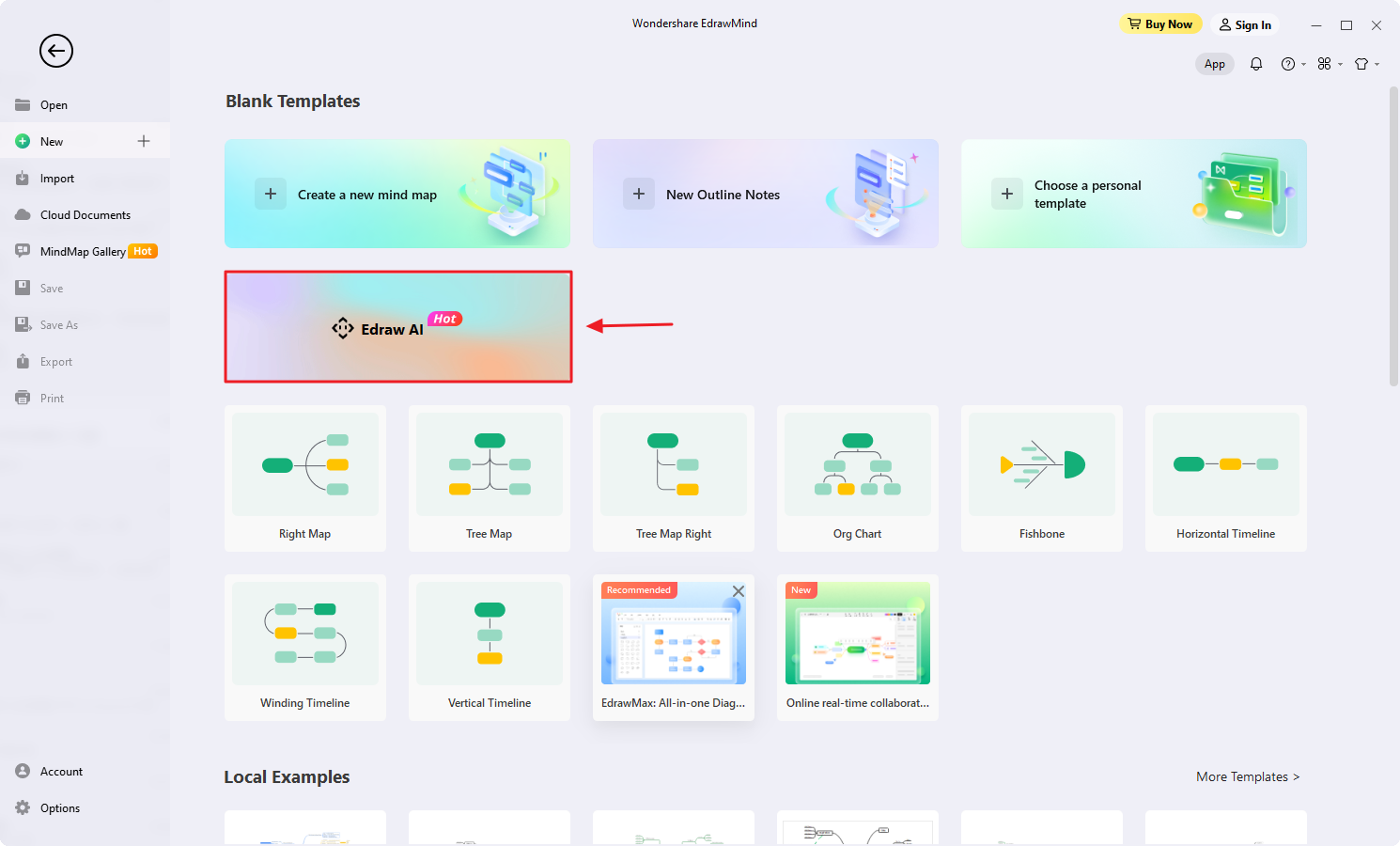 Step 3 Click on the AI tab bar and select Edraw AI. Alternatively, find the Edraw AI icon situated in the lower area of the canvas and click it.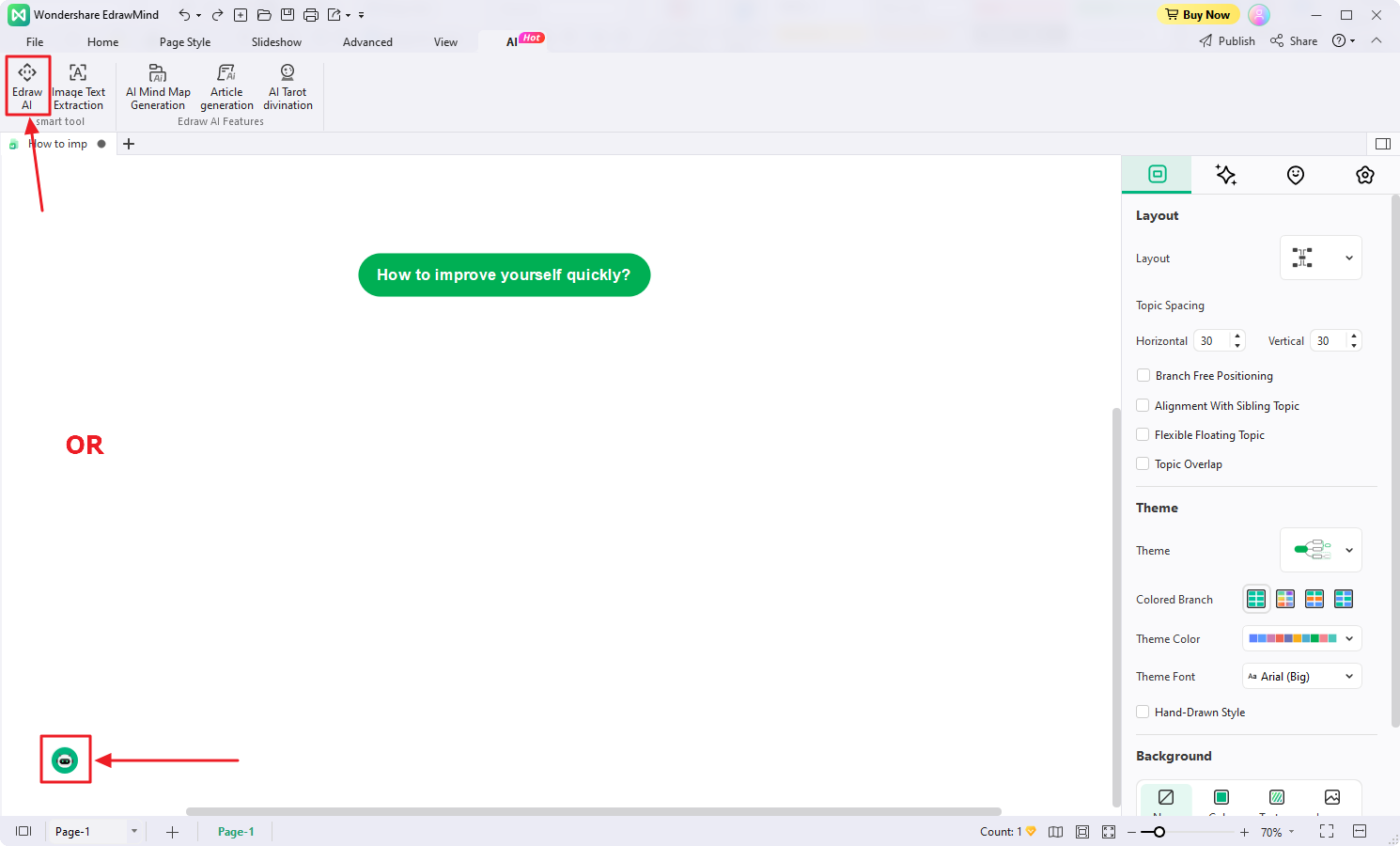 Step 4 Click on the Pre-scene Setup icon and select Simplified Copywriting.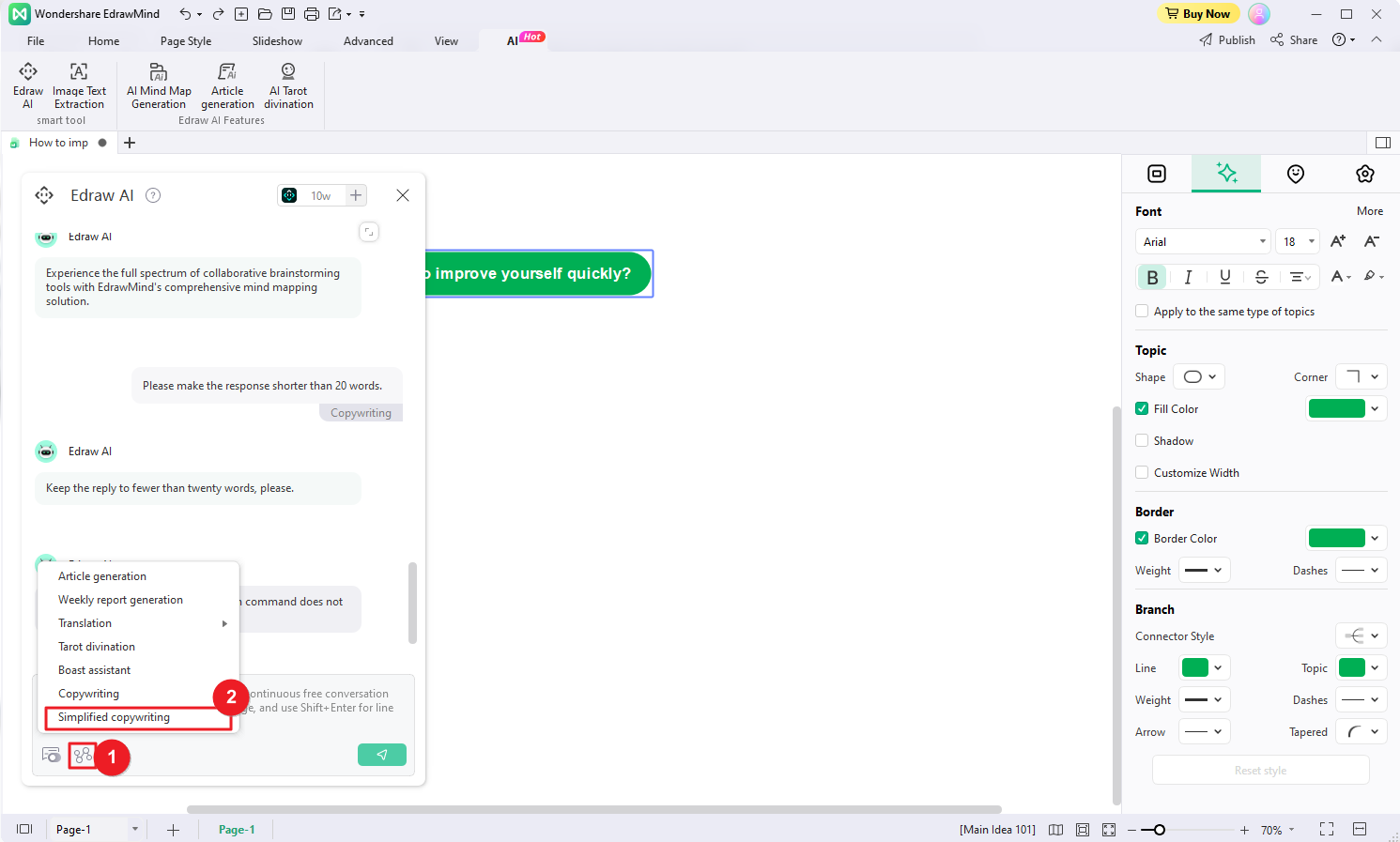 Step 5: Enter the content you want to simplify in the provided text field. Then allow the AI to generate a simplified version that's easier to read and understand.
Note: The input box of Edraw AI can hold up to 800 characters each time, so it's ideal for text that is not so long. Certainly, you could paste long text several times to summarize.
Frequently Asked Questions
Exploring how QuillBot summarizes? Here are some common questions you may have about it:
Frequently Asked Questions
Exploring how QuillBot summarizes? Here are some common questions you may have about it:
1.Is QuillBot Cheating in College?

QuillBot paraphrasing and summarizing tool is a valuable resource when used ethically. But taking someone else's writing and claiming it as your own is cheating, regardless of QuillBot's involvement. To maintain academic integrity and avoid plagiarism, always cite your sources. QuillBot offers a Plagiarism Checker and Citation Generator to ensure your work is original and properly cited.

2.What Is the Importance of QuillBot for Students?

QuillBot helps improve your writing skills, provides alternative suggestions, and enhances sentence structures. It aids in paraphrasing and summarizing complex texts, fostering comprehension and information retention. QuillBot encourages critical thinking and creativity with different writing perspectives.

3.What Are the Benefits of Paraphrasing and Summarizing?

Paraphrasing and summarizing have many benefits. These improve understanding, enhance writing skills, and promote effective communication. They save time by condensing information and focusing on the main points. These techniques also encourage originality and help avoid plagiarism.

4.What Is the Difference Between Paraphrasing and Summarizing?

Paraphrasing and summarizing have many benefits. These improve understanding, enhance writing skills, and promote effective communication. They save time by condensing information and focusing on the main points. These techniques also encourage originality and help avoid plagiarism.
Conclusion
QuillBot Summarizer and EdrawMind serve valuable purposes in content refinement and organization. Both tools are different, but using them together can yield optimal results. The answer is to understand your needs and preferences.
QuillBot offers a solution for condensing lengthy content into summaries. EdrawMind AI feature proves vital in summarizing short content to refine your material for mind maps. It is a good solution for visual thinkers and presenters.
The choice between QuillBot Summarizer and mind maps rests with you. Understand your specific needs and use cases to choose the best tool.
EdrawMind Apps
12 structures & 33 themes & 700+ cliparts
Support Win, Mac, Linux, Android, iOS
Advanced import & export options
On-premises software for business
Enterprise-level data security
EdrawMind Online
12 structures & 33 themes & 700+ cliparts
Access diagrams anywhere, anytime
Team management & Project management