When it comes to displaying the hierarchy of an organization, the org chart plays a crucial role. It is a simple diagram that shows how the complete business operates. An org chart consists of a series of boxes linked to each other, showing employees' names, designations, responsibilities, pictures, and other similar parameters. This is how you can get an idea of who reports to whom.
A wide range of tools are available to make organizational charts, including Visio, Google Sheets, Google Docs, EdrawMax, and the list continues. Every utility has unique specifications. This guide specifically discusses creating an organizational chart in Google Docs. Read more to learn how to make a Google Docs org chart.
How To Create an Organizational Chart With Google Docs?
Google Docs is one of the most popular and frequently used products. Google launched it in March 2006. It enables you not only to create documents in the web browser but also allows you to share them with your colleagues. This way, you, as a team, can collaborate with others and edit the documents as and when needed. It works similar to MS Word.
Along with creating text documents, it also enables you to make a variety of diagrams, including mind maps, organizational charts, project timelines, project plans, and much more. Let's look at the steps you need to follow when creating a Google organizational chart or an org chart in Google Docs.
Step 1: First of all, open any browser and sign in to your Google account. Then click on the square box with dots. You will find it in the upper-right corner of the browser, as shown below. Now, scroll down and choose "Docs".
Step 2: It is time to open a blank Google Docs document. For this, do nothing but click on the multi-colored "+" icon, as shown below.
Step 3: Now, tap on the "Insert" menu, move your cursor to "Drawing", and choose "New".
Step 4: You can choose the different shapes to add to your organizational chart. It is always recommended to use rectangular shapes for org charts, but it is not necessary.
Step 5: Count your employees and select shapes accordingly. Once you place all the shapes on the drawing canvas, the next thing is to organize them all in order and link them to each other, as shown below.
Step 6: Now, double-click on the shapes and type your employees' information, as shown below.
Step 7: Decent customization options are available. You are free to change the font style, font size, and color of the boxes used. In addition, you have the option to change the order of the boxes at any time you want.
Step 8: Once your Google hierarchy chart or Google Docs org chart is ready, you can export it into different file formats. For this, tap on the "File" menu, move your cursor to "Download", and select the desired file format. Different formats you will find there include; Microsoft Word, OpenDocument, Rich Text Format, PDF, Plain Text, Web Page, and EPUB Publication.
Note: If you have an org chart created in Google Sheets, you can open it using Google Docs. All you need to do is to tap on "Insert", take your cursor to "Chart", and click on the "Google Sheets" option, as shown below.
EdrawMind: A Great Tool To Draw an Org Chart
If you are still looking for a one-of-its-kind diagramming utility to make your organizational chart, you must look no further than Wondershare EdrawMind. It not only makes org chart creation simple but also allows you to collaborate with your colleagues in real time by sharing your org charts. This is how, as a team, you can improve the overall productivity and efficiency.
One thing that makes EdrawMind easily accessible for everyone is that it is available on different platforms, including Linux, Mac, and Windows. In addition, the mobile apps of this tool are also available on both Android and iOS platforms. More interestingly, you have the option to use the online or web version of EdrawMind.
EdrawMind Apps
12 structures & 33 themes & 700+ cliparts
Support Win, Mac, Linux, Android, iOS
Advanced import & export options
On-premises software for business
Enterprise-level data security
EdrawMind Online
12 structures & 33 themes & 700+ cliparts
Access diagrams anywhere, anytime
Team management & Project management
1. Factors that Set EdrawMind Apart
Well, EdrawMind is not only about creating org charts; it is a complete solution to all your diagramming needs. With this tool, you can make a huge selection of diagrams, like project plans, timelines, mind maps, notes, marketing plans, and much more. The table below presents the user rating, pricing policy, and pros and cons associated with Wondershare EdrawMind.
2. How To Draw an Organizational Structure with Wondershare EdrawMind?
Now that you know that EdrawMind lends you a helping hand when creating an organizational chart. This tool stands out among the competition not just because of offering effective diagramming solutions but also due to the efficient real-time collaboration and advanced customization features it carries. Let's go through the key steps required to make an organizational chart using the "Org Chart" feature of Wondershare EdrawMind.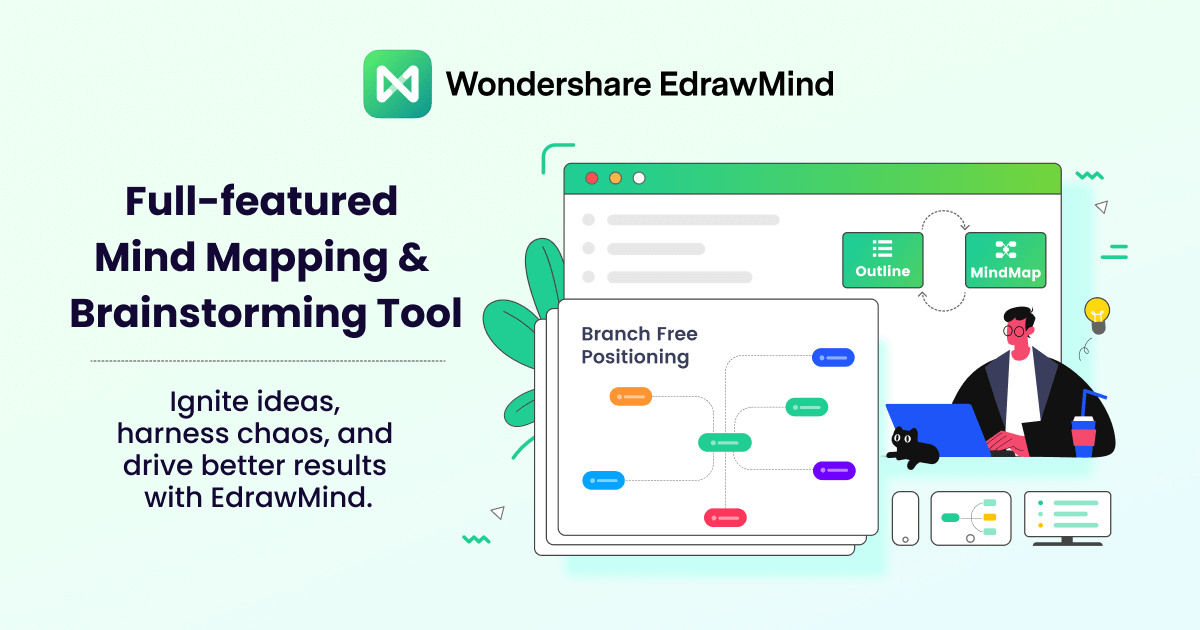 Step 1: Visit the official site of EdrawMind to download this software. In the beginning, you can try the free version to get familiar with the way it works. For this, tap on the "Download" button. Once it is downloaded to your operating system, install the tool carefully.
Step 2: Now, launch EdrawMind and click on the "Org Chart" option. You will see it under the section "Blank Templates".
Step 3: You will now see the basic layout for an organizational chart on the window, as shown below.
Step 4: It is time to put your main idea and topics in the boxes. You can do this by double-clicking on the box you want to write in.
Step 5: If you are looking forward to introducing more branches or subtopics, it can be done easily with one click. You can keep adding branches until you put the whole data of the organization.
Step 6: Once your org chart is drawn in EdrawMind, you can make it appealing with decent customization features. You have the option to choose from a long list of clip art, color schemes, layouts, font sizes, font styles, and the list goes on.
Step 7: Now, your chart is fully ready and tailored to your needs. You will want to save it on your system. Click on the "File" menu and then select the option "Export. Doing this will show you a list of export file formats, including SVG, Office, Graphics, HTML, and PDF. You are free to choose any file format you want.
EdrawMind or Google Docs? Which One Should I Choose To Create an Org Chart?
Both EdrawMind and Google Docs have the capability to create easily understandable organizational charts. Thousands of people from across the world are associated with both utilities, but there are some parameters that make these tools different from each other.
As far as creating an organizational chart in Google Docs and EdrawMind is concerned, both are easy to place shapes on the drawing canvas and link them to each other. Moreover, the way of putting the text in the chosen shapes is the same. Similarly, both tools offer easy real-time collaboration.
One thing that creates a significant difference between EdrawMind and Google Docs is the customization ability. EdrawMind enables you to personalize your organizational chart fully. However, the customization features are limited in Google Docs compared to EdrawMind.
Furthermore, Google Docs allows you to make organizational charts for free. EdrawMind also comes with a free trial to let you know how credible and efficient it is. The premium plans of EdrawMind are cost-effective, and you get way more than what you pay for. Simply put, it is worth every single penny you invest in its purchase.
When it comes to exporting your final org chart, both Google Docs and Wondershare EdrawMind provide you with a list of multiple file formats to select from. This shows the diversification associated with both utilities.
Now that you know the leading features of both EdrawMind and Google Docs. You will be in a better position to decide which tool suits your requirements the most. This is how you can make a well-informed decision because you are familiar with what you can do with each software.
Final Words
Creating an organizational chart in Google Docs is easy. It allows you to open the drawing window, choose the desired shapes, link them with one another, and put the employees' information. Later, you can share the link to your org chart with your teammates or colleagues for real-time collaboration.
At the same time, Wondershare EdrawMind is also an incredible diagramming tool that makes your org chart creation experience simply unforgettable. It goes the extra mile to customize your charts and make them look appealing. You can use this tool on iOS, Android, Mac, Linux, and Windows. The diverse accessibility makes EdrawMind stand out in the market. Give its free trial a try before you buy the paid version.
EdrawMind Apps
12 structures & 33 themes & 700+ cliparts
Support Win, Mac, Linux, Android, iOS
Advanced import & export options
On-premises software for business
Enterprise-level data security
EdrawMind Online
12 structures & 33 themes & 700+ cliparts
Access diagrams anywhere, anytime
Team management & Project management