Like countless domains, Artificial Intelligence has taken the content creation industry by storm. Content writing is fun but consumes a lot of time and needs significant effort. The research part is more difficult and time-consuming. This is where AI-assisted copywriting utilities come in handy. You just need to provide them with basic information about your subject, and they do the rest on their own, from research to write-up.
Though a huge number of AI-powered copywriting assistants are available, selecting a random tool has never been a good idea. If you are looking for an AI copywriting tool you can trust, look no further than Jasper AI. It not only helps you produce high-converting copies but also saves you a lot of time. Jasper AI copywriting has been doing wonders for a while now. Let's get into the details.
What Precisely Is Jasper AI?
It is an unmatchable AI-powered copywriting tool that is known for producing human-like copies using the power of Machine Learning algorithms. It does not matter whether you want to create content for ad copies, landing pages, web copies, sales copies, blog posts, emails, or articles; Jasper AI has got you covered. The dashboard of this tool looks like the image shown below.
How Does Jasper Assist You in AI-Powered Copywriting?
Jasper AI is a wonderful copywriting tool that creates naturally flowing content, thereby understanding the context very well. This is what makes Jasper AI an incredible tool for generating premium-quality copies. It comes with a wide range of built-in templates that enable you to produce any type of content, including but not limited to copies, product descriptions, blog posts, subject lines, introductions, emails, and much more.
One thing that users love the most about Jasper AI is that it speeds up the overall content creation process without affecting content quality. It reduces the time required to search for a specific subject and helps you generate relevant content, allowing you to increase overall efficiency and productivity.
Key Features
One-of-its-kind features incorporated into Jasper AI make this copywriting tool stand out in the market. This is what you can observe from user reviews shared on different websites. Let's look at the potential features of Jasper AI to understand its credibility.
Dashboard: It allows storing as many document files as you want. When creating content, you will not face any sort of restriction. Plus, the dashboard displays everything elegantly.

Character Lookback: It means the text Jasper AI considers to create new content. Though this tool considers GPT-3 as a reference, it also considers existing content. You can feed it with up to 3000 characters as a reference.

Character Lookback: It means the text Jasper AI considers to create new content. Though this tool considers GPT-3 as a reference, it also considers existing content. You can feed it with up to 3000 characters as a reference.

Words Limit: It varies depending on the amount of content you want to create with Jasper AI. You get a specific number of words every month to generate copies. They are spent every time you hit the compose button. You can buy more words as soon as they end.

Global Language Support: Though the common use of Jasper AI is in English, it supports over 25 global languages, making it a diverse tool for content creation. For now, the use of languages is free in the Beta version.

Personalized Voice Tone: Another popular feature of Jasper AI is its ability to understand and mimic voice tone. This tool matches the tone with the given instructions after generating copies. Recognizing people and adjectives are the differentiating factors.

Integration with Grammarly: The integration of Grammarly with Jasper AI has convinced millions of people to try Jasper when creating copies for different purposes. The premium version of Grammarly comes with Jasper AI for free. You can use this package to produce high-quality content free from grammar mistakes.

Integration with Surfer SEO: Integrating Jasper AI with Surfer SEO enables you to optimize your content and rank it high on SERPs. The subscription to Jasper AI does not offer Surfer SEO, but you can add it as an additional feature.
How Much Does Jasper Cost?
Jasper offers a free trial of up to 5 days. Apart from that, the paid versions have three different variants, as listed below.
1.Creator Plan
It is perfect for entrepreneurs, marketers, and freelancers. It costs you $39 per month when billed annually. It allows one user to generate content. Other features of the creator plan are as follows.
Browser extension
More than 50 AI templates
Support for unlimited words
50 assets of knowledge
2.Teams Plan
This plan is suitable for teams looking to repurpose the existing or create new content to market businesses. It costs you $99 per month when billed yearly. More features of this version are listed below.
users can use it at a time
Supports unlimited word count
10 campaigns
3 brand voices
Offers access to SEO mode
3. Business Plan
This plan is designed for organizations, departments, or large-scale businesses that often look for customizable, scalable, and reliable AI content generation solutions. It comes with custom pricing, depending on the needs of different users.
Custom workflows
Access to API
A well-dedicated success manager
Unlimited features
Advanced analytics for admins
Pros
Jasper AI is effortless to use for every single user, even if you have never used any similar tool before.
Users find it a cost-effective solution to generating AI-powered copies.
It comes with more than 50 AI-assisted templates to create titles, video content, ad copies, and more.
This copywriting tool assists you in creating well-researched, well-formatted, and human-like content.
It helps you generate new ideas to create unique content.
Cons
The customization feature can't beat human capabilities.
Sometimes, the content generated by this tool may need a lot of editing.
You may find it challenging to check facts with this copywriting utility.
It may struggle to generate niche-specific content. However, straightforward pieces of content are easy to create with Jasper AI.
How To Use Jasper for AI Copywriting?
Creating copies with Jasper AI is super simple and requires you to follow a few steps, as listed below.
1.Select the Desired Template
As soon as you open Jasper AI on your computer, you will see different templates on the main interface. Select the template you need to generate relevant content and go ahead. It will not only save you time but also assist you in producing good content.
2.Provide Your Input
This step is all about providing Jasper AI with basic instructions to generate the content you are looking for. For example, you can put the title of your content, your target audience, and tone of voice you need. Then tap on the "Generate" button from the bottom-right side of the window, as shown below.
3.Analyze the Output
You don't need to do anything for now. Just wait for the tool to create your content. Once done, you can give it a read to determine whether it matches your needs. This is how Jasper AI lends you a helping hand when generating high-quality content effortlessly.
A Performance Overview
Well, overall, Jasper AI has been doing wonders for every user, from generating unique ideas to captions and copies to long-form blog posts. But its performance varies depending on the type of content you want to write with it.
As far as the best output of Jasper AI is concerned, it works superbly well for generating well-documented content for marketing copies and steps-based stuff. When it comes to niche-specific or more detailed writing jobs, this tool struggles a bit. You will likely see incomplete information or some incorrect facts in the output content.
Wondershare EdrawMind: A Great Alternative to Jasper AI
Though EdrawMind is not specifically developed to do copywriting jobs, it assists you in creating awesome copies that sell. It is basically a mind-mapping utility that is known for making super engaging and easy-to-understand mind maps for different domains and purposes.
EdrawMind is equipped with a couple of AI-assisted features, including copywriting, report generation, mind mapping, and article creation. A lot more is about to come in the upcoming updates. So, make sure you keep visiting the official website of EdrawMind.
Key AI-Assisted Features
As stated earlier, EdrawMind is not purely dedicated to generating copies or content, but it comes with amazing AI-powered features that set it apart from traditional copywriting tools. From copywriting to long-form article generation and mind mapping to report creation, EdrawMind has got you covered.
How Can You Do Copywriting With EdrawMind AI?
If you are not comfortable with Jasper AI, try EdrawMind AI as an amazing alternative. It is not only quick but also produces high-converting copies that convince readers to take instant action. The steps to create a copy with EdrawMind AI are as follows.
Step 1: Choose the title or subject of your content and put it inside the box, as shown below.
Step 2: Now, select the box, hit the "AI" option, and click on "Copywriting."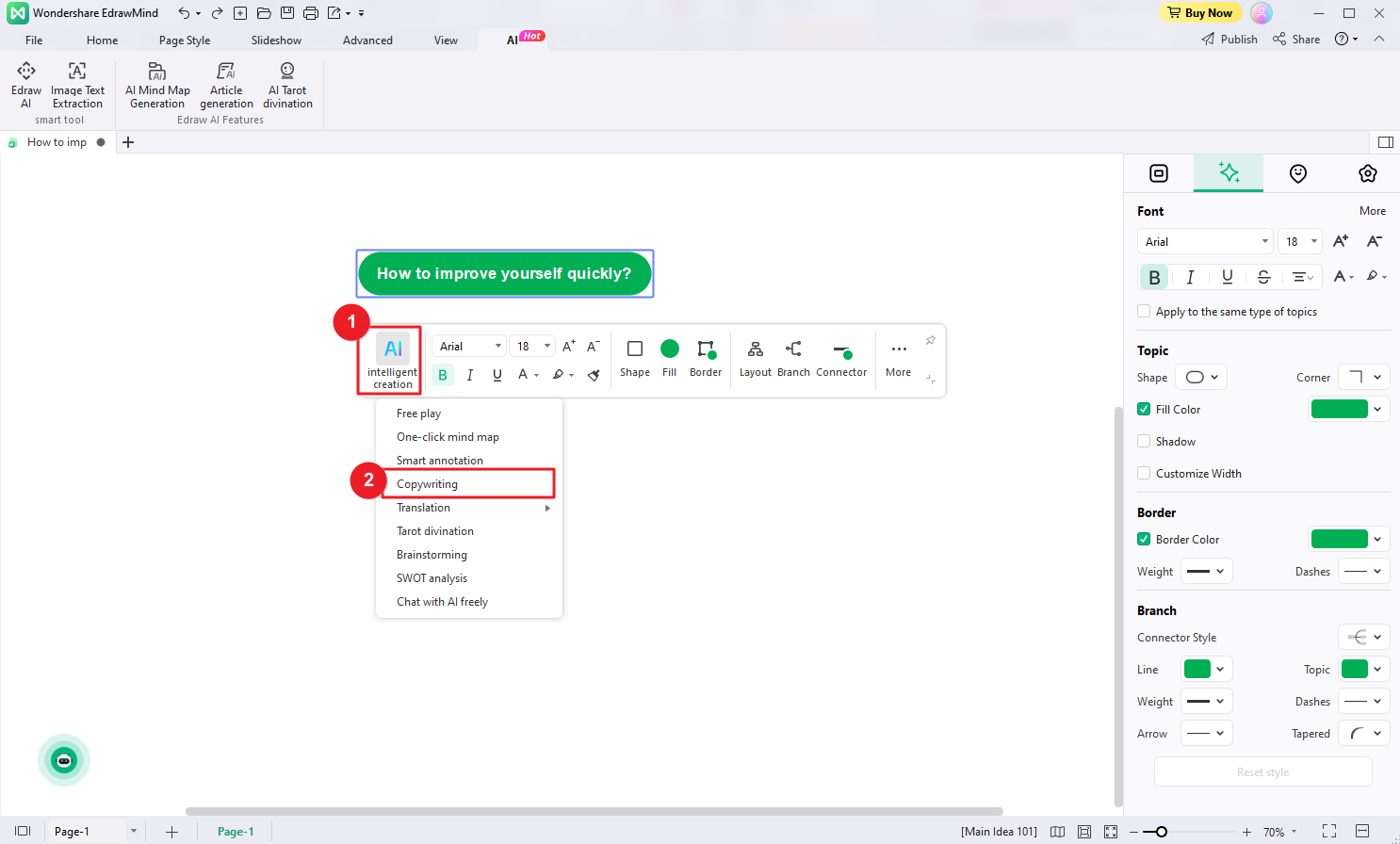 Step 3: The tool will perform a quick search for the topic you have just selected and produce AI-powered output for you to go through. The AI incorporation always ensures to provide you with more concise and powerful content to stand you out from the crowd.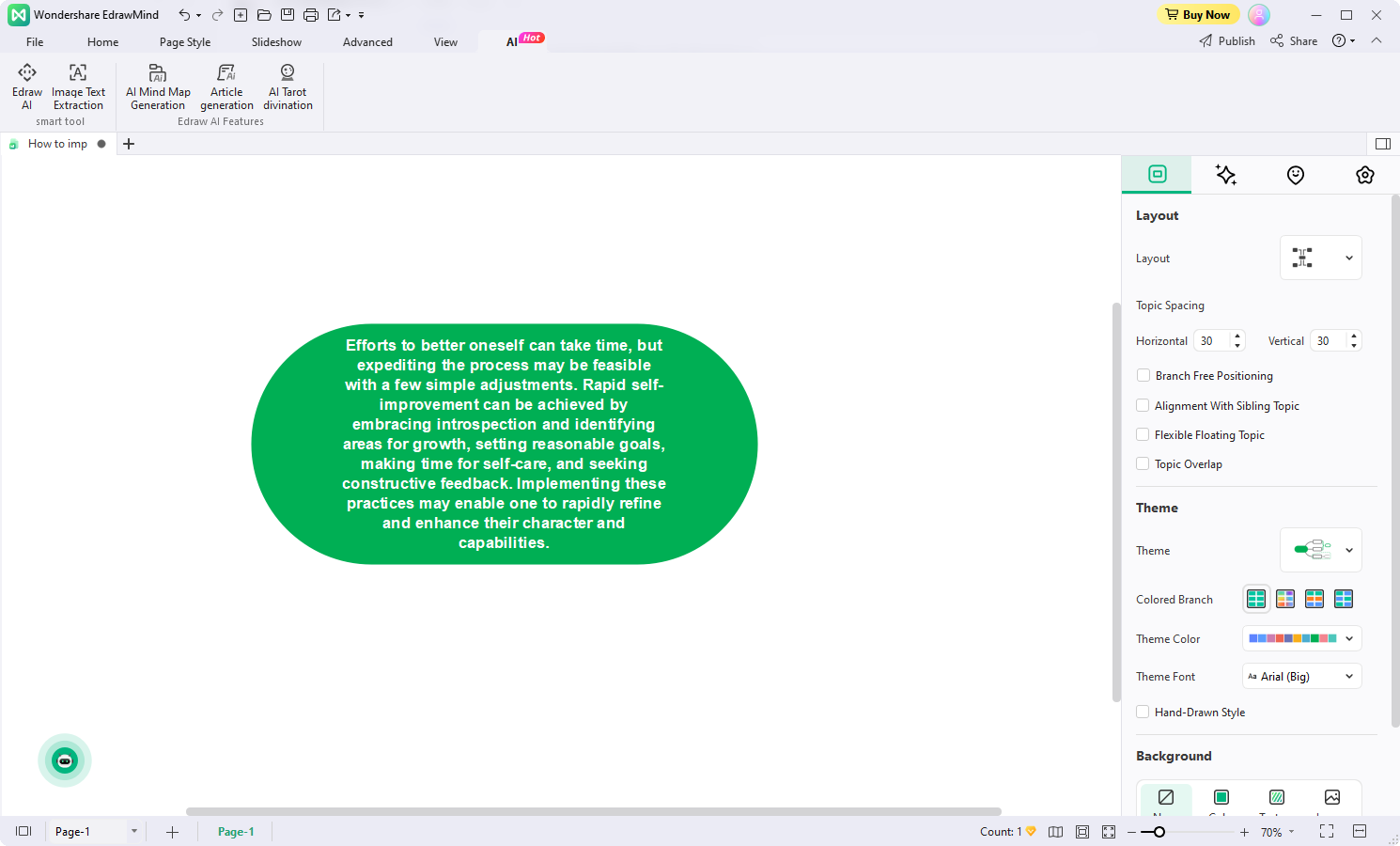 Step 4: You can also improve the context apart from the chosen title. For this, go to the top bar and hit "Edraw AI." You can also tap on the ball from the bottom-left corner, as shown below.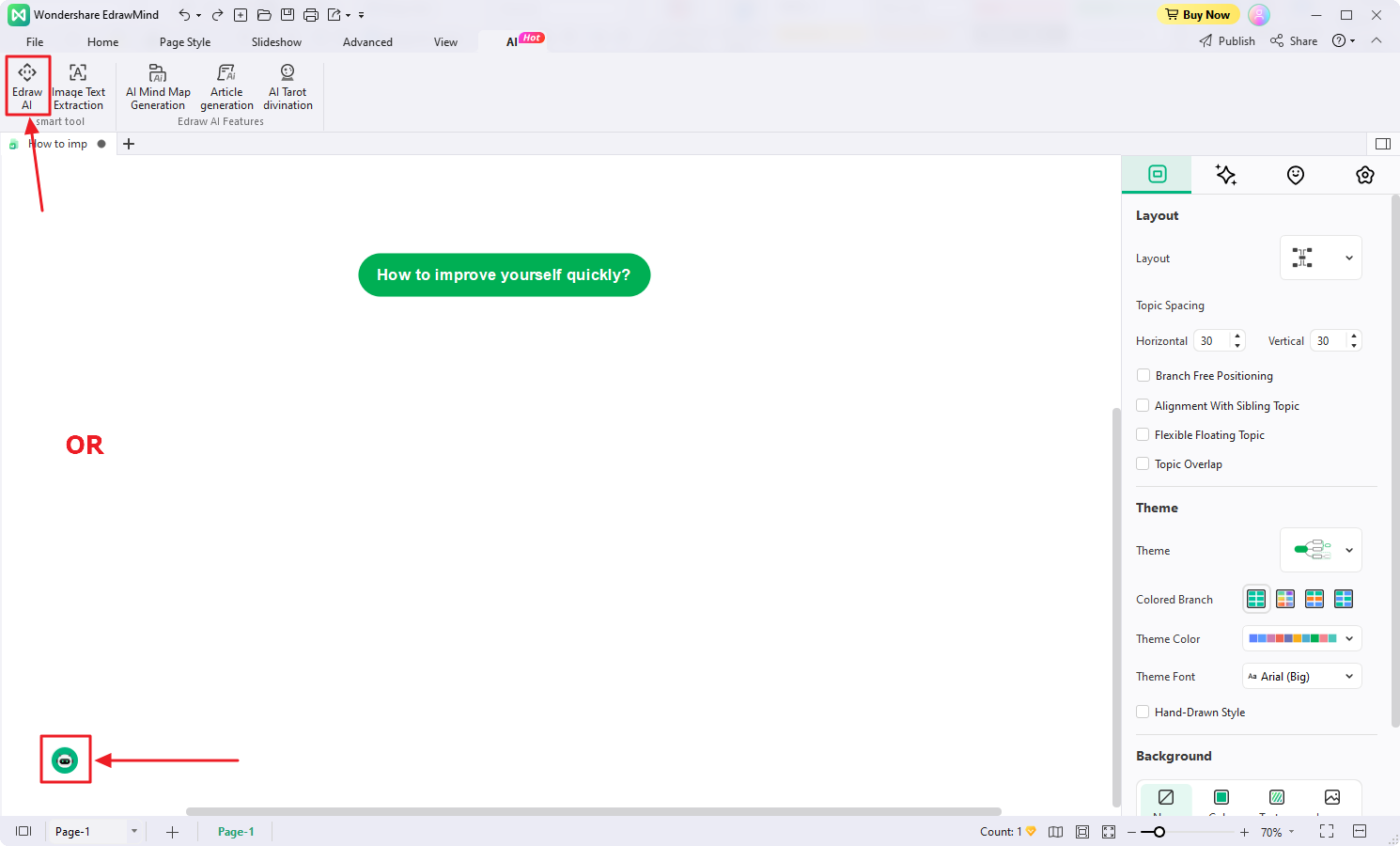 Step 5: Now, select the "Copywriting" option from the window shown below.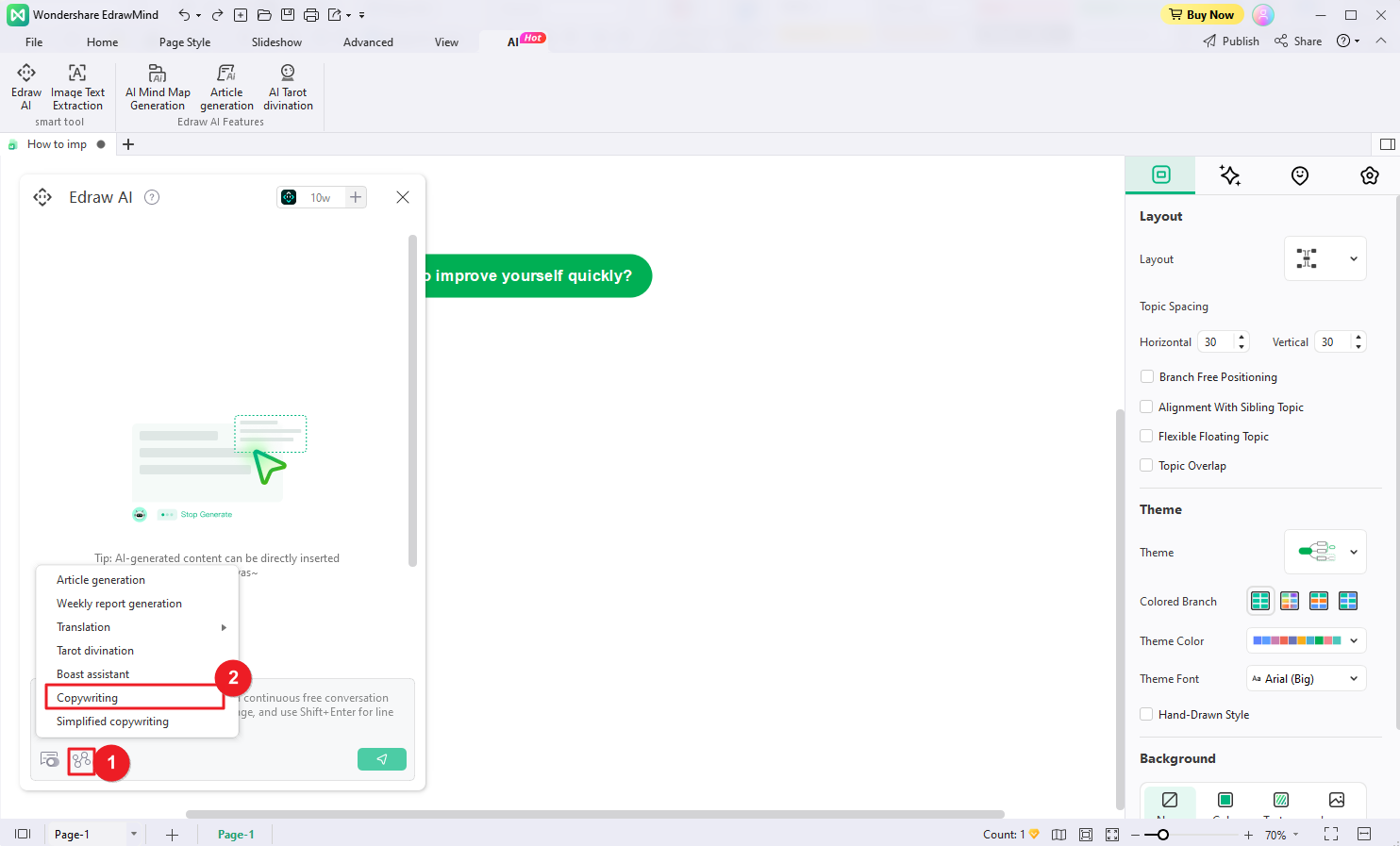 Step 6: It is time to enter any sort of content you want to improve. EdrawMind AI will enhance the content quality automatically. Wait for some time, and this copywriting tool will get your fresh content ready.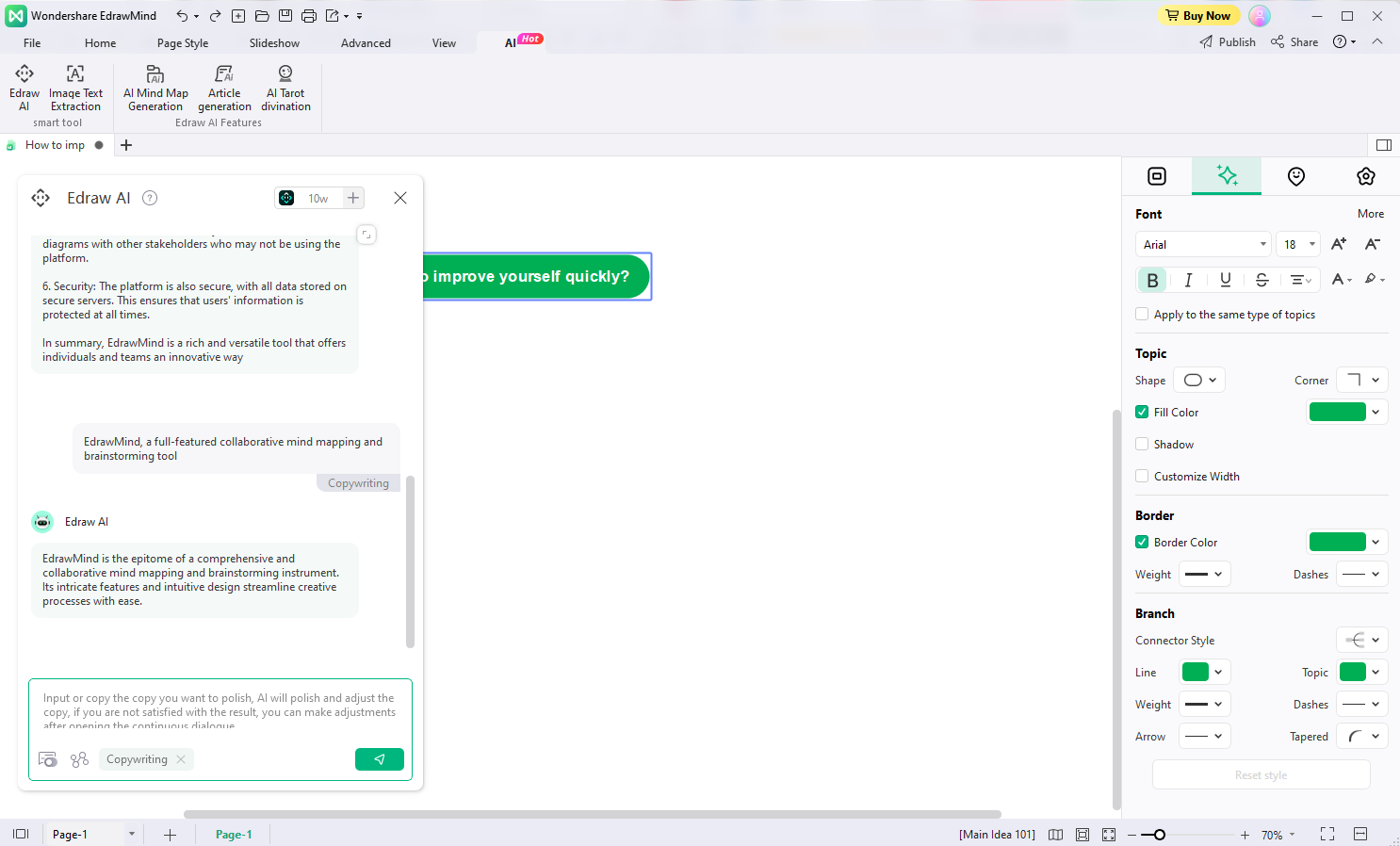 Final Words
AI has taken over almost every industry around the world. The case with the copywriting or content creation industry is no different. Artificial Intelligence has taken it by storm. The incorporation of AI technology has not only made the content generation process effective but also effortless and efficient. You can do more in less time.
Today's market has a range of AI copywriting tools, but trusting them all without knowing much about them could be a risky thing. To avoid this issue, this guide has presented a reliable, secure, and unmatchable AI copywriting assistant, Jasper AI. It is famous for the content quality it generates and budget-friendly solutions. Utilizing the power of Jasper AI copywriting, you can set yourself apart from traditional writers.
EdrawMind Apps
12 structures & 33 themes & 700+ cliparts
Support Win, Mac, Linux, Android, iOS
Advanced import & export options
On-premises software for business
Enterprise-level data security
EdrawMind Online
12 structures & 33 themes & 700+ cliparts
Access diagrams anywhere, anytime
Team management & Project management