AI-assisted operations have been around for a while. The copywriting industry is not an exception. Artificial Intelligence has also been doing magic in this domain. As far as the writing process is concerned, it requires both effort and a significant amount of time to get better results. But the power of AI copywriting tools has made this task a lot easier.
AI copywriting generators claim to produce genuine, high-quality, well-optimized, and well-researched content that is free from grammar mistakes and plagiarism. But the question that arises here is: can these utilities really provide you with what they claim? Well, all similar programs won't be able to do what they claim on their sites.
But we have shortlisted the 5 best AI copywriters based on their key features, price, customer reviews, pros, and cons. Let's see how they add value to your copywriting journey.
What Is AI Copywriting & Its Key Benefits?
The process of utilizing the abilities of machine learning algorithms and natural language processing tools to create content for copies, scripts, ads, marketing campaigns, social media platforms, blog posts, and articles is commonly called AI copywriting. The content produced by AI powered copywriting tools is human-like, but it takes only a few minutes.
As far as the potential benefits of AI copywriting are concerned, it helps you create sales copies, ad copies, web copies, meta titles, meta descriptions, unique headlines, outlines, product descriptions, and much more. It does not matter whether you are a retailer, business owner, marketer, or writer; AI copywriting has got you covered.
5 Best AI Copywriting Tools
Here is a list of the best AI copywriting generators to benefit from. Let's see what makes each tool stand out and different from the others.
Though the major purpose behind developing Wondershare EdrawMind AI was to provide everyone with unmatchable mind-mapping solutions, a powerful AI copywriting feature is incorporated into this tool to make it stand out.
Edraw AI can help you with both creating an engaging copy to attract more leads and generating a long-form article to keep your audience up-to-date. If you are searching for a dependable AI copywriting tool, give this tool a try, and you will be happy to see the results it produces.
AI Features List
The key AI-assisted features of EdrawMind AI are as follows.
Copywriting
Mind mapping
Annotation
Article generation
AI report extraction
Steps To Do Copywriting With Edraw AI
Step 1 Click on the "Edraw AI" ball. You will find it in the bottom-left corner of your workspace, as shown below.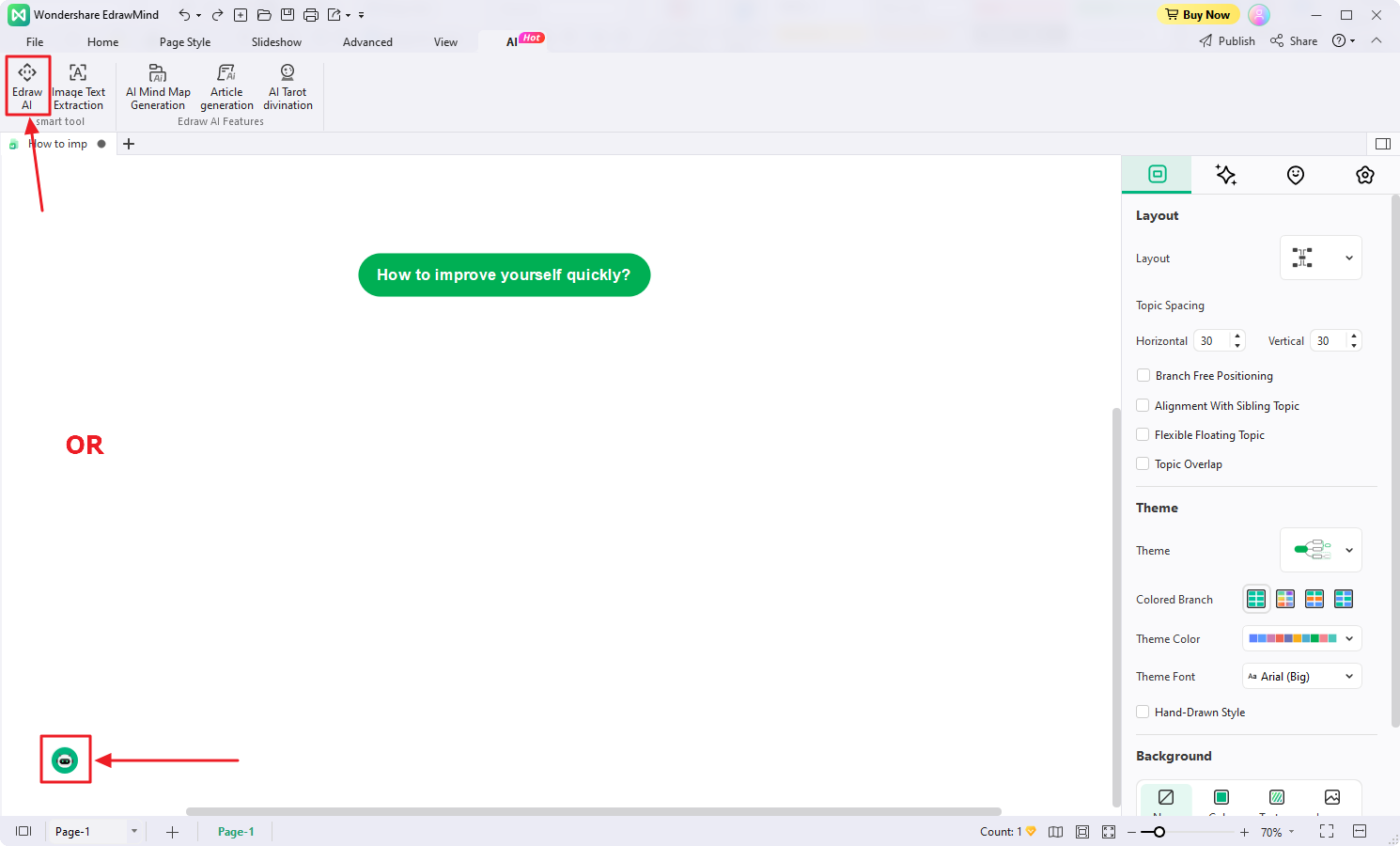 Step 2 A list of a few options will appear on your screen, as shown below. Select "Copywriting" from the list.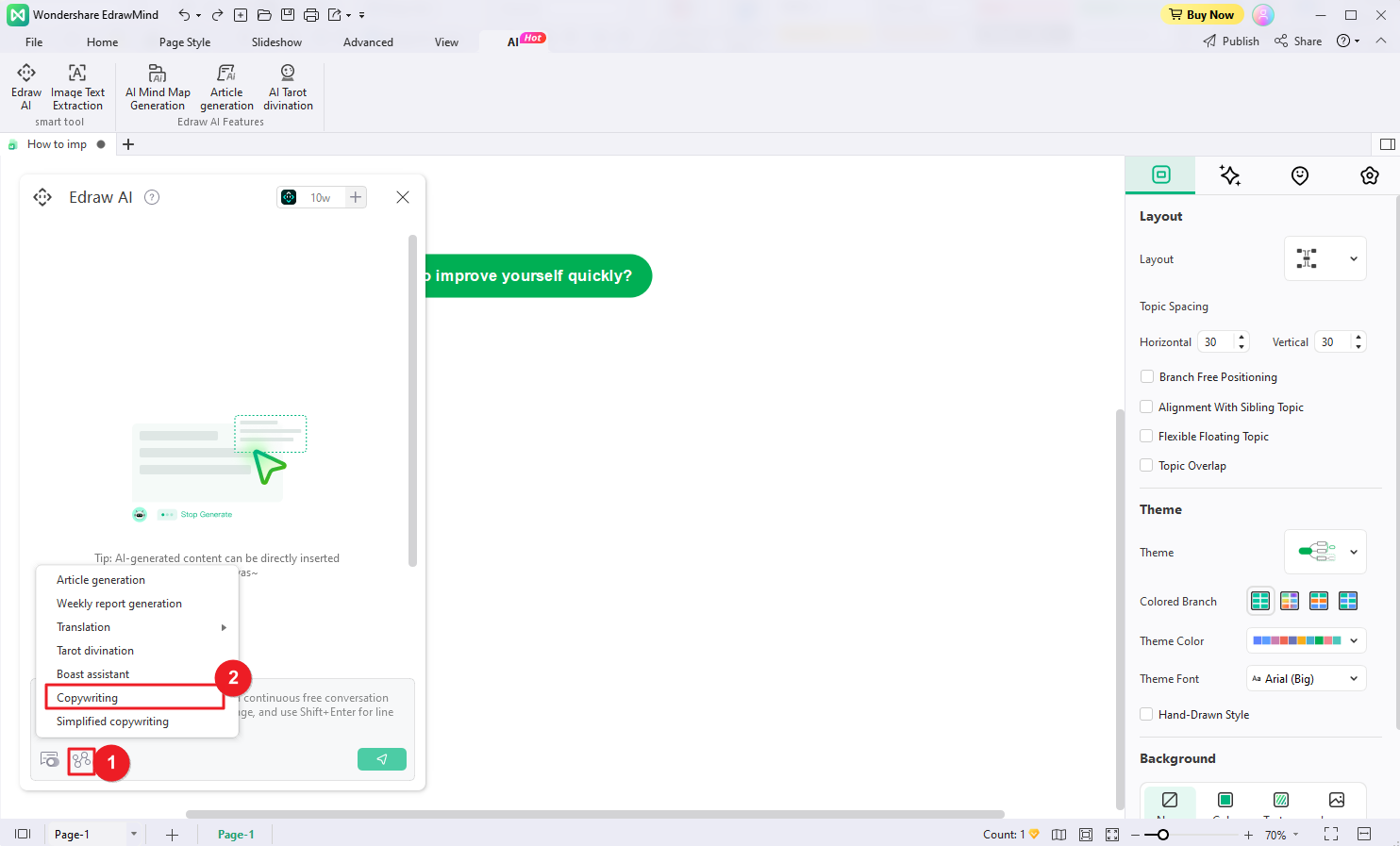 Step 3 It is time to put your text (you want to improve) in the box. Leave the rest on Wondershare EdrawMind AI. You will get an enhanced version of the content within minutes. You can also turn on the "continuous dialogue" button to ask Edraw AI to adjust the content.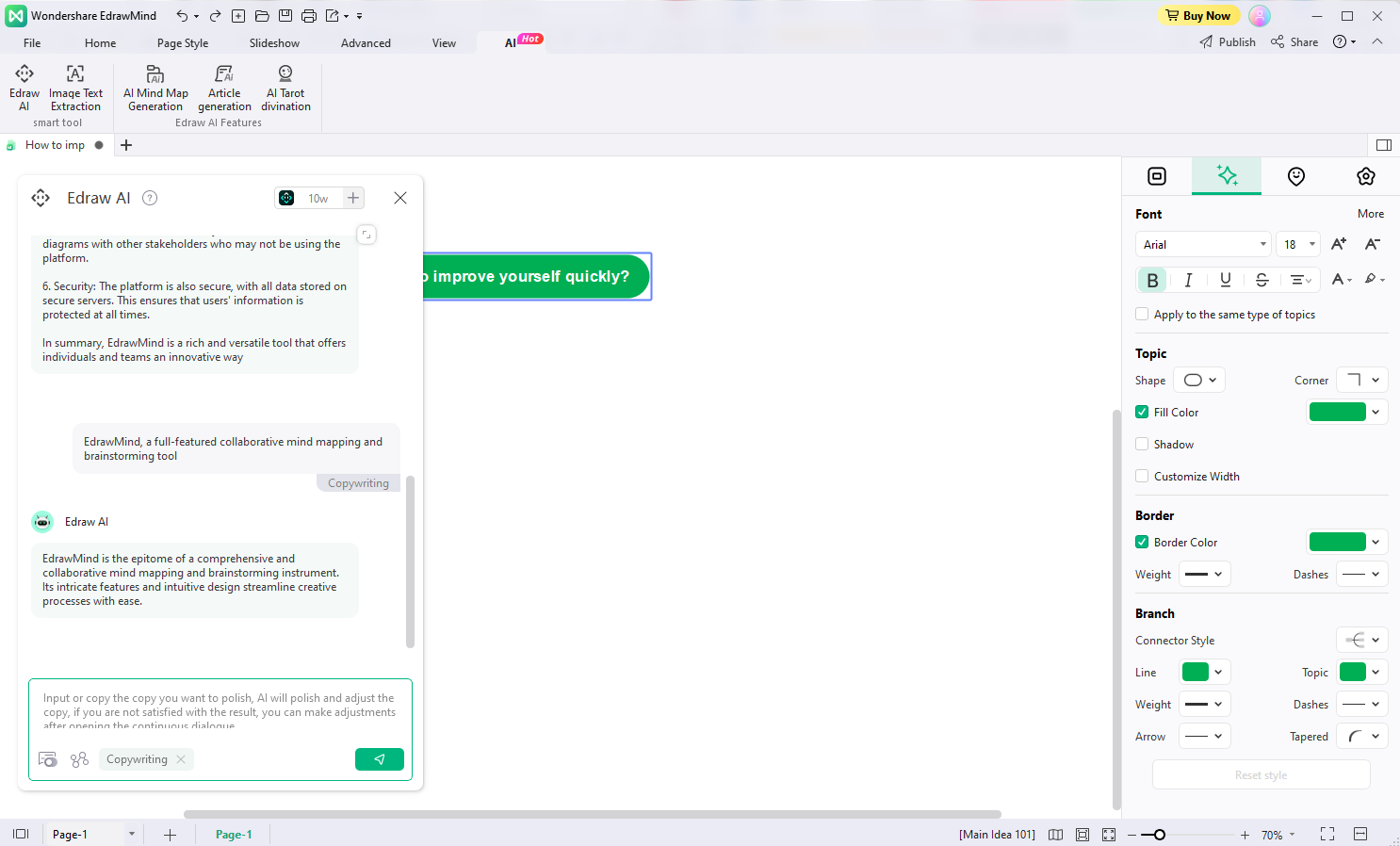 This is how, within a few simple steps, you can do AI copywriting with EdrawMind AI.
Furthermore, EdrawMind AI feature allows you to polish content in your mind maps. Here is how to do that:
Step 1 Open Edraw AI and choose the topic you want to write on. Then, select the box containing your topic, tap on the "AI" button, and click on "Copywriting."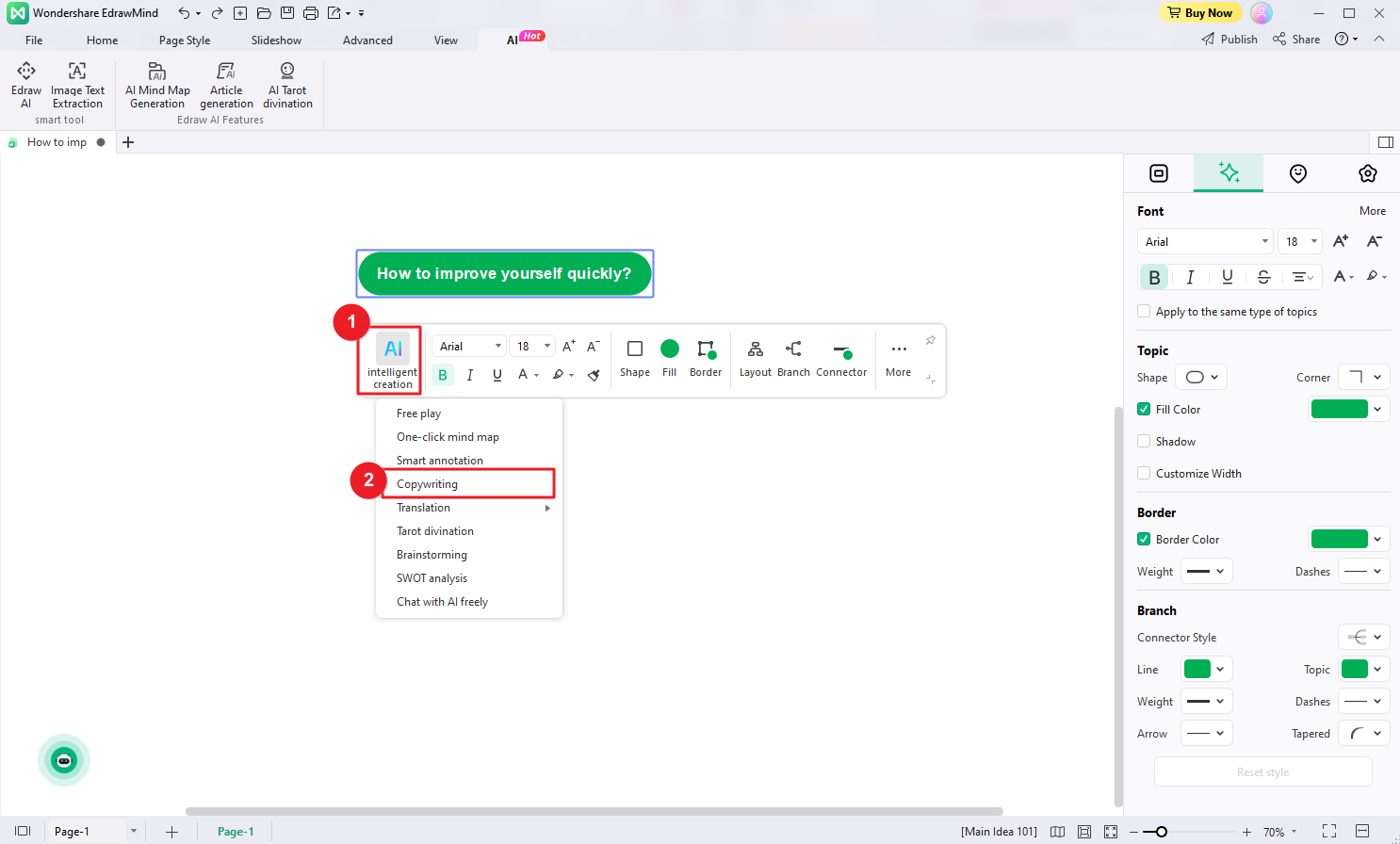 Step 2 EdrawMind AI will start analyzing your topic and produce content accordingly. Wait for some time, and you will get a persuasive and appealing copy.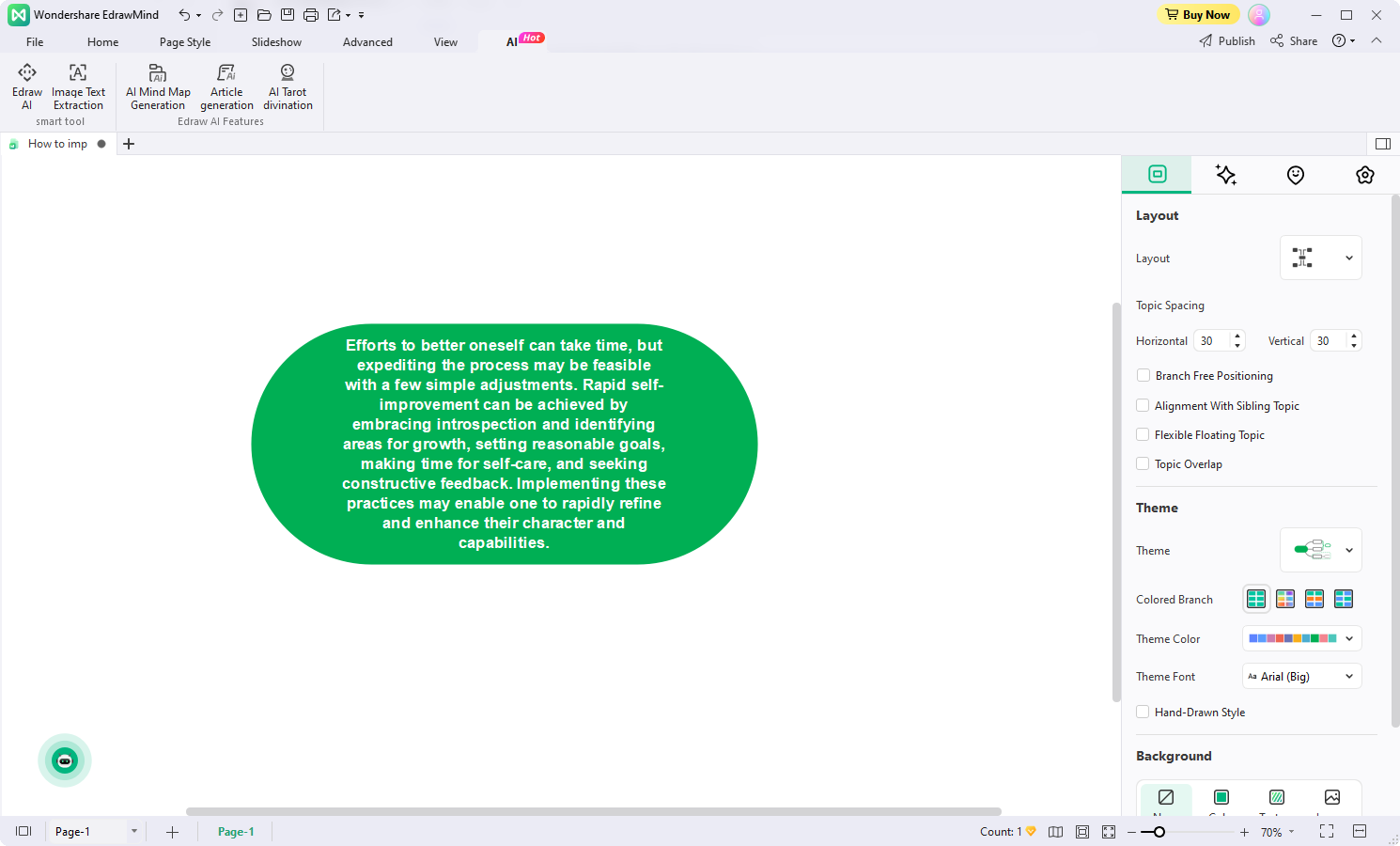 2. Copysmith
Do you want to drive growth for your business via marketing copies? If yes, look no further than Copysmith. It is an amazing AI copy writer designed specifically to generate content efficiently without affecting its quality. If you are looking for an efficient and dependable tool for copywriting with AI, Copysmith will surely be a great support for you.
It does not matter whether you have an in-house team or working as a freelance copywriter, this software assists you in creating outstanding marketing copies to ensure good growth through attention-grabbing words and a convincing tone. When it comes to Copysmith pricing, it offers a free trial along with three different paid plans, i.e., starter, pro, and enterprise.
Key Features
It comes with superb marketing utilities to assist marketing teams in running intensive campaigns to get more leads with convincing copies.
This tool enables you to generate eye-catching headlines and taglines to attract the target audience.
Copysmith allows you to store all copies in a single place.
It converts your brand vision into memorable and engaging ad copy.
G2 Ratings
4.3 out of 5.0
Pros

The user interface is easy-to-use and elegant.
You can create SEO-optimized copies with Copysmith.
It allows you to create a backup of your copies.
It comes with excellent customer support.
Content exporting is very easy.

Cons

According to many users, AI copy writing is more costly than other competitors.
3. Writesonic
This is another mind-blowing tool listed among the best AI copy generators. Writesonic comes with powerful AI copywriting abilities along with some other tools. This software uses GPT-3 technology to generate a wide range of content, including but not limited to video scripts, product descriptions, meta titles, meta descriptions, headlines, blog posts, ad copies, sales copies, and website copies.
A well-organized dashboard of Writesonic helps you choose the content type easily and proceed with that. Later, you can use relevant templates and tools. If your content has some amazing facts that you don't want to change, you can use the Rephrase feature of this AI copywriting software. It will help you make your content appealing without changing any facts. This tool mostly performs better for short pieces of content.
Key Features
It can automate your repetitive tasks, like SEO meta titles, descriptions, and welcome emails.
The flexible billing structure allows you to set the features and utilities, keeping your needs in mind.
Writesonic offers an amazing, well-optimized, and high-converting landing page generator for websites.
G2 Ratings (based on 1814 user reviews)
4.7 out of 5.0
Pros

You can create fabulous captions for social media platforms.
It helps you craft whitepapers.
Writesonic allows you to create reports containing live online data.
You can create SEO-friendly blog posts with this tool.

Cons

The company can focus on improving the wait time.
An option to rephrase a particular part of the content should be incorporated into Writesonic.
4. AI Writer
As you can see from its name, AI-Writer is a powerful AI copy generator. In addition, it allows you to convert only a few lines into a long-form article or blog post. You just need to provide this software with basic input, and it will generate a high-converting copy within the blink of an eye. If you are running short of ideas, AI-Writer will surely be your best partner in this regard.
Whether you want to rephrase your existing copies, complete some sentences, or create a full-fledged marketing copy from scratch, this software will be worth using. If you have never used an AI copywriting tool before, start from the free trial, and if it is worth it, go ahead and purchase the paid plan.
Key Features
It offers fast copywriting speed.
This tool generates multiple citations for you to choose from.
The text rewording feature enables you to freshen up your old boring content or rebrand your website.
AI-Writer features an SEO text editor to create any type of content.
The subtopic locator enables you to determine what content to generate next.
G2 Ratings
4.4 out of 5.0
Pros

It is easy to use for all users.
The attractive user interface makes it easy for you to generate effective copies that sell.
You can write SEO-optimized copies with AI-Writer.

Cons

Some users find it expensive.
It may take some time for you to understand this tool fully.
5. Smart Copy
It was previously known as Snazzy AI. Smart Copy by Ubounce uses AI to create genuine content pieces for marketing campaigns to take your business to the next level. This tool is not only limited to generating AI copies, but it also enables you to produce content for product descriptions, articles, titles, headlines, blog posts, and more.
All you need to do is to provide Smart Copy with an input containing a few words (containing some information, like subject, content type, target audience, etc.). Doing this helps AI algorithms better understand the type of content you want this tool to generate. The higher accuracy of generating unique pieces of content makes this AI copywriting tool stand out among others.
Key Features
This AI copywriting generator can create effective and forceful landing pages to attract your target audience.
With more than 27 AI-powered content templates, the copywriting process becomes convenient and simpler.
It comes with a content expander to extract more details about the subject.
The Remix feature is introduced in Smart Copy for paraphrasing content.
It offers native support for 6 global languages, including Dutch, German, Spanish, Portuguese, French, and English.
Smart Copy offers a Chrome extension to make the copywriting process easier and more accessible.
G2 Ratings (based on 353 reviews)
4.4 out of 5.0
Pros

The user interface is simple yet attractive.
You get an option to choose from a range of AI-powered templates.
The free plan is available for a lifetime.
It offers a pre-built paraphrasing utility.

Cons

The language support is limited to 6 only.
There is no built-in plagiarism checker in this tool.
It can go off-topic at times.
Ending Note
Generating a well-optimized copy tailored to your target audience is a time-consuming process that needs significant effort to conduct research and produce content accordingly. But AI copywriting tools make the overall process much simpler. They not only enable you to write a copy within minutes but also make sure the content generated is accurate and free from plagiarism and grammar mistakes.
If you want to enhance your brand sales via high-converting marketing copies, try using a dependable AI copy generator. We have presented the 5 best AI copywriters in the above discussion, including Wondershare EdrawMind AI. Each software has some unique copywriting features to make your writing experience more meaningful. Give this article a read. It will be worth reading for sure.
EdrawMind Apps
12 structures & 33 themes & 700+ cliparts
Support Win, Mac, Linux, Android, iOS
Advanced import & export options
On-premises software for business
Enterprise-level data security
EdrawMind Online
12 structures & 33 themes & 700+ cliparts
Access diagrams anywhere, anytime
Team management & Project management